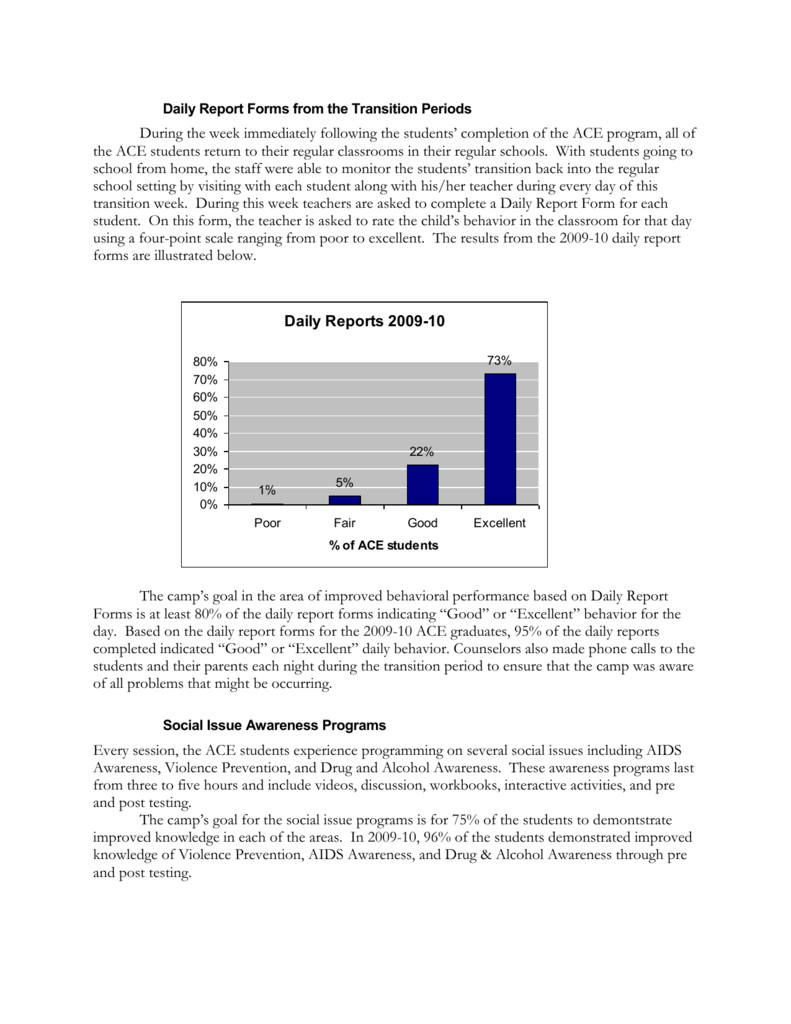 Daily Report Forms from the Transition Periods
During the week immediately following the students' completion of the ACE program, all of
the ACE students return to their regular classrooms in their regular schools. With students going to
school from home, the staff were able to monitor the students' transition back into the regular
school setting by visiting with each student along with his/her teacher during every day of this
transition week. During this week teachers are asked to complete a Daily Report Form for each
student. On this form, the teacher is asked to rate the child's behavior in the classroom for that day
using a four-point scale ranging from poor to excellent. The results from the 2009-10 daily report
forms are illustrated below.
Daily Reports 2009-10
80%
70%
60%
50%
40%
30%
20%
10%
0%
73%
22%
1%
Poor
5%
Fair
Good
Excellent
% of ACE students
The camp's goal in the area of improved behavioral performance based on Daily Report
Forms is at least 80% of the daily report forms indicating "Good" or "Excellent" behavior for the
day. Based on the daily report forms for the 2009-10 ACE graduates, 95% of the daily reports
completed indicated "Good" or "Excellent" daily behavior. Counselors also made phone calls to the
students and their parents each night during the transition period to ensure that the camp was aware
of all problems that might be occurring.
Social Issue Awareness Programs
Every session, the ACE students experience programming on several social issues including AIDS
Awareness, Violence Prevention, and Drug and Alcohol Awareness. These awareness programs last
from three to five hours and include videos, discussion, workbooks, interactive activities, and pre
and post testing.
The camp's goal for the social issue programs is for 75% of the students to demontstrate
improved knowledge in each of the areas. In 2009-10, 96% of the students demonstrated improved
knowledge of Violence Prevention, AIDS Awareness, and Drug & Alcohol Awareness through pre
and post testing.