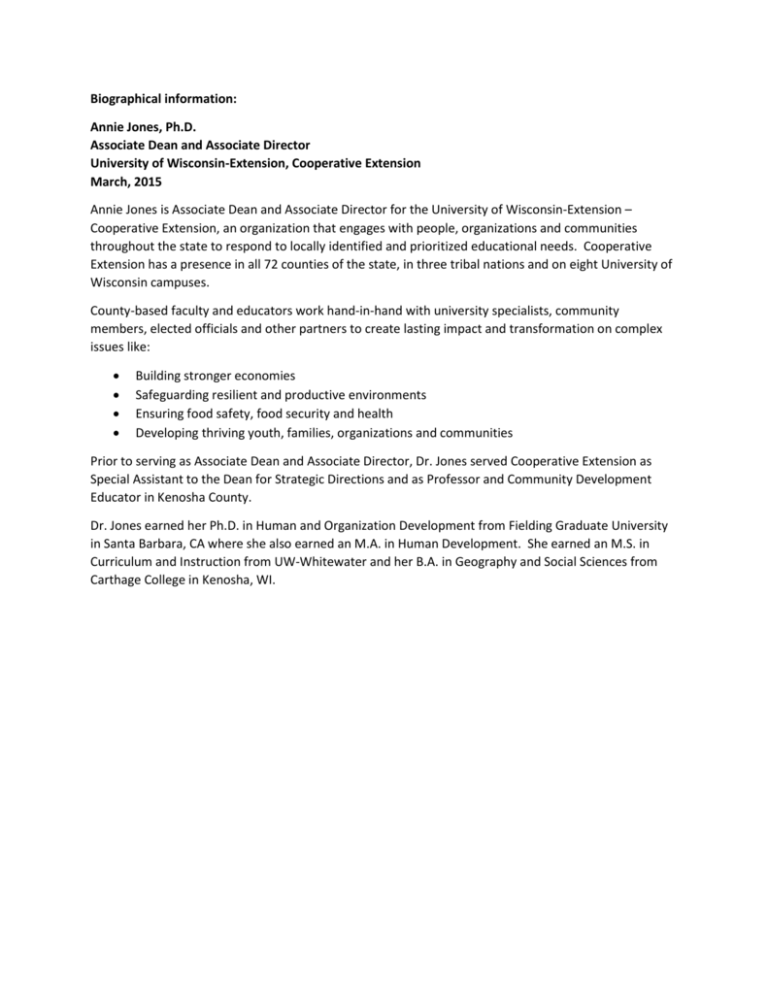 Biographical information:
Annie Jones, Ph.D.
Associate Dean and Associate Director
University of Wisconsin-Extension, Cooperative Extension
March, 2015
Annie Jones is Associate Dean and Associate Director for the University of Wisconsin-Extension –
Cooperative Extension, an organization that engages with people, organizations and communities
throughout the state to respond to locally identified and prioritized educational needs. Cooperative
Extension has a presence in all 72 counties of the state, in three tribal nations and on eight University of
Wisconsin campuses.
County-based faculty and educators work hand-in-hand with university specialists, community
members, elected officials and other partners to create lasting impact and transformation on complex
issues like:




Building stronger economies
Safeguarding resilient and productive environments
Ensuring food safety, food security and health
Developing thriving youth, families, organizations and communities
Prior to serving as Associate Dean and Associate Director, Dr. Jones served Cooperative Extension as
Special Assistant to the Dean for Strategic Directions and as Professor and Community Development
Educator in Kenosha County.
Dr. Jones earned her Ph.D. in Human and Organization Development from Fielding Graduate University
in Santa Barbara, CA where she also earned an M.A. in Human Development. She earned an M.S. in
Curriculum and Instruction from UW-Whitewater and her B.A. in Geography and Social Sciences from
Carthage College in Kenosha, WI.