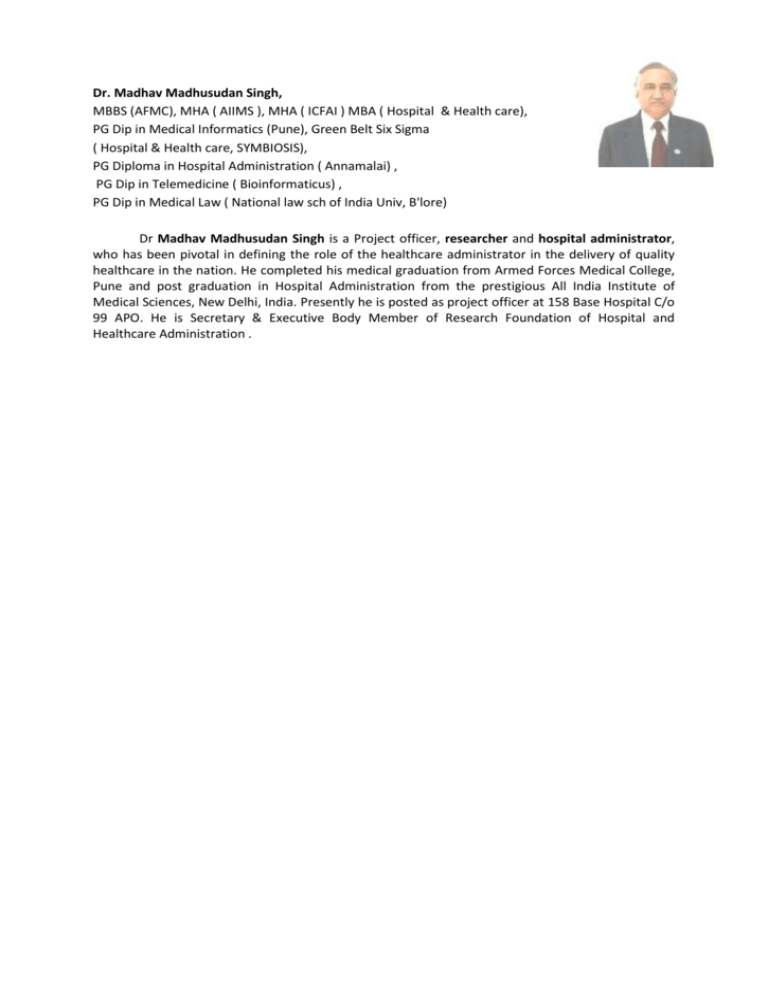 Dr. Madhav Madhusudan Singh,
MBBS (AFMC), MHA ( AIIMS ), MHA ( ICFAI ) MBA ( Hospital & Health care),
PG Dip in Medical Informatics (Pune), Green Belt Six Sigma
( Hospital & Health care, SYMBIOSIS),
PG Diploma in Hospital Administration ( Annamalai) ,
PG Dip in Telemedicine ( Bioinformaticus) ,
PG Dip in Medical Law ( National law sch of India Univ, B'lore)
Dr Madhav Madhusudan Singh is a Project officer, researcher and hospital administrator,
who has been pivotal in defining the role of the healthcare administrator in the delivery of quality
healthcare in the nation. He completed his medical graduation from Armed Forces Medical College,
Pune and post graduation in Hospital Administration from the prestigious All India Institute of
Medical Sciences, New Delhi, India. Presently he is posted as project officer at 158 Base Hospital C/o
99 APO. He is Secretary & Executive Body Member of Research Foundation of Hospital and
Healthcare Administration .