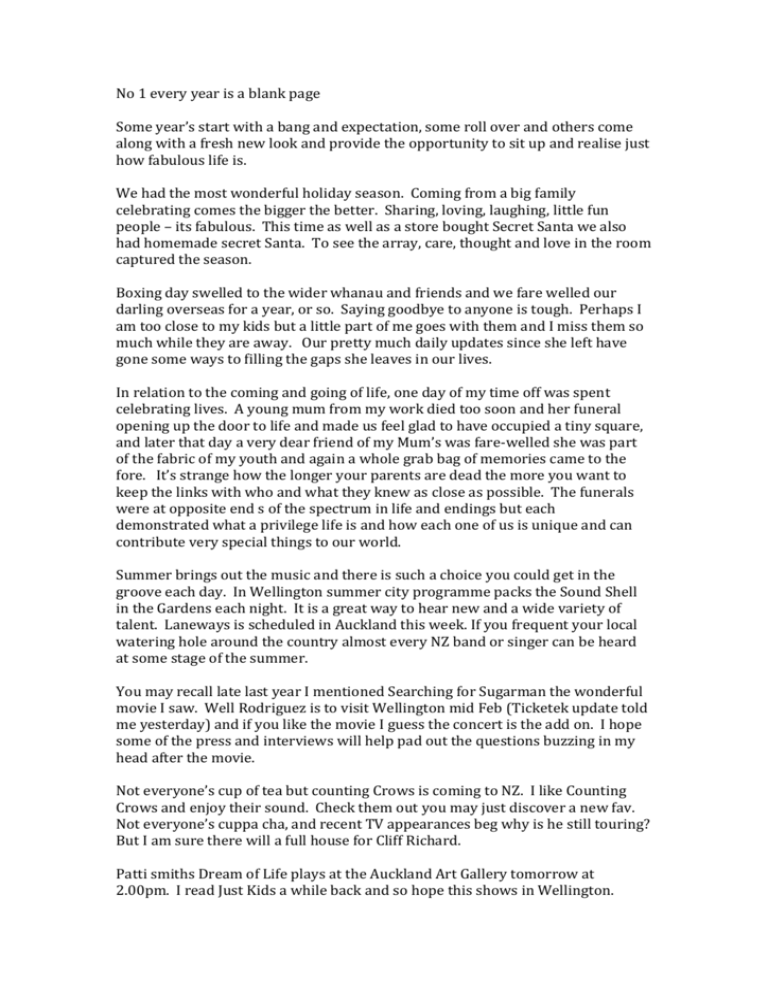 No 1 every year is a blank page
Some year's start with a bang and expectation, some roll over and others come
along with a fresh new look and provide the opportunity to sit up and realise just
how fabulous life is.
We had the most wonderful holiday season. Coming from a big family
celebrating comes the bigger the better. Sharing, loving, laughing, little fun
people – its fabulous. This time as well as a store bought Secret Santa we also
had homemade secret Santa. To see the array, care, thought and love in the room
captured the season.
Boxing day swelled to the wider whanau and friends and we fare welled our
darling overseas for a year, or so. Saying goodbye to anyone is tough. Perhaps I
am too close to my kids but a little part of me goes with them and I miss them so
much while they are away. Our pretty much daily updates since she left have
gone some ways to filling the gaps she leaves in our lives.
In relation to the coming and going of life, one day of my time off was spent
celebrating lives. A young mum from my work died too soon and her funeral
opening up the door to life and made us feel glad to have occupied a tiny square,
and later that day a very dear friend of my Mum's was fare-welled she was part
of the fabric of my youth and again a whole grab bag of memories came to the
fore. It's strange how the longer your parents are dead the more you want to
keep the links with who and what they knew as close as possible. The funerals
were at opposite end s of the spectrum in life and endings but each
demonstrated what a privilege life is and how each one of us is unique and can
contribute very special things to our world.
Summer brings out the music and there is such a choice you could get in the
groove each day. In Wellington summer city programme packs the Sound Shell
in the Gardens each night. It is a great way to hear new and a wide variety of
talent. Laneways is scheduled in Auckland this week. If you frequent your local
watering hole around the country almost every NZ band or singer can be heard
at some stage of the summer.
You may recall late last year I mentioned Searching for Sugarman the wonderful
movie I saw. Well Rodriguez is to visit Wellington mid Feb (Ticketek update told
me yesterday) and if you like the movie I guess the concert is the add on. I hope
some of the press and interviews will help pad out the questions buzzing in my
head after the movie.
Not everyone's cup of tea but counting Crows is coming to NZ. I like Counting
Crows and enjoy their sound. Check them out you may just discover a new fav.
Not everyone's cuppa cha, and recent TV appearances beg why is he still touring?
But I am sure there will a full house for Cliff Richard.
Patti smiths Dream of Life plays at the Auckland Art Gallery tomorrow at
2.00pm. I read Just Kids a while back and so hope this shows in Wellington.
I am off the UK Ukulele Orchestra next week, I call it research. Our Uke group is
up and running and starting to look at our 2013 repertoire. We started with a
crash start. We had one lunch hour to learn a song for that afternoon. A year ago
when we started the thought of that would have been unheard. One of my aims
for 2013 is to improve my singing and learn how to read music.
Top of the bill and No 1 on my bucket list is the Bruce (the Boss) Springsteen. He
has a mega series of concerts in Australia in March. Me I am off to Melbourne – I
am so excited. I'll take my seat in the Rod Laver arena and there will be no
tennis, just fabulous music. Another concert has been added to the line-up for
last calls.
I don't think I am imaging it but this year's produce has been fantastic. We are
loving fresh crunchy gorgeous tasty salads. At the end of the day it's the perfect
bookend to the day's close. Several recipes follow.
The next few months are a tiny bit packed with goodies for us. Not the least my
cycle trip South. Apart from family and our small fry my time has been spent
pedaling. I love it – it's so good. We are cycling the Hutt River Trail, the
Rimutuka Incline, Kapiti Coastal Route today proved a little more difficult than
anticipated we needed to change tack mid-way and opt for 'easy'. You see so
much on a bike and it offers you fresh air, exercise, companionship and leisure. I
am sold. There are still 3 places left on our cycle trip with Off the Rails starting
27 Feb if you are interested.
Not much oprganised on the cycle front in Welly but Auckland has a great lineup
of activity, makes me feel like packing my wheels when I head there this week.
Northerners check this out.
Cute stuff Zealandia has baby Tuataras at present. I am liking Goodship based
out of Australia but a Kiwi designer.
Local galleries have their new seasons well under way. The Adam has Rochelle
Simmons this Wednesday at 6.00pm. Downstage is shifting its brand to a much
younger demographic and Perfectly Wasted underscores this.
Being summer Maritime pursuits tend to dominate. If it's a little inclement or
you have had enough sun try the Voyager Maritime Museum in Auckland and the
Museum of Wellington City and Sea in Welly. Both host family performances,
story times, have something for everyone. Great places to have a kids birthday
parties. Te Papa's Game Masters exhibition has people rolling through the doors.
With music, gaming, Weta Workshop it will bring out the geek in you.
Summer days beg good reading to curl up in the deck with. This summer I
discovered Wallace Stegner's writing (magic) and in particular Crossing to Safety
another vintage book I discovered and loved was Meg Rosoff's How I Live Now.
My aunt sent me What Matters in Jane Austin? And a surprising amount does.
I bought a book that has surprised me – it wont be for everyone, some of you will
think it nonsense – I wrote this for you it is startlingly personal and hard to
describe what type. I have loved dipping into it. The Elephant Keeper's Children –
Peter Hoeg (who wrote my book of the 90s Miss Simila's feeling for Snow)
mmmm different again. I am loving, as you can imagine my two new Bruce
Springsteen books.
So don't hold back – every day and year presents us with a blank page. At the
funeral of my work colleague the speakers talked of her cheerfulness, optimism
and love of all people. Her Husband said when asked how she could continue
like this in the face of what she was confronting she said it is the only way I know
how to live.
There is a Glenn Colquhoun poem that finishes with words to ponder on how we
live.
Every day, of
Every life
Is a full library.
2013 for me is going to be living life the only way I know how.
Ka kite ano
I am loving French beans, mint and pomegranate this summer.
Minted Haloumi Salad
1 ½ cups of quinoa, 2 cups vege stock, 12 cherry tomatoes halved, 425 g can of
chickpeas, drained and rinsed, 120 g Haloumi cheese in chunks, 4 cups of rocket
or your fav leaves, ½ cup fresh mint chopped, 1 lemon, zest and juice, 1 tbspn
olive oil – I used citrus olive oil.
Cook Quinoa and set aside to cool, as there are two of us I cook quinoa and freeze
unused to have it on hand.
Heat a non-stick frypan, add haloumi and cook until golden and set aside to cool.
In a large bowl combine all the ingredients. Add quinoa and haloumi and
sprinkle over lemon zest and juice, served with extra chopped mint.
To appease the meat lover in the family cooked chicken chucks can be added.
It's yummy and keeps well for lunch the next day. Enjoy.
Green bean, Edamane Bean and Fennel Salad
300g French green beans, 250g frozen Edamane beans, 1 large fennel bulb
reserve the fronds. 2 tbspn olive oil, 1 clove crushed garlic, 2 tsp pink
peppercorns, 2tbspns toasted sunflower seeds, ground S & P.
Dressing 3-tbspn olive oil, 1 tsp white wine vinegar, and 1 glove garlic.
Cook beans al dente and blanche. Add beans to boiling water 4-5 mins drain and
refresh in cold water, Halve the fennel and slice thinly. Heat frying pan and cook
fennel and garlic and a pinch of salt until crisp and tender.
Combine all ingredients and half the peppercorns and sunflower seeds and
dressing. Serve on a flat plate and top with remaining seeds and peppercorns.
I have used pomegranate seeds instead of peppercorns just as yummy.
Mint and Feta Yoghurt Dip
2 packed cups mint leaves, juice of one lemon, 2 tbspn avocado or extra virgin
olive oil, 100g feta, 1 cup think Greek yoghurt.
Chop mint roughly, then blitz with the lemon juice and oil. Add feta and Greek
yoghurt, blitz until smooth and season.
A fabulous starter with crispy blanched fresh seasonal vege.