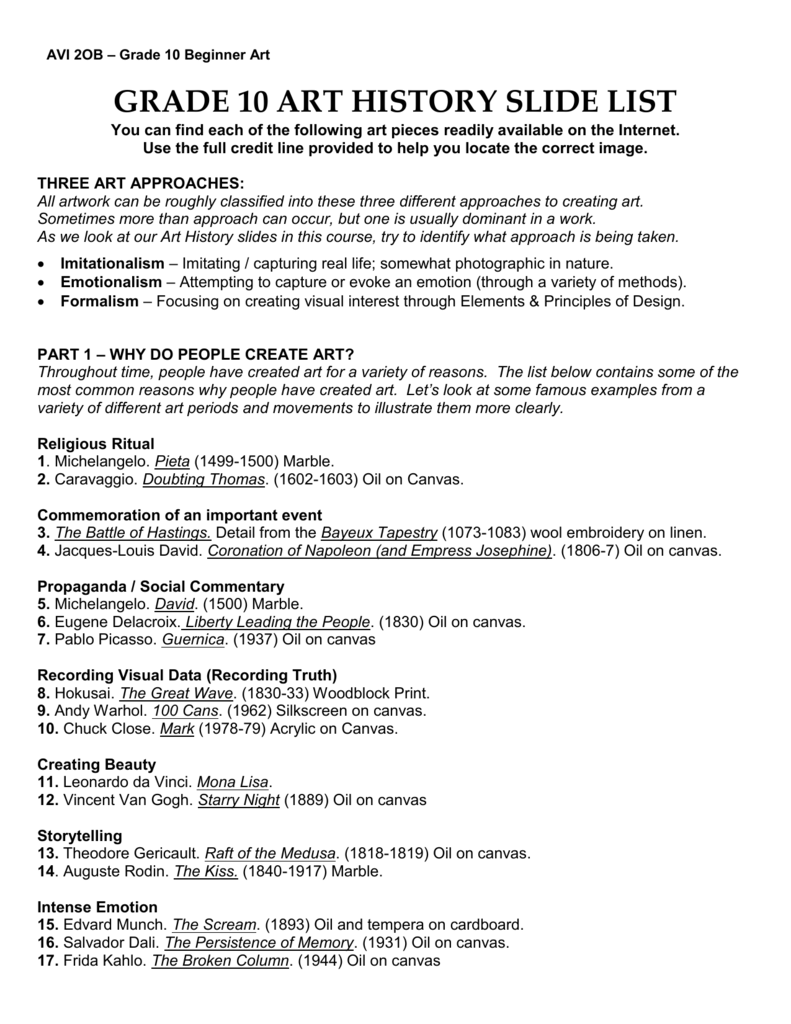 AVI 2OB – Grade 10 Beginner Art
GRADE 10 ART HISTORY SLIDE LIST
You can find each of the following art pieces readily available on the Internet.
Use the full credit line provided to help you locate the correct image.
THREE ART APPROACHES:
All artwork can be roughly classified into these three different approaches to creating art.
Sometimes more than approach can occur, but one is usually dominant in a work.
As we look at our Art History slides in this course, try to identify what approach is being taken.



Imitationalism – Imitating / capturing real life; somewhat photographic in nature.
Emotionalism – Attempting to capture or evoke an emotion (through a variety of methods).
Formalism – Focusing on creating visual interest through Elements & Principles of Design.
PART 1 – WHY DO PEOPLE CREATE ART?
Throughout time, people have created art for a variety of reasons. The list below contains some of the
most common reasons why people have created art. Let's look at some famous examples from a
variety of different art periods and movements to illustrate them more clearly.
Religious Ritual
1. Michelangelo. Pieta (1499-1500) Marble.
2. Caravaggio. Doubting Thomas. (1602-1603) Oil on Canvas.
Commemoration of an important event
3. The Battle of Hastings. Detail from the Bayeux Tapestry (1073-1083) wool embroidery on linen.
4. Jacques-Louis David. Coronation of Napoleon (and Empress Josephine). (1806-7) Oil on canvas.
Propaganda / Social Commentary
5. Michelangelo. David. (1500) Marble.
6. Eugene Delacroix. Liberty Leading the People. (1830) Oil on canvas.
7. Pablo Picasso. Guernica. (1937) Oil on canvas
Recording Visual Data (Recording Truth)
8. Hokusai. The Great Wave. (1830-33) Woodblock Print.
9. Andy Warhol. 100 Cans. (1962) Silkscreen on canvas.
10. Chuck Close. Mark (1978-79) Acrylic on Canvas.
Creating Beauty
11. Leonardo da Vinci. Mona Lisa.
12. Vincent Van Gogh. Starry Night (1889) Oil on canvas
Storytelling
13. Theodore Gericault. Raft of the Medusa. (1818-1819) Oil on canvas.
14. Auguste Rodin. The Kiss. (1840-1917) Marble.
Intense Emotion
15. Edvard Munch. The Scream. (1893) Oil and tempera on cardboard.
16. Salvador Dali. The Persistence of Memory. (1931) Oil on canvas.
17. Frida Kahlo. The Broken Column. (1944) Oil on canvas
PART 2 – ART OF THE MIDDLE AGES (approx. 300-1300 AD)
The Medieval period in Art is often seen as a time that lacked artistic inspiration because it started
to distance itself from Greek and Roman influences. Nothing could be further from the truth. In fact,
the Medieval period was filled with highly complex and creative art works including several architectural
advances. Key changes that influenced art of the Medieval period included:
- Cultural leadership moved north to France, Germany and the British Isles
- Christianity triumphed over paganism
- Emphasis shifted from the here-and-now (life on earth) to the hereafter (life in heaven)
EARLY CHRISTIAN ART:
18. St. Apollinare in Classe. (522-549) Ravenna, Italy.
19. The Good Shepherd. (4th century) Catacombs of St. Peter's and St. Marcellinus. Rome, Italy.
20. Sarcophagus of Junius Bassus. (359) marble.
BYZANTINE ART:
21. Emperor Justinian and Attendants & Empress Theodora and Attendants (c.547) Mosaic in San Vitale.
Ravenna Italy.
22.Anthemius of Tralles and Isidorus of Miletos. Hagia Sofia (c.532-537) Istanbul, Turkey.
23. St. Mark Cathedral. (1063) Venice, Italy.
ISLAMIC ART:
24. The Alhambra. (begun c. 1238) Granada, Spain.
25. Dome of the Rock. (late 7th century) Jerusalem, Israel.
26. Ustad Ahmad Lahauri. Taj Mahal. (1630-1653) India.
27. Decorated Plate. Fritware, polychrome painted under a transparent glaze. (1580) Iznik, Turkey.
28. Dado panel. (15th century) Marble mosaic. Egypt
EARLY MEDIEVAL ART:
29. X-P Chi-Rho Page from the Lindisfarne Gospel Book. (between 689-721) Manuscript.
30. Symbols of the Four Evangelists page from the Book of Kells. (c. 800) Manuscript.
ROMANESQUE ART:
31. St Foy & Reliquary of St. Foy (1050-1120). Conques, France.
32. Sainte-Madeleine. (1104-1132) Vezelay, France.
33. The Mission of the Apostles. Tympanum of Sainte-Madeleine. (1120-1132) Vezelay, France.
GOTHIC ART:
34. Notre Dame. (1163-1250) Paris, France.
35. Cathedral of Reims. (c.1225-1299) Reims, France.
36. Annunciation & Visitation (c.1230-1255) Reims Cathedral, France.
37. Cathedral of Siena. (c.1284) Siena, Italy.
LATE GOTHIC ART:
38. Sainte-Chapelle, Interior stained glass windows (1243-1248) Paris, France.
39. Simone Martini. Annunciation. (1333) Tempera and Gold on Panel.
40. Giotto. Lamentation. (1305-1306) Fresco.