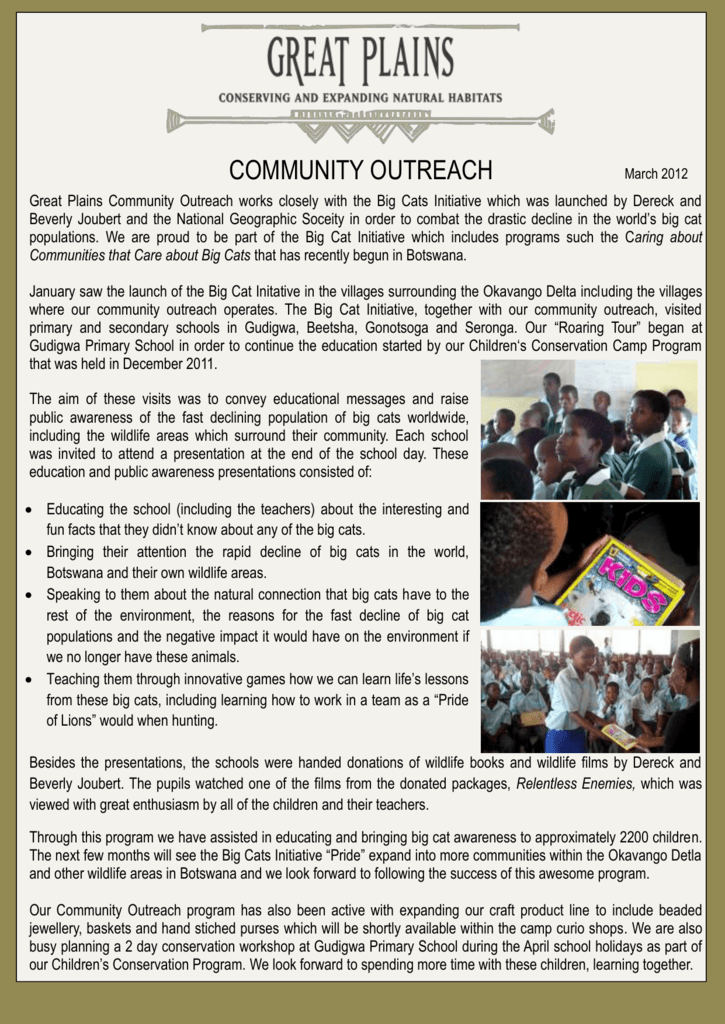 COMMUNITY OUTREACH
March 2012
Great Plains Community Outreach works closely with the Big Cats Initiative which was launched by Dereck and
Beverly Joubert and the National Geographic Soceity in order to combat the drastic decline in the world's big cat
populations. We are proud to be part of the Big Cat Initiative which includes programs such the Caring about
Communities that Care about Big Cats that has recently begun in Botswana.
January saw the launch of the Big Cat Initative in the villages surrounding the Okavango Delta including the villages
where our community outreach operates. The Big Cat Initiative, together with our community outreach, visited
primary and secondary schools in Gudigwa, Beetsha, Gonotsoga and Seronga. Our "Roaring Tour" began at
Gudigwa Primary School in order to continue the education started by our Children's Conservation Camp Program
that was held in December 2011.
The aim of these visits was to convey educational messages and raise
public awareness of the fast declining population of big cats worldwide,
including the wildlife areas which surround their community. Each school
was invited to attend a presentation at the end of the school day. These
education and public awareness presentations consisted of:
 Educating the school (including the teachers) about the interesting and
fun facts that they didn't know about any of the big cats.
 Bringing their attention the rapid decline of big cats in the world,
Botswana and their own wildlife areas.
 Speaking to them about the natural connection that big cats have to the
rest of the environment, the reasons for the fast decline of big cat
populations and the negative impact it would have on the environment if
we no longer have these animals.
 Teaching them through innovative games how we can learn life's lessons
from these big cats, including learning how to work in a team as a "Pride
of Lions" would when hunting.
Besides the presentations, the schools were handed donations of wildlife books and wildlife films by Dereck and
Beverly Joubert. The pupils watched one of the films from the donated packages, Relentless Enemies, which was
viewed with great enthusiasm by all of the children and their teachers.
Through this program we have assisted in educating and bringing big cat awareness to approximately 2200 children.
The next few months will see the Big Cats Initiative "Pride" expand into more communities within the Okavango Detla
and other wildlife areas in Botswana and we look forward to following the success of this awesome program.
Our Community Outreach program has also been active with expanding our craft product line to include beaded
jewellery, baskets and hand stiched purses which will be shortly available within the camp curio shops. We are also
busy planning a 2 day conservation workshop at Gudigwa Primary School during the April school holidays as part of
our Children's Conservation Program. We look forward to spending more time with these children, learning together.