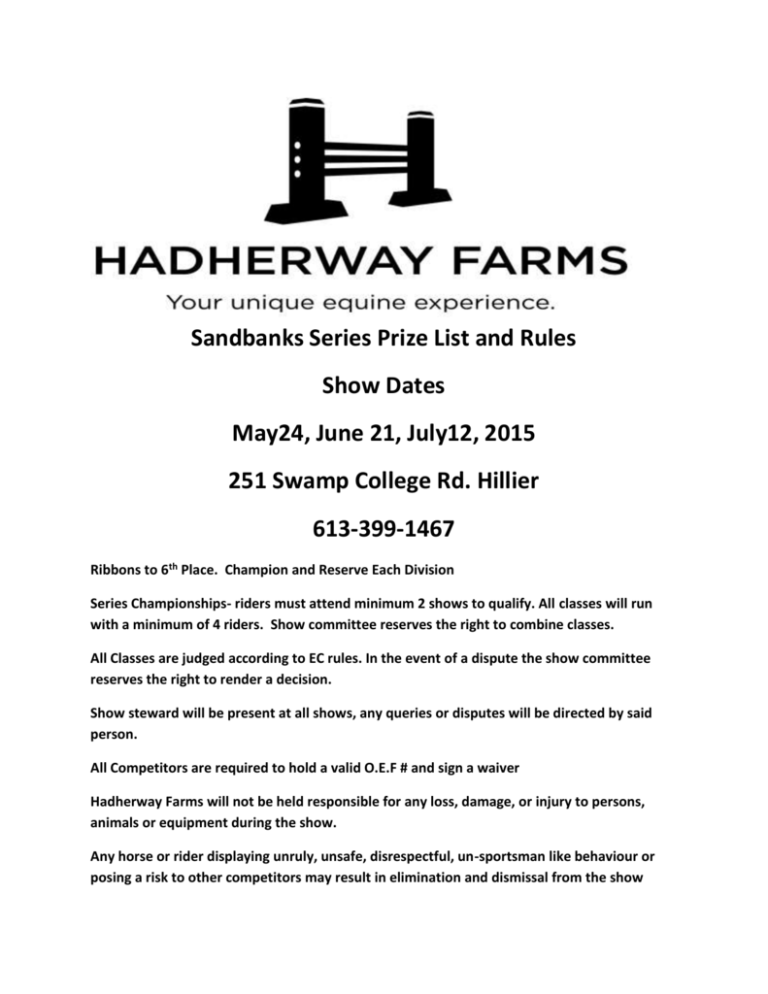 Sandbanks Series Prize List and Rules
Show Dates
May24, June 21, July12, 2015
251 Swamp College Rd. Hillier
613-399-1467
Ribbons to 6th Place. Champion and Reserve Each Division
Series Championships- riders must attend minimum 2 shows to qualify. All classes will run
with a minimum of 4 riders. Show committee reserves the right to combine classes.
All Classes are judged according to EC rules. In the event of a dispute the show committee
reserves the right to render a decision.
Show steward will be present at all shows, any queries or disputes will be directed by said
person.
All Competitors are required to hold a valid O.E.F # and sign a waiver
Hadherway Farms will not be held responsible for any loss, damage, or injury to persons,
animals or equipment during the show.
Any horse or rider displaying unruly, unsafe, disrespectful, un-sportsman like behaviour or
posing a risk to other competitors may result in elimination and dismissal from the show
grounds. This is at the Judge and Show Committees discretion. Should elimination occur, no
refunds will be awarded.
Any competitors, coaches, parents and spectators displaying any disrespect, verbal
harassment or unsportsmanlike behaviour toward show committee and volunteers will be
dismissed immediately from the show grounds.
Hadherway Farms reserves the right to refuse entries.
Stallions are only to be handles by a responsible adult.
Proper show attire is required for all classes. Lead line handlers must be in show attire as
well. Approved ASTM Helmets are mandatory. Jackets may be waived at the judges
discretion. Competitors must use riding equipment in accordance to the rules set out by EC.
No jumping boots etc, in the Hunter Classes.
Warm-up will be held 830 am in the sand ring for Div 1&2 and after the Hack Division in the
grass ring. Course walk for the Jumpers will be held before the division start. Riders are to
wait until the ring is declared open for walk before entering.
Riders must wear numbers when mounted on the show grounds. Sharing of numbers is
strictly prohibited. Non competing horses must have a number and pay a day fee of $10.00
per horse.
It is the competitor responsibility to be at the in-gate at the start of each class. A class will
not be held up. Order of go is to be respected.
All Ages as of January- Junior- Open to riders 13 years and younger
Youth- Open to riders 14-18 years of age
Senior- Open to riders 18 and older
PLEASE NOTE DIVISION 1 and 2 are for riders in first and second year showing, may not enter
any other division.
NO DOGS ARE PERMITTED ON THE PROPERTY.
All cheques payable to Sandra Karaz. Entry Fees Due Thursday before each show, otherwise late fees
will apply. Sorry No Email Transfers! Fees are to be paid in full at the show office.