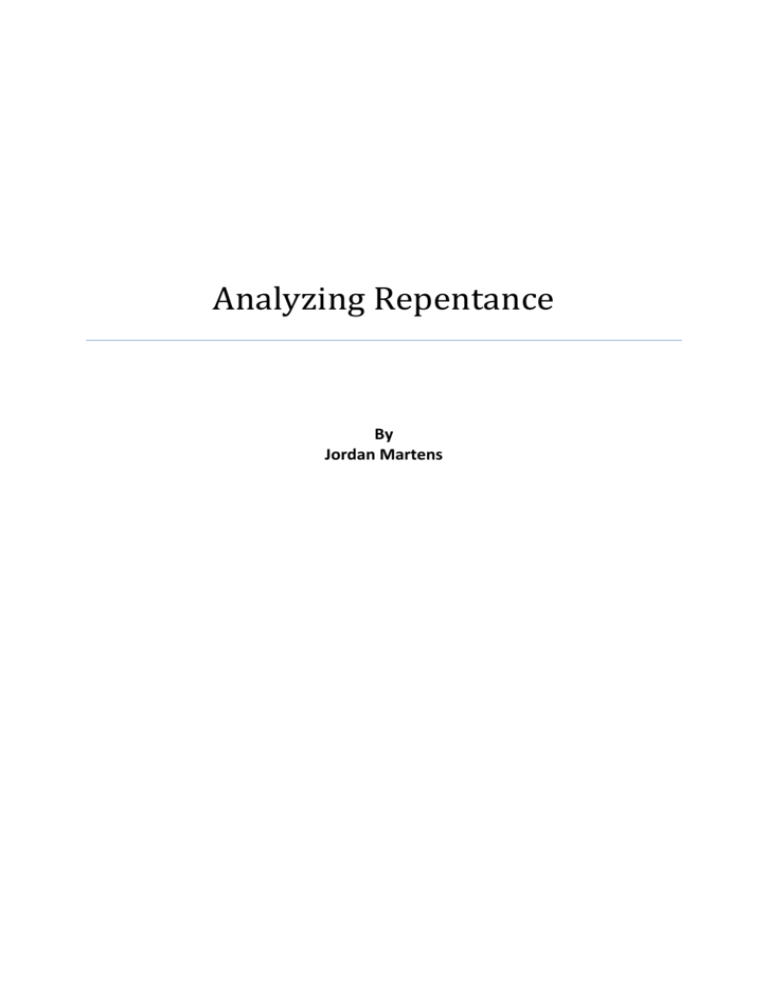 Analyzing Repentance
By
Jordan Martens
Repentance Defined and Contrasted with Incorrect Notions
Repentance can be defined as the act of man whereby through experiencing a change of
mind he turns from his sinful ways of thought, word, motive, and deed. Straight away you will notice
that I defined the word only to mean a turning from something negative. I did not include in the
definition of the word a turning to something positive. This was intentional for the following reason.
Repentance is one aspect of a larger subject known as Conversion. Conversion is a
dichotomy, meaning that it is a subject that is comprised of two parts. Conversion is comprised of
both repentance and faith. Repentance is the teaching which treats the negative aspects of
conversion, while the Doctrine of Faith deals with the positive aspects of conversion. In this paper
we will be dealing strictly with repentance; the negative aspect of conversion, leaving the treatment
of faith for a later time.
Here we will treat the subject of repentance as a whole, while keeping in mind that the
Doctrine of Repentance, itself, serves as an integrative part of much larger and broader subjects
within Christian Theology and especially in Soteriology.
Having given a brief definition of repentance I will first show what repentance is not. There
are several incorrect notions of repentance which are responsible for much confusion in
Christendom today. These incorrect notions of repentance will attribute to the self deception of
both believers and unbelievers, and these notions will also fuel false conversions of entire
congregations making them true candidates for apostasy.
There are several incorrect notions, or thoughts, concerning repentance that leaves us as
believers confused as how to repent. We will look at the three aspects of biblical repentance,
analyze each, and then contrast them with wrong notions. This will give us clarity as to what biblical
repentance is, and what it is not. First, we will take a look at what repentance is not.
Repentance is not the same as remorse. Repentance, in its entirety, is not a feeling of any
sort. Repentance, in its entirety, is not a deep sorrow or even a feeling of guilt or shame. Tears do
not equal repentance.
Repentance is not the act of making solemn resolutions, nor is it the promising to get it right
the next time, or saying, "Never again". Repentance is not doing acts of penance and it is not the
fearing the damnation of hell. These notions are sometimes taught by leaders as being true
repentance, and they are also sometimes assumed by people to be the correct acts of repentance.
The Three Aspects of Biblical Repentance
The act of repentance can be divided into three main areas. We will refer to these three
areas as the three aspects of repentance. True biblical repentance will be brought about by a change
in each one of these areas. As the change affects each of these three areas individually the result will
be that they corporately work together to bring about a complete change of disposition. Biblical
repentance is a complete turning. This turning only happens when all three areas have been
affected. The three aspects which make up repentance are as follows: 1) the intellectual aspect, 2)
the emotional aspect, and 3) the volitional aspect (or the aspect of will).
mind
Intellectual aspect
SOUL
Volitional aspect
will
emotion
Emotional aspect
Notice that all three aspects of repentance occur in the soul of a man. The soul of a man is a
tripartite constitution. This means that his soul is comprised of three parts. True biblical repentance
occurs in each of these areas (mind, emotions, and will).
Biblical repentance, however, is not an act which is confined to the realm of a person's soul.
There are several places in scripture which speak of a man's spirit participating in the act of
repentance. Psalm 51:17 is one example. Here the writer states, "The sacrifices of God are a broken
spirit, a broken and a contrite heart-- these, O God, You will not despise.
We will now proceed to look at each aspect of repentance individually, and then we will see
how the different aspects relate to each other in order to bring about the complete dispositional
change of heart.
The Intellectual Aspect
The first aspect we will consider is the intellectual aspect. The intellectual aspect of
repentance occurs in the realm of a man's mind. This involves his knowledge and comprehension,
his logic and his reasoning. For a man to repent he must know his lost condition. He must understand
his miserable state. This means that man must possess some sort of knowledge concerning himself
in this negative sense. His knowledge must include some of, but not necessarily all of, the following:
he is both guilty and condemned under the Holy Law of God as a sinner (Romans 3:10-20). He is
separated from God, being God's enemy (Romans 5:8-10). He is dead in his sins and trespasses (Eph.
2:1-3) and found to be one spiritually incapable of receiving the things of God, deeming them foolish
(2 Cor. 2:14).
In regards to this first aspect, the Scripture acts as our assistant. There are several Scriptures
which affirm this intellectual aspect of repentance as being necessary, and additionally these
Scriptures aid us in the repentance process. Among those Scriptures include:
Romans 3:19-20 - Now we know that whatever the law says, it says to those who are under
the law, that every mouth may be stopped, and all the world may become guilty before God. 20
Therefore by the deeds of the law no flesh will be justified in His sight, for by the law is the knowledge
of sin.
Psalm 51:3-4 - For I acknowledge my transgressions, and my sin is always before me. Against
You, You only, have I sinned, and done this evil in Your sight-- That You may be found just when You
speak, and blameless when You judge.
Ezekiel 36:31 -Then you will remember your evil ways and your deeds that were not good;
and you will loathe yourselves in your own sight, for your iniquities and your abominations.
The Emotional Aspect
The second aspect of repentance which will consider is the aspect of emotion. The emotions
of a man must be effected in repentance as the Scriptures show us that we are to be of a contrite
heart. Sorrow is often expressed in repentance and can be a confirmation of the intellectual grasp of
one being in the wrong. Often when we know that we have done something wrong we feel and
express our sorrow. This does not always need to be a visible expression however. We cannot make
tears a requirement for repentance. The emotional aspect of repentance is often expressed inwardly
and not visible to others.
Conversely, we should point out that most sincere and genuine cases of repentance do
result in outward expressions of remorse and weeping. Joel 2:12-13 is a great example to illustrate
this point. The Lord is calling His people to return to Him with all of their hearts; with fasting,
weeping and mourning. Then He tells them to rend (or tear) their hearts and not their garments. Is
the Lord forbidding the people from making outward expressions of their remorse? No. He is,
however, discouraging them from performing those outward expressions devoid of the inward
reality.
There are several other places in the Scripture where outward expressions of remorse are
made because of one's sin. Take, for example, Isaiah 6 where the prophet says, "Woe is me, for I am
cut off! For I am a man of unclean lips, and I dwell in the midst of a people of unclean lips; for my
eyes have seen the King, the Lord of hosts."1
Or in Job who says, "I have heard of You by the hearing of the ear, but now my eye has seen
You. Therefore I abhor myself and repent in dust and ashes."2 No one would doubt the validity of
these men's inward sincerity. Both Isaiah and Job after seeing the beauty, justice and holiness of the
King hated themselves. They saw what they truly were. They were as lepers wrapped in silk clothing.
The fine material can conceal the condition of a leper for only a few minutes before the rotting and
putrid flesh would seep through the cloth. In the same way, so would these men's righteousness be
as filthy rags before the King of righteousness and inexpressible Perfection.
Jer. 31:19 – Surely, after my turning, I repented; and after I was instructed, I struck myself on the
thigh; I was ashamed, yes, even humiliated, because I bore the reproach of my youth.'
Ps. 51:17 – The sacrifices of God are a broken spirit, a broken and a contrite heart-- these, O God,
You will not despise.
2 Cor. 7:10 - For godly sorrow produces repentance leading to salvation, not to be regretted; but the
sorrow of the world produces death.
The Volitional Aspect
1
2
Isaiah 6:5
Job 42:5-6
We now come to the third aspect of repentance: the volitional aspect. This aspect is often
stressed the most of the three and is, in my opinion, the most important of all three aspects. I have
known many people who have been active in the first two aspects of repentance; understanding
their position as a sinner and feeling deep remorse. But these people fell short of the third aspect,
never actually following through with the decision to turn from their sinful ways, and thus, did not
have a true and biblical repentance. True repentance is not complete until the person's will is
involved in the process.
Here an important point should be made. We should distinguish the difference between
someone having the desire (wanting, willing) to change and actually possessing the ability to change.
Paul makes it very clear to us in Romans 7 that born-again Christians possess desires for holiness
that are, at times, devoid of the power to carry out those desires, being weak in the flesh.3
What do we say then if a person wills to carry out the action of repentance but does not
have the will-power to actually do so? Is he excused from acting and forsaking his sin? What if one
desires to preserver in the faith but finds that he does not possess the self determination or ability
to do so? Here the Spirit will give strength in our inner man to make up for our lack. In the process
of the application of redemption God, in many ways and at many instances, gives to the believer, in
grace, the ability to carry out what the believer could not carry out in his own strength.
Repentance as it is Emphasized in the Scriptures
Repentance is a recurring theme. Anyone familiar with the books of both the Old and New
Testaments will agree that repentance is a significant concept found throughout the entirety of
Scripture. Repentance was one of the main themes throughout the entire Old Testament, being an
emphatic thrust of virtually every Old Testament Prophet. "Return" is mentioned 246 times in the
Old Testament Scriptures alone.
Repentance is the theme which the Old Testament concludes with in Malachi; also it is the
opening message of the New Testament heralded from the mouths of the first two New Testament
Jewish preachers: John the Baptist and Jesus Christ.
The teachings of repentance are also interrelated to several other Biblical doctrines. The
teaching is related to God's dealings with His people of Covenant, the salvation of individuals, the
Lord's judgments and wrath distributed towards nations, and other important subjects.
3
Romans 7:15-19 - For what I am doing, I do not understand. For what I will to do, that I do not practice; but what I hate, that I do. 16 If,
then, I do what I will not to do, I agree with the law that it is good. 17 But now, it is no longer I who do it, but sin that dwells in me. 18 For I
know that in me (that is, in my flesh) nothing good dwells; for to will is present with me, but how to perform what is good I do not find. 19
For the good that I will to do, I do not do; but the evil I will not to do, that I practice.