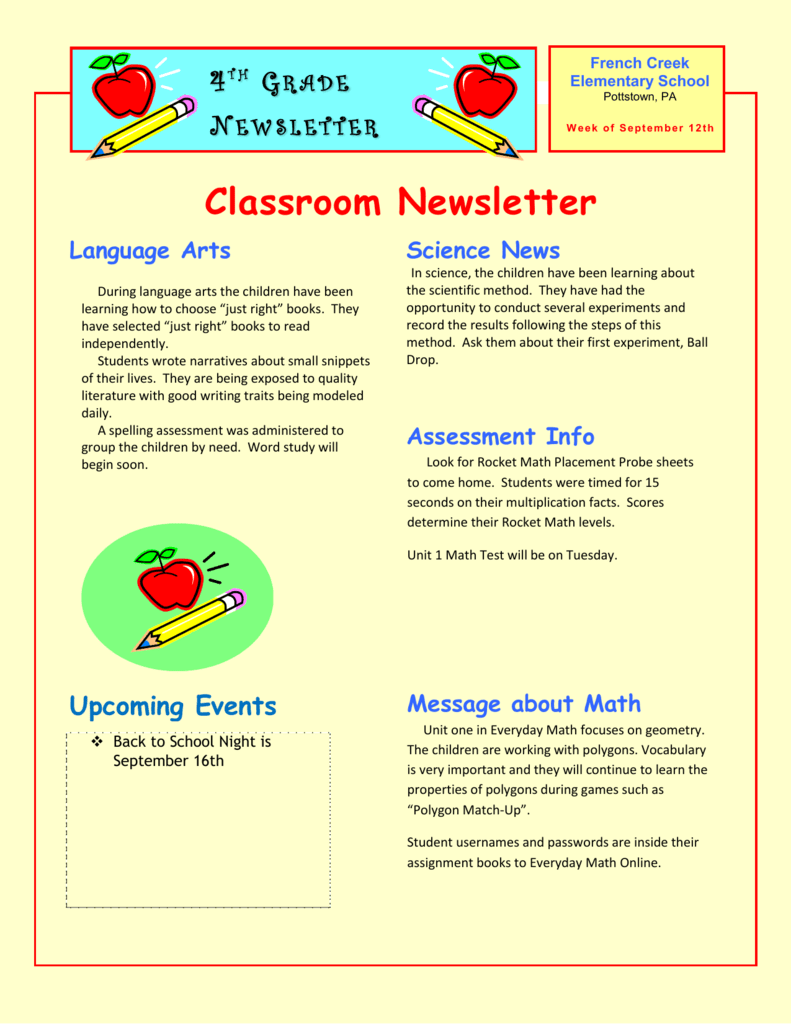 4
TH
French Creek
Elementary School
GRADE
Pottstown, PA
NEWSLETTER
Week of September 12th
Classroom Newsletter
Language Arts
During language arts the children have been
learning how to choose "just right" books. They
have selected "just right" books to read
independently.
Students wrote narratives about small snippets
of their lives. They are being exposed to quality
literature with good writing traits being modeled
daily.
A spelling assessment was administered to
group the children by need. Word study will
begin soon.
Science News
In science, the children have been learning about
the scientific method. They have had the
opportunity to conduct several experiments and
record the results following the steps of this
method. Ask them about their first experiment, Ball
Drop.
Assessment Info
Look for Rocket Math Placement Probe sheets
to come home. Students were timed for 15
seconds on their multiplication facts. Scores
determine their Rocket Math levels.
Unit 1 Math Test will be on Tuesday.
Upcoming Events
 Back to School Night is
September 16th
Message about Math
Unit one in Everyday Math focuses on geometry.
The children are working with polygons. Vocabulary
is very important and they will continue to learn the
properties of polygons during games such as
"Polygon Match-Up".
Student usernames and passwords are inside their
assignment books to Everyday Math Online.