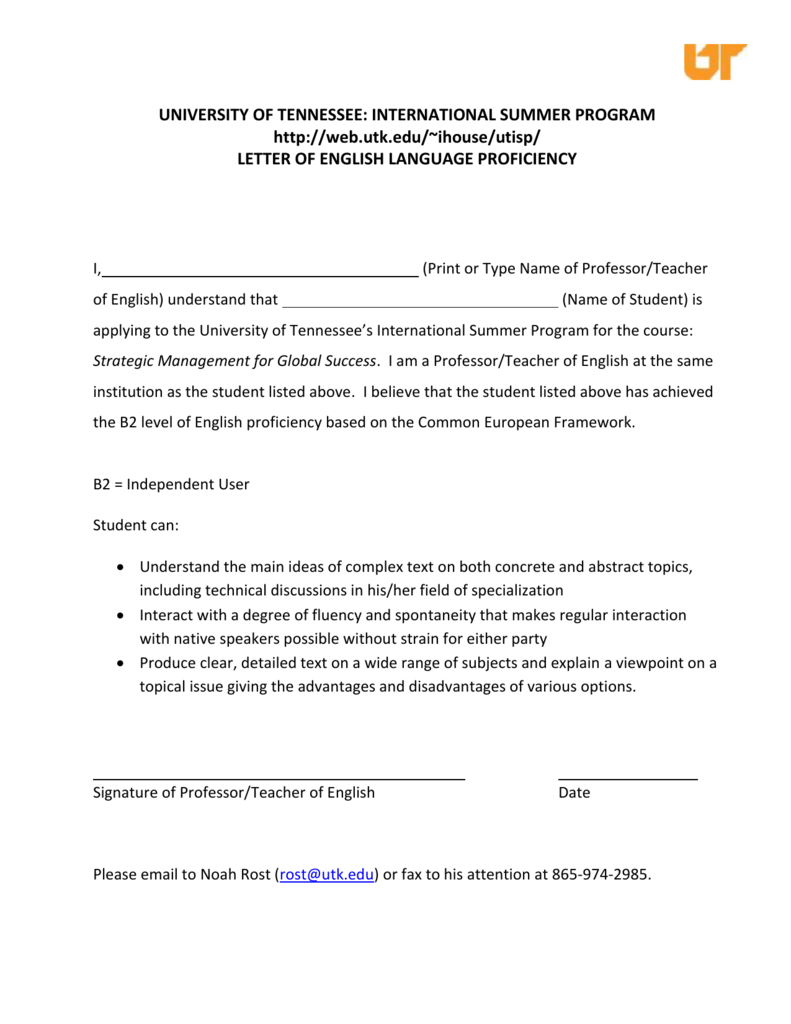 UNIVERSITY OF TENNESSEE: INTERNATIONAL SUMMER PROGRAM
http://web.utk.edu/~ihouse/utisp/
LETTER OF ENGLISH LANGUAGE PROFICIENCY
I,
(Print or Type Name of Professor/Teacher
of English) understand that
(Name of Student) is
applying to the University of Tennessee's International Summer Program for the course:
Strategic Management for Global Success. I am a Professor/Teacher of English at the same
institution as the student listed above. I believe that the student listed above has achieved
the B2 level of English proficiency based on the Common European Framework.
B2 = Independent User
Student can:
 Understand the main ideas of complex text on both concrete and abstract topics,
including technical discussions in his/her field of specialization
 Interact with a degree of fluency and spontaneity that makes regular interaction
with native speakers possible without strain for either party
 Produce clear, detailed text on a wide range of subjects and explain a viewpoint on a
topical issue giving the advantages and disadvantages of various options.
Signature of Professor/Teacher of English
Date
Please email to Noah Rost ([email protected]) or fax to his attention at 865-974-2985.