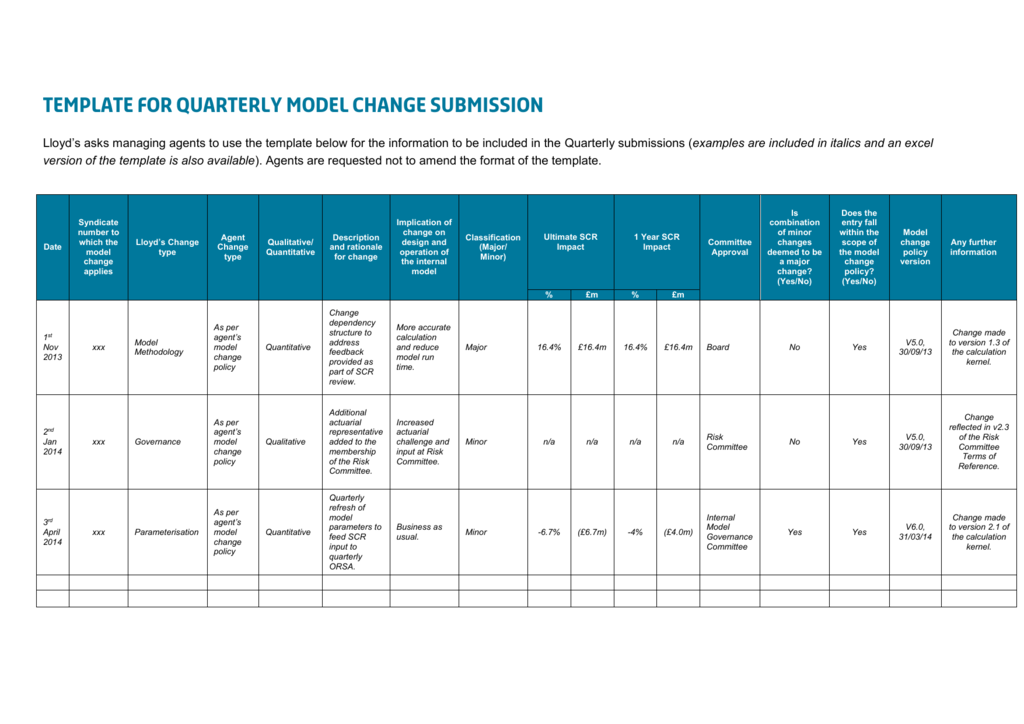 TEMPLATE FOR QUARTERLY MODEL CHANGE SUBMISSION
Lloyd's asks managing agents to use the template below for the information to be included in the Quarterly submissions (examples are included in italics and an excel
version of the template is also available). Agents are requested not to amend the format of the template.
Date
1st
Nov
2013
Syndicate
number to
which the
model
change
applies
xxx
Lloyd's Change
type
Model
Methodology
As per
agent's
model
change
policy
Governance
As per
agent's
model
change
policy
Parameterisation
As per
agent's
model
change
policy
nd
2
Jan
2014
3rd
April
2014
xxx
xxx
Agent
Change
type
Qualitative/
Quantitative
Description
and rationale
for change
Implication of
change on
design and
operation of
the internal
model
Classification
(Major/
Minor)
Ultimate SCR
Impact
1 Year SCR
Impact
%
£m
%
£m
16.4%
£16.4m
16.4%
£16.4m
Quantitative
Change
dependency
structure to
address
feedback
provided as
part of SCR
review.
More accurate
calculation
and reduce
model run
time.
Qualitative
Additional
actuarial
representative
added to the
membership
of the Risk
Committee.
Increased
actuarial
challenge and
input at Risk
Committee.
Minor
n/a
n/a
n/a
n/a
Quantitative
Quarterly
refresh of
model
parameters to
feed SCR
input to
quarterly
ORSA.
Business as
usual.
Minor
-6.7%
(£6.7m)
-4%
(£4.0m)
Major
Committee
Approval
Board
Is
combination
of minor
changes
deemed to be
a major
change?
(Yes/No)
Does the
entry fall
within the
scope of
the model
change
policy?
(Yes/No)
Model
change
policy
version
Any further
information
No
Yes
V5.0,
30/09/13
Change made
to version 1.3 of
the calculation
kernel.
Risk
Committee
No
Yes
V5.0,
30/09/13
Change
reflected in v2.3
of the Risk
Committee
Terms of
Reference.
Internal
Model
Governance
Committee
Yes
Yes
V6.0,
31/03/14
Change made
to version 2.1 of
the calculation
kernel.