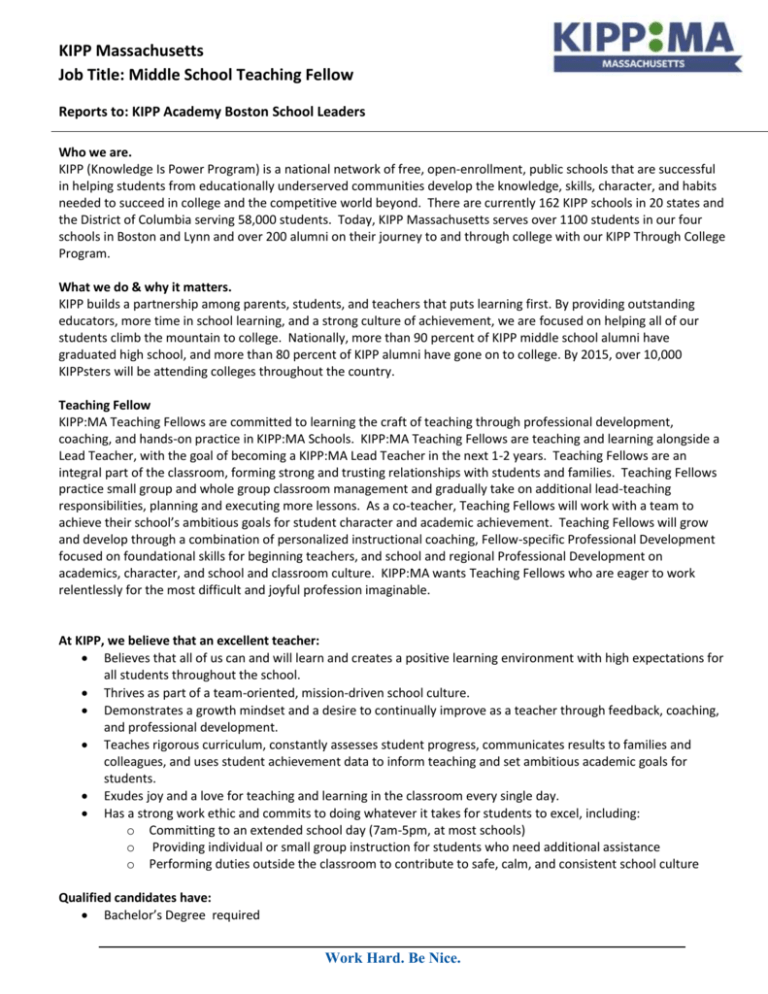 KIPP Massachusetts
Job Title: Middle School Teaching Fellow
Reports to: KIPP Academy Boston School Leaders
Who we are.
KIPP (Knowledge Is Power Program) is a national network of free, open-enrollment, public schools that are successful
in helping students from educationally underserved communities develop the knowledge, skills, character, and habits
needed to succeed in college and the competitive world beyond. There are currently 162 KIPP schools in 20 states and
the District of Columbia serving 58,000 students. Today, KIPP Massachusetts serves over 1100 students in our four
schools in Boston and Lynn and over 200 alumni on their journey to and through college with our KIPP Through College
Program.
What we do & why it matters.
KIPP builds a partnership among parents, students, and teachers that puts learning first. By providing outstanding
educators, more time in school learning, and a strong culture of achievement, we are focused on helping all of our
students climb the mountain to college. Nationally, more than 90 percent of KIPP middle school alumni have
graduated high school, and more than 80 percent of KIPP alumni have gone on to college. By 2015, over 10,000
KIPPsters will be attending colleges throughout the country.
Teaching Fellow
KIPP:MA Teaching Fellows are committed to learning the craft of teaching through professional development,
coaching, and hands-on practice in KIPP:MA Schools. KIPP:MA Teaching Fellows are teaching and learning alongside a
Lead Teacher, with the goal of becoming a KIPP:MA Lead Teacher in the next 1-2 years. Teaching Fellows are an
integral part of the classroom, forming strong and trusting relationships with students and families. Teaching Fellows
practice small group and whole group classroom management and gradually take on additional lead-teaching
responsibilities, planning and executing more lessons. As a co-teacher, Teaching Fellows will work with a team to
achieve their school's ambitious goals for student character and academic achievement. Teaching Fellows will grow
and develop through a combination of personalized instructional coaching, Fellow-specific Professional Development
focused on foundational skills for beginning teachers, and school and regional Professional Development on
academics, character, and school and classroom culture. KIPP:MA wants Teaching Fellows who are eager to work
relentlessly for the most difficult and joyful profession imaginable.
At KIPP, we believe that an excellent teacher:
 Believes that all of us can and will learn and creates a positive learning environment with high expectations for
all students throughout the school.
 Thrives as part of a team-oriented, mission-driven school culture.
 Demonstrates a growth mindset and a desire to continually improve as a teacher through feedback, coaching,
and professional development.
 Teaches rigorous curriculum, constantly assesses student progress, communicates results to families and
colleagues, and uses student achievement data to inform teaching and set ambitious academic goals for
students.
 Exudes joy and a love for teaching and learning in the classroom every single day.
 Has a strong work ethic and commits to doing whatever it takes for students to excel, including:
o Committing to an extended school day (7am-5pm, at most schools)
o Providing individual or small group instruction for students who need additional assistance
o Performing duties outside the classroom to contribute to safe, calm, and consistent school culture
Qualified candidates have:
 Bachelor's Degree required
Work Hard. Be Nice.





Belief in the mission and values of KIPP
Desire to learn the craft of teaching through practice, coaching, and professional development
Prior experience working with children encouraged, but not required
Strong organizational skills, attention to detail, and oral and written communication skills
Ability to manage multiple priorities in a dynamic, fast-paced work environment
A MA Teaching License is not required to apply for a Teaching Fellow role. Teachers who have taught in MA Public Schools,
including Public Charter Schools, for one or more years must have passing scores on all applicable MTELs.
To apply:
Please visit our job board at http://kippcareers.force.com/jobboard?site=Massachusetts and complete an online
application.
TERMS OF EMPLOYMENT
The position of Teaching Fellow is an exempt, full time, 12 month, salaried position. Minimal traveling to/from sites
outside of Boston, MA or Lynn, MA for meetings may be required. KIPP MA is an employment at-will organization.
Work schedule will be determined by the School Leader.
COMPENSATION:
Compensation is competitive and includes a comprehensive benefits package.
KIPP Massachusetts is an equal opportunity employer. We do not discriminate on the basis of race, gender, handicap,
age, religion, sexual orientation, or national or ethnic origin. We are committed to hiring a diverse and multicultural
staff and encourage applications from traditionally under-represented backgrounds.
Work Hard. Be Nice.