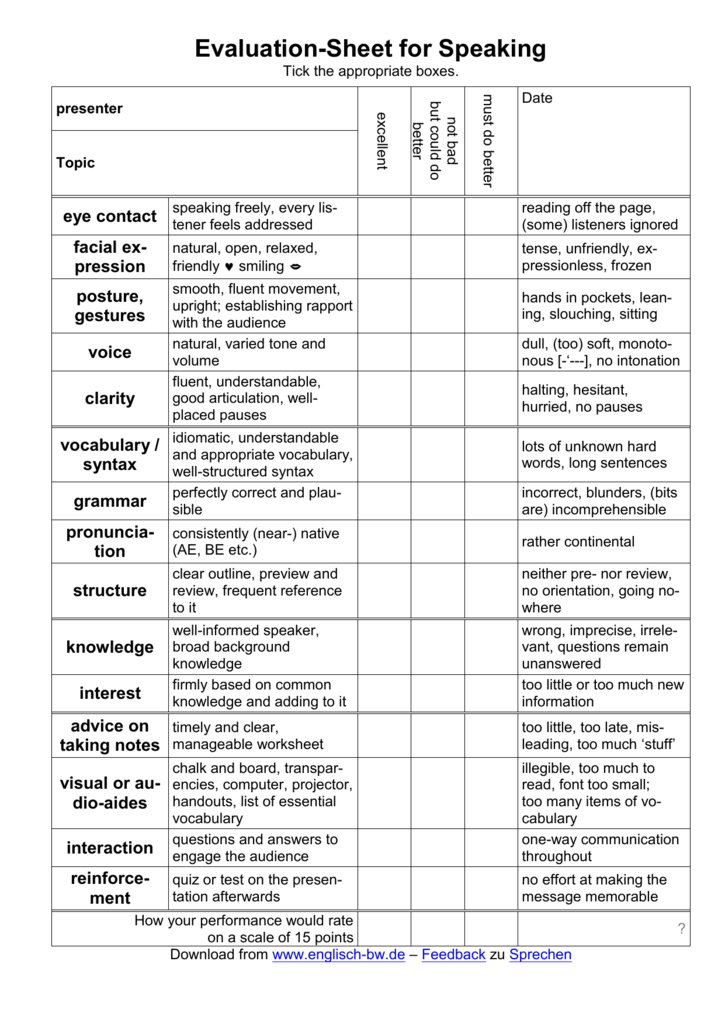 Evaluation-Sheet for Speaking
Tick the appropriate boxes.
speaking freely, every lis-
eye contact tener feels addressed
facial exnatural, open, relaxed,
friendly  smiling 
pression
posture,
gestures
voice
clarity
smooth, fluent movement,
upright; establishing rapport
with the audience
natural, varied tone and
volume
fluent, understandable,
good articulation, wellplaced pauses
vocabulary / idiomatic, understandable
and appropriate vocabulary,
syntax
well-structured syntax
must do better
Topic
not bad
but could do
better
excellent
presenter
Date
reading off the page,
(some) listeners ignored
tense, unfriendly, expressionless, frozen
hands in pockets, leaning, slouching, sitting
dull, (too) soft, monotonous [-'---], no intonation
halting, hesitant,
hurried, no pauses
lots of unknown hard
words, long sentences
grammar
perfectly correct and plausible
incorrect, blunders, (bits
are) incomprehensible
pronunciation
consistently (near-) native
(AE, BE etc.)
rather continental
structure
clear outline, preview and
review, frequent reference
to it
neither pre- nor review,
no orientation, going nowhere
well-informed speaker,
broad background
knowledge
firmly based on common
knowledge and adding to it
wrong, imprecise, irrelevant, questions remain
unanswered
too little or too much new
information
knowledge
interest
advice on timely and clear,
taking notes manageable worksheet
too little, too late, misleading, too much 'stuff'
chalk and board, transparvisual or au- encies, computer, projector,
dio-aides handouts, list of essential
vocabulary
questions and answers to
interaction engage the audience
illegible, too much to
read, font too small;
too many items of vocabulary
one-way communication
throughout
reinforcement
quiz or test on the presentation afterwards
no effort at making the
message memorable
How your performance would rate
on a scale of 15 points
Download from www.englisch-bw.de – Feedback zu Sprechen
?