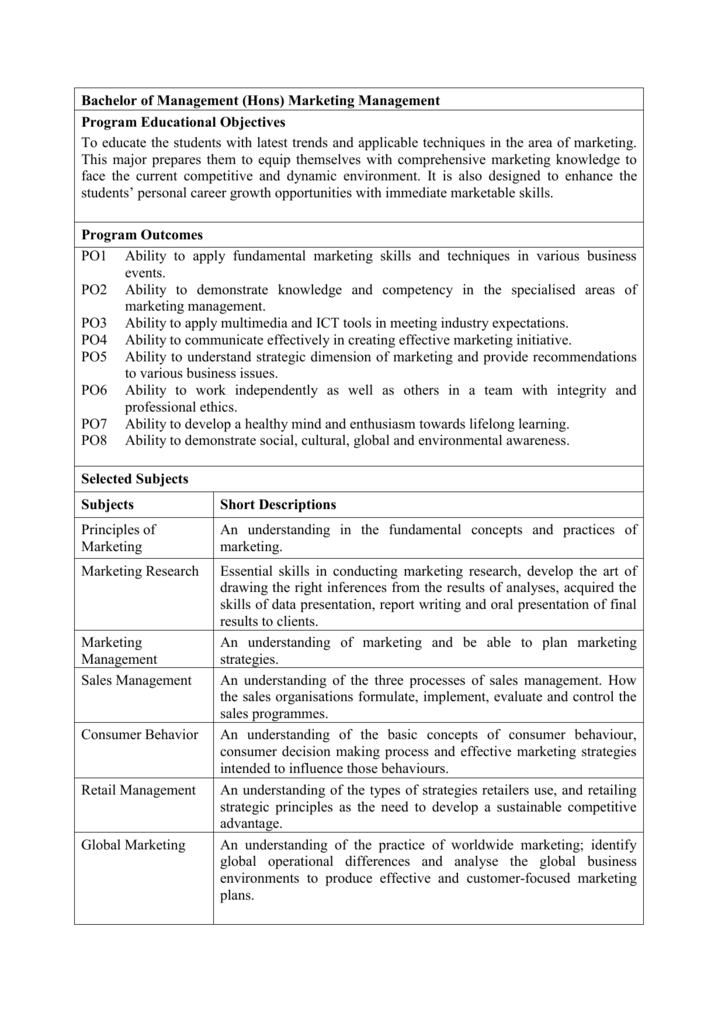 Bachelor of Management (Hons) Marketing Management
Program Educational Objectives
To educate the students with latest trends and applicable techniques in the area of marketing.
This major prepares them to equip themselves with comprehensive marketing knowledge to
face the current competitive and dynamic environment. It is also designed to enhance the
students' personal career growth opportunities with immediate marketable skills.
Program Outcomes
PO1 Ability to apply fundamental marketing skills and techniques in various business
events.
PO2 Ability to demonstrate knowledge and competency in the specialised areas of
marketing management.
PO3 Ability to apply multimedia and ICT tools in meeting industry expectations.
PO4 Ability to communicate effectively in creating effective marketing initiative.
PO5 Ability to understand strategic dimension of marketing and provide recommendations
to various business issues.
PO6 Ability to work independently as well as others in a team with integrity and
professional ethics.
PO7 Ability to develop a healthy mind and enthusiasm towards lifelong learning.
PO8 Ability to demonstrate social, cultural, global and environmental awareness.
Selected Subjects
Subjects
Short Descriptions
Principles of
Marketing
An understanding in the fundamental concepts and practices of
marketing.
Marketing Research
Essential skills in conducting marketing research, develop the art of
drawing the right inferences from the results of analyses, acquired the
skills of data presentation, report writing and oral presentation of final
results to clients.
An understanding of marketing and be able to plan marketing
strategies.
An understanding of the three processes of sales management. How
the sales organisations formulate, implement, evaluate and control the
sales programmes.
An understanding of the basic concepts of consumer behaviour,
consumer decision making process and effective marketing strategies
intended to influence those behaviours.
An understanding of the types of strategies retailers use, and retailing
strategic principles as the need to develop a sustainable competitive
advantage.
An understanding of the practice of worldwide marketing; identify
global operational differences and analyse the global business
environments to produce effective and customer-focused marketing
plans.
Marketing
Management
Sales Management
Consumer Behavior
Retail Management
Global Marketing
Subjects
Short Descriptions
Marketing
Communication
Concepts of marketing communication, its role in overall marketing
strategy and key elements of marketing promotions in developing the
promotional program.
Product Planning and Systematic coverage of product planning concepts, develop planning
Management
and managing new and mature products based on practical marketing
strategies.
Service Marketing
An integrated approach to the study of services that places marketing
issues within a broader general management context.
Marketing Strategy
An understanding of the concept of marketing strategy, analyse the
internal and external factors and develop appropriate marketing
strategies for different market situations.
Marketing and
Information
Technology
Marketing Channel
Management
Industrial Marketing
An understanding on the usage of interactive media and the on-line
environment to create and deliver marketing messages, customer
services, and information products to multi-cultural and multi-national
customers.
Knowledge and skill on managing distribution channels.
An understanding in business to business marketing, identify the
factors influencing industrial decision making and develop effective
marketing program for business customers.
Job Prospects
Graduates have employment opportunities in industries such as banking, insurance, finance,
manufacturing, education, consultancy, and international trade.
Job prospects are Presidents, Chief Executive Officers, Marketing Directors, Marketing
Consultants, Marketing Managers, Department Heads, General Managers, Lecturers, Product
Managers, Marketing Vice-President, Event Managers, Service and Operation Managers,
Supply Chain Managers, Strategic Planners, Quality Control Managers and Customer
Relations Managers.