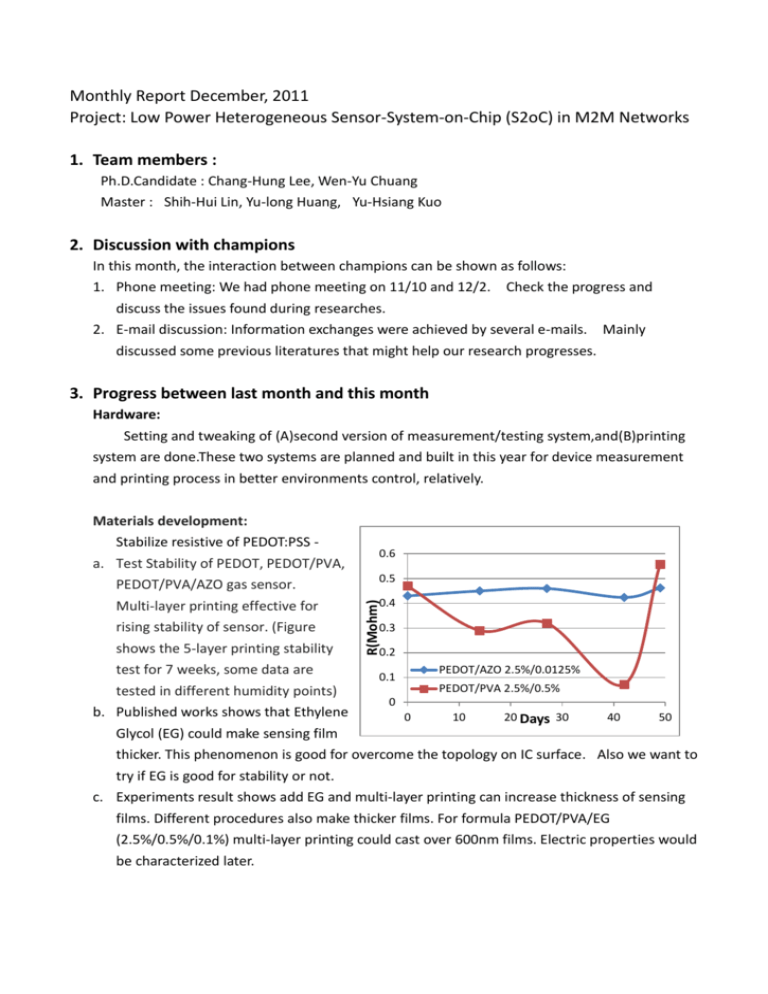 Monthly Report December, 2011
Project: Low Power Heterogeneous Sensor-System-on-Chip (S2oC) in M2M Networks
1. Team members :
Ph.D.Candidate : Chang-Hung Lee, Wen-Yu Chuang
Master : Shih-Hui Lin, Yu-long Huang, Yu-Hsiang Kuo
2. Discussion with champions
In this month, the interaction between champions can be shown as follows:
1. Phone meeting: We had phone meeting on 11/10 and 12/2. Check the progress and
discuss the issues found during researches.
2. E-mail discussion: Information exchanges were achieved by several e-mails. Mainly
discussed some previous literatures that might help our research progresses.
3. Progress between last month and this month
Hardware:
Setting and tweaking of (A)second version of measurement/testing system,and(B)printing
system are done.These two systems are planned and built in this year for device measurement
and printing process in better environments control, relatively.
Materials development:
0.6
0.5
0.4
R(Mohm)
Stabilize resistive of PEDOT:PSS a. Test Stability of PEDOT, PEDOT/PVA,
PEDOT/PVA/AZO gas sensor.
Multi-layer printing effective for
rising stability of sensor. (Figure
shows the 5-layer printing stability
test for 7 weeks, some data are
tested in different humidity points)
b. Published works shows that Ethylene
0.3
0.2
PEDOT/AZO 2.5%/0.0125%
0.1
PEDOT/PVA 2.5%/0.5%
0
0
10
20 Days 30
40
50
Glycol (EG) could make sensing film
thicker. This phenomenon is good for overcome the topology on IC surface. Also we want to
try if EG is good for stability or not.
c. Experiments result shows add EG and multi-layer printing can increase thickness of sensing
films. Different procedures also make thicker films. For formula PEDOT/PVA/EG
(2.5%/0.5%/0.1%) multi-layer printing could cast over 600nm films. Electric properties would
be characterized later.
Humidity sensing tets:
Test PEDOT/PVA 2.5%/0.5% device
for humidity sensing. Result indicated
that sensitivity is about 20kΩ/ΔRH% (for
Rinit~700kΩ, ΔR/Rinit is over 2%
perΔRH).
However, saturation phenomenon
was observed at about 60%RH. Some
published works shows that saturation
often happened at 80%RH.We argued 2
reasons: A) Concentration formulas and
thickness of polymer films are different
from paper. B) Reference sensor error comes larger especially at high humidity level.
Better commercial humidity sensor should be choose as reference to re-check saturation
point. Hence, different commercial precision humidity sensor were tested.
4. Brief plan for next month
a. Milestones
i.
Measurements of PEDOT:PSS/EG/PVA or similar composite materials.
ii.
Stabilize resistive of PEDOT:PSS.
iii. Address possible solutions for saturation phenomenon for humidity sensing
b. Deliverables
i.
Stability test results of devices over 80 days.
ii.
Measurements results of humidity sensing devices.
iii. Double-check of saturations response humidity sensing films.
c. Success criteria
i.
Stable & robust sensing devices.
ii.
Based on developed polymer sensor devices, proposed read-out circuits for bottom-IC.