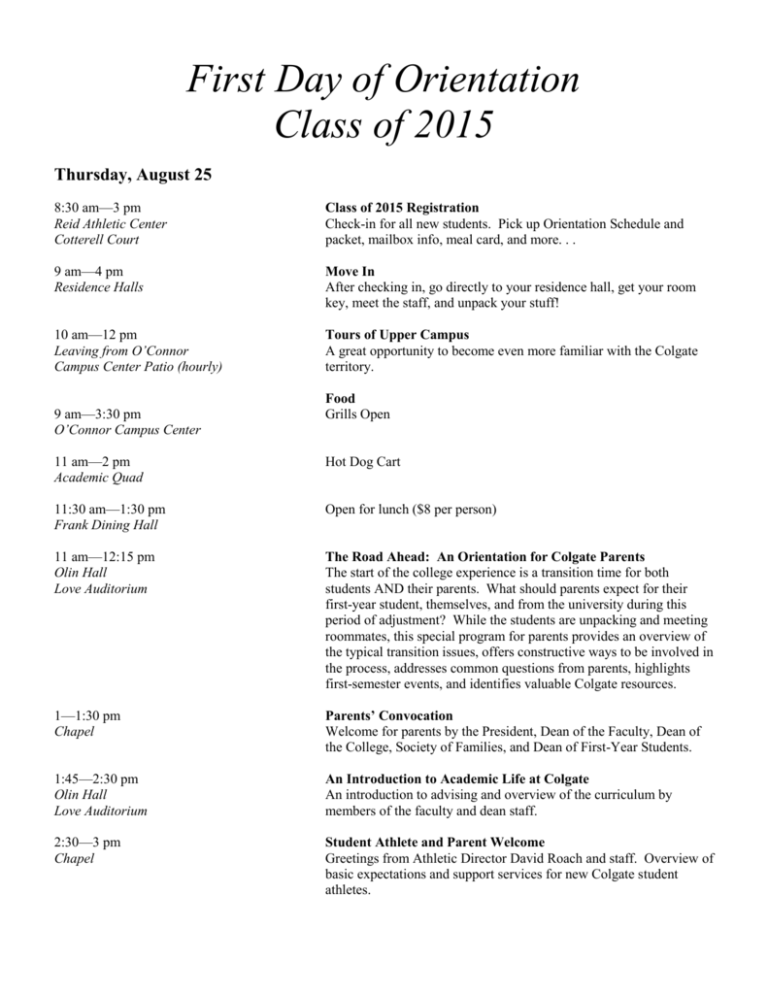 First Day of Orientation
Class of 2015
Thursday, August 25
8:30 am—3 pm
Reid Athletic Center
Cotterell Court
Class of 2015 Registration
Check-in for all new students. Pick up Orientation Schedule and
packet, mailbox info, meal card, and more. . .
9 am—4 pm
Residence Halls
Move In
After checking in, go directly to your residence hall, get your room
key, meet the staff, and unpack your stuff!
10 am—12 pm
Leaving from O'Connor
Campus Center Patio (hourly)
Tours of Upper Campus
A great opportunity to become even more familiar with the Colgate
territory.
9 am—3:30 pm
O'Connor Campus Center
Food
Grills Open
11 am—2 pm
Academic Quad
Hot Dog Cart
11:30 am—1:30 pm
Frank Dining Hall
Open for lunch ($8 per person)
11 am—12:15 pm
Olin Hall
Love Auditorium
The Road Ahead: An Orientation for Colgate Parents
The start of the college experience is a transition time for both
students AND their parents. What should parents expect for their
first-year student, themselves, and from the university during this
period of adjustment? While the students are unpacking and meeting
roommates, this special program for parents provides an overview of
the typical transition issues, offers constructive ways to be involved in
the process, addresses common questions from parents, highlights
first-semester events, and identifies valuable Colgate resources.
1—1:30 pm
Chapel
Parents' Convocation
Welcome for parents by the President, Dean of the Faculty, Dean of
the College, Society of Families, and Dean of First-Year Students.
1:45—2:30 pm
Olin Hall
Love Auditorium
An Introduction to Academic Life at Colgate
An introduction to advising and overview of the curriculum by
members of the faculty and dean staff.
2:30—3 pm
Chapel
Student Athlete and Parent Welcome
Greetings from Athletic Director David Roach and staff. Overview of
basic expectations and support services for new Colgate student
athletes.
2:30—4 pm
Merrill House – front lawn
Ice Cream Social and Reception for Parents and Families
Enjoy ice cream with faculty, staff, and other Colgate parents
following the Academic Life and Student Athlete sessions.
Sponsored by the Society of Families.
4 pm
Chapel
*Class Meeting: Toward 2015
This is your official welcome from the President, Deans, and the
Student Government Association. Colgate tradition for the Class of
2015 begins here.
4:45 pm
Academic Quad
(Rain = Sanford Field House)
*Link Group Meetings
Gather in small groups with your Link. Bring your Orientation
Schedule and remember your Link group number.
5:30—6:30 pm
Academic Quad
(Rain = Sanford Field House)
*Welcome Dinner
Enjoy a casual dinner with your Link group and get to know your
classmates.
6:30 pm
See your residence hall bulletin boards.
*Individual Residence Hall Meetings
At your floor meeting, your Resident Advisor (RA) will provide you
with essential health and safety information. You will also receive
important guidance and information about community living,
University policies and annual events/obligations for which you will
be responsible.
8—9 pm
Chapel Steps
*Class T-Shirts
Pick up your Class of 2015 T-shirt.
9 pm
Chapel
*"So This is Colgate…"
An entertaining introduction to Colgate's history and traditions and a
snapshot of life on campus.
10 pm
Olin Hall
Love Auditorium
Movie: TBA
Food and giveaways!
10 pm
J.C. Colgate Hall
Donovan's Pub
High Rollers Casino Night
Come and enjoy a night of fun with Blackjack, Over-Under, Red
Dog, Caribbean Stud, Roulette, Let-It-Ride, Craps, Bang (E-Z Craps),
the Big Wheel, and even the extremely popular Texas Hold'em. Win
prizes, have some pizza and enjoy yourself. (Sorry! No real money
will be used).
Please note that this is a preliminary schedule. Locations are subject to change.
Attendance is required at all events marked with an asterisk (*).