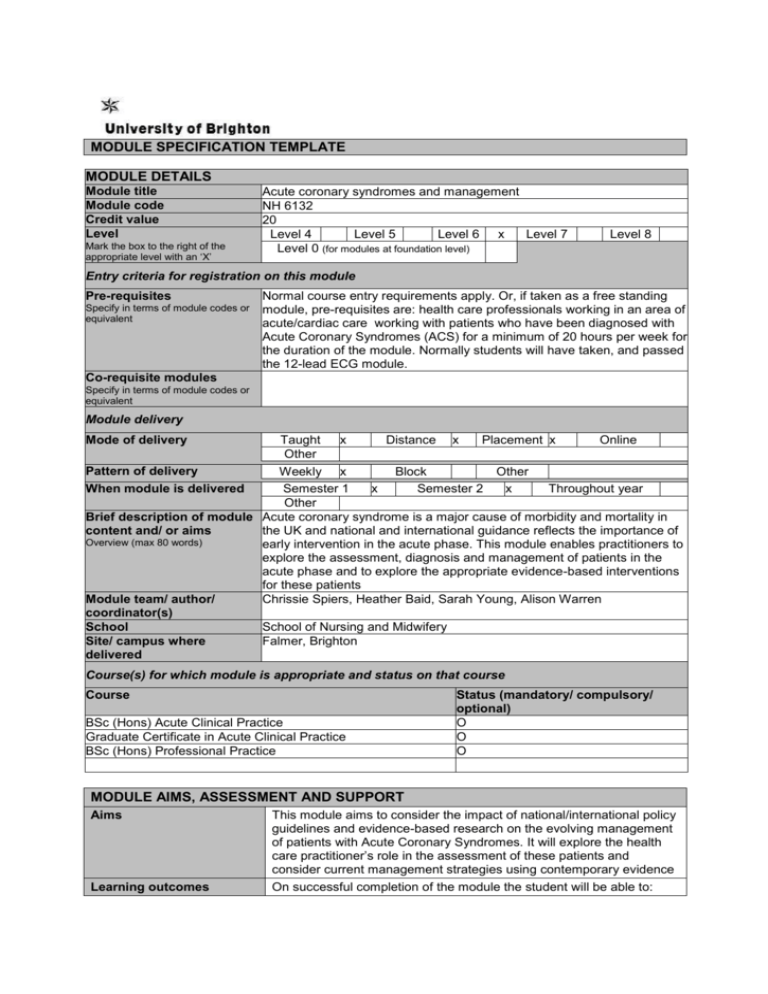 MODULE SPECIFICATION TEMPLATE
MODULE DETAILS
Module title
Module code
Credit value
Level
Mark the box to the right of the
appropriate level with an 'X'
Acute coronary syndromes and management
NH 6132
20
Level 4
Level 5
Level 6 x
Level 7
Level 0 (for modules at foundation level)
Level 8
Entry criteria for registration on this module
Pre-requisites
Specify in terms of module codes or
equivalent
Normal course entry requirements apply. Or, if taken as a free standing
module, pre-requisites are: health care professionals working in an area of
acute/cardiac care working with patients who have been diagnosed with
Acute Coronary Syndromes (ACS) for a minimum of 20 hours per week for
the duration of the module. Normally students will have taken, and passed
the 12-lead ECG module.
Co-requisite modules
Specify in terms of module codes or
equivalent
Module delivery
Mode of delivery
Taught
x
Distance x
Placement x
Online
Other
Pattern of delivery
Weekly x
Block
Other
When module is delivered
Semester 1
x
Semester 2
x
Throughout year
Other
Brief description of module Acute coronary syndrome is a major cause of morbidity and mortality in
content and/ or aims
the UK and national and international guidance reflects the importance of
Overview (max 80 words)
early intervention in the acute phase. This module enables practitioners to
explore the assessment, diagnosis and management of patients in the
acute phase and to explore the appropriate evidence-based interventions
for these patients
Module team/ author/
Chrissie Spiers, Heather Baid, Sarah Young, Alison Warren
coordinator(s)
School
School of Nursing and Midwifery
Site/ campus where
Falmer, Brighton
delivered
Course(s) for which module is appropriate and status on that course
Course
BSc (Hons) Acute Clinical Practice
Graduate Certificate in Acute Clinical Practice
BSc (Hons) Professional Practice
Status (mandatory/ compulsory/
optional)
O
O
O
MODULE AIMS, ASSESSMENT AND SUPPORT
Aims
Learning outcomes
This module aims to consider the impact of national/international policy
guidelines and evidence-based research on the evolving management
of patients with Acute Coronary Syndromes. It will explore the health
care practitioner's role in the assessment of these patients and
consider current management strategies using contemporary evidence
On successful completion of the module the student will be able to:
1. Critically evaluate the pathophysiology of coronary artery
disease
2. Critically interpret the clinical presentation, cardiac marker
assays and 12-lead ECG in the context of patient presentation
3. Engage in critical debate surrounding the management of
Acute Coronary Syndromes in relation to local NHS Trust,
national and international evidence-based guidelines
4. Critically discuss the pharmacological, medical and
interventional approaches to the emergency and elective
management of patients with Acute Coronary Syndromes
5. Critically evaluate the provision of cardiac care and
rehabilitation services and compare their efficacy for different
client groups
6. Debate and advance discussion of the psychosocial issues
involved in living with Acute Coronary Syndromes and critically
evaluate the role of the health care practitioner in supporting
the patient and his family
Content






Learning support
Pathophysiology of coronary artery disease, atheroma
formation, acute plaque rupture and plaque pacification
Physical assessment, clinical assessment including ECG
criteria, serum cardiac markers and arterial blood gas analysis
Emergency interventions, risk stratification, pharmacological
and interventional approaches
Secondary interventions, investigations and pharmacological
management
Discussion of the role of professional networks and health
care professionals in provision of cardiac services and cardiac
rehabilitation
Psychosocial aspects of patient/family education and support
Text books:
Latest edition of the following texts
Creed, F. and C. Spiers 2010 Care of the Acutely Ill Adult: an essential
guide for nurses Oxford: Oxford University Press
Gersch, B.J. and L.H.Opie. 2009 Drugs for the heart 7th ed.
Philadelphia: Saunders Elsevier
Houghton, A.R. and D. Gray 2008 Making sense of the ECG: a hands
on guide 3rd ed. London: Hodder Arnold
Quinn, T. and A.M. Kucia 2010 Acute Cardiac Care: a practical guide
for nurses. Chichester: Wiley-Blackwell
Redwood, S., N. Curzen and M.R. Thomas. 2010 Oxford textbook of
interventional cardiology Oxford: Oxford University Press
Woods, S.L. 2010 Cardiac Nursing 6th ed. Philadelphia: Lippincott,
Williams and Wilkins
Websites:
http://www.nice.org.uk
http://escardio.org
http://www.cardiology.org
Journal titles:





British Journal of Cardiac Nursing
British Journal of Cardiology
Heart
European Journal of Cardiology
Acute cardiac care
Teaching and learning activities
Details of teaching and
learning activities
Teaching and learning strategies include:
Lectures
Group work
Seminars
Role play
Guided study (distance learning)
Allocation of study hours (indicative)
Study hours
Where 10 credits = 100 learning hours
SCHEDULED
This is an indication of the number of hours students
can expect to spend in scheduled teaching activities
including lectures, seminars, tutorials, project
supervision, demonstrations, practical classes and
workshops, supervised time in workshops/ studios,
fieldwork, external visits, and work-based learning.
60 hours
taught to
include some
distance/elearning
GUIDED INDEPENDENT
STUDY
All students are expected to undertake guided
independent study which includes wider reading/
practice, follow-up work, the completion of assessment
tasks, and revisions.
70 hours
independent
learning
PLACEMENT
The placement is a specific type of learning away from
the University that is not work-based learning or a year
abroad.
70 hours
TOTAL STUDY HOURS
200
Assessment tasks
Details of assessment for
this module
The assessment consists of two parts: parts one and two. Both
parts must be passed in order to pass the module.
Part one Theoretical element (50% of overall mark)
Unseen written examination (2 hours) utilising a case study approach
with short answer questions to uncover the student's understanding of
pathophysiology, assessment, emergency and secondary
interventions, discharge preparations and health care professionals
roles (LO 1-6)
Part two Clinical skills (50%) of overall mark
Clinical skills assessment – 6 skills, selected from a choice conducted
by clinical mentor (LO 1-6)
Types of assessment task1
% weighting
Indicative list of summative assessment tasks which lead to the award of credit or which are required for
progression.
(or indicate if
component is
pass/fail)
WRITTEN
Written exam
50%
Clinical skills assessments
50%
COURSEWORK
PRACTICAL
EXAMINATION INFORMATION
Area examination board
Undergraduate CPE (Acute Clinical Practice) AEB
Refer to Faculty Office for guidance in completing the following sections
External examiners
Name
Position and institution
Date appointed
Dr. Julie MacInnes
Senior Lecturer Christ Church
Canterbury University
January 2012
Date tenure
ends
January
2016
QUALITY ASSURANCE
Date of first approval
June 2008
Only complete where this is not the
first version
Date of last revision
May 2010
Only complete where this is not the
first version
Date of approval for this
version
Version number
Modules replaced
June 2013
3
(old code NH3132)
Specify codes of modules for which
this is a replacement
Available as free-standing module?
1
Yes
x
No
Set exercises, which assess the application of knowledge or analytical, problem-solving or evaluative skills, are included
under the type of assessment most appropriate to the particular task.