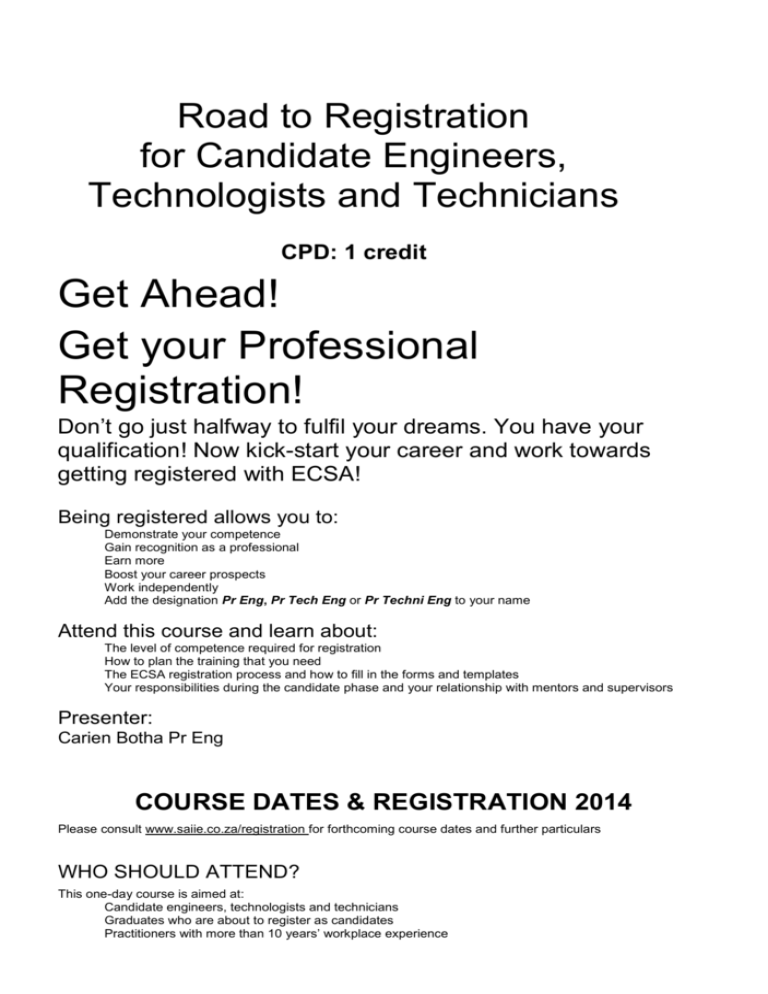 Road to Registration
for Candidate Engineers,
Technologists and Technicians
CPD: 1 credit
Get Ahead!
Get your Professional
Registration!
Don't go just halfway to fulfil your dreams. You have your
qualification! Now kick-start your career and work towards
getting registered with ECSA!
Being registered allows you to:
Demonstrate your competence
Gain recognition as a professional
Earn more
Boost your career prospects
Work independently
Add the designation Pr Eng, Pr Tech Eng or Pr Techni Eng to your name
Attend this course and learn about:
The level of competence required for registration
How to plan the training that you need
The ECSA registration process and how to fill in the forms and templates
Your responsibilities during the candidate phase and your relationship with mentors and supervisors
Presenter:
Carien Botha Pr Eng
COURSE DATES & REGISTRATION 2014
Please consult www.saiie.co.za/registration for forthcoming course dates and further particulars
WHO SHOULD ATTEND?
This one-day course is aimed at:
Candidate engineers, technologists and technicians
Graduates who are about to register as candidates
Practitioners with more than 10 years' workplace experience
Course Content
PHILOSOPHY OF THE CANDIDACY PHASE
Education levels
Training opportunities per sector
COMPETENCIES
The Project Cycle
Core competencies
Cross-cutting competencies
Professional and other competencies
The skills acquisition pyramid
Outcomes
DEVELOPING HIGH PERFORMANCE PROFESSIONALS
Why register?
Becoming a high-performance professional
ROLEPLAYERS
Candidates
Supervising engineers/Coaches
Mentors
ECSA
Mentoring vs Coaching
THE REGISTRATION PROCESS
The registration process
Practical training period
Training plan
Assessments
The final report for submission to ECSA
Continuing development
Code of conduct
Comments from those who attended:
'This was excellent. The course came just at the right time for me.'
'The course was very organised and very precise about the requirements of registration.'
'The course helped me to understand why I have to register, because for me it was just a matter of filling out
paperwork. I now realise my responsibility in my career choice as an engineering technician.'
Don't wait – there's no time like NOW!
ABOUT THE FACILITATOR
Carien Botha is an Industrial Engineer, with diverse experience in industries ranging from industrial and other
manufacturing, engineering and construction, public sector utilities, consulting and professional service firms. In
the past 20 years, she has fulfilled various roles from Junior Engineer to Senior Executive and from Technical to
Strategic.
One of her focus areas as President of the Southern African Institute for Industrial Engineering is to offer support
to Industrial Engineering Practitioners who are intent on Professional Registration.
Carien is involved in various ECSA initiatives, amongst others the introduction of the New Registration System,
and addressing the skills scarcity in Engineering, and specifically in the Industrial Engineering disciplines.
FEES (including VAT)
Fees include course manual, tea and lunch
R2 300 for SAIIE Members
R2 800 for Non-SAIIE Members
In-house courses for a reduced fee per person are available. Contact Marthelene at saice@ally.co.za for further
information.
Benefits include:
Portfolio of Evidence Master File - for filing master documents and signed off reports for submission to
ECSA
Development File - for filing your workplace training plans, time sheets, monthly reports, quarterly
assessments and other reference material which may be necessary for producing your final project report
Interactive exercises to help you learn fast
Networking with other candidates in similar situations
Help with filling in forms and planning your activities
The Candidate Academy's philosophy is to support candidates on their road to registration with ECSA, by helping them through the
transition from theoretical training to the 'how' of engineering projects and processes.The Academy offers practical, hands-on training
relevant to experiences in the workplace.