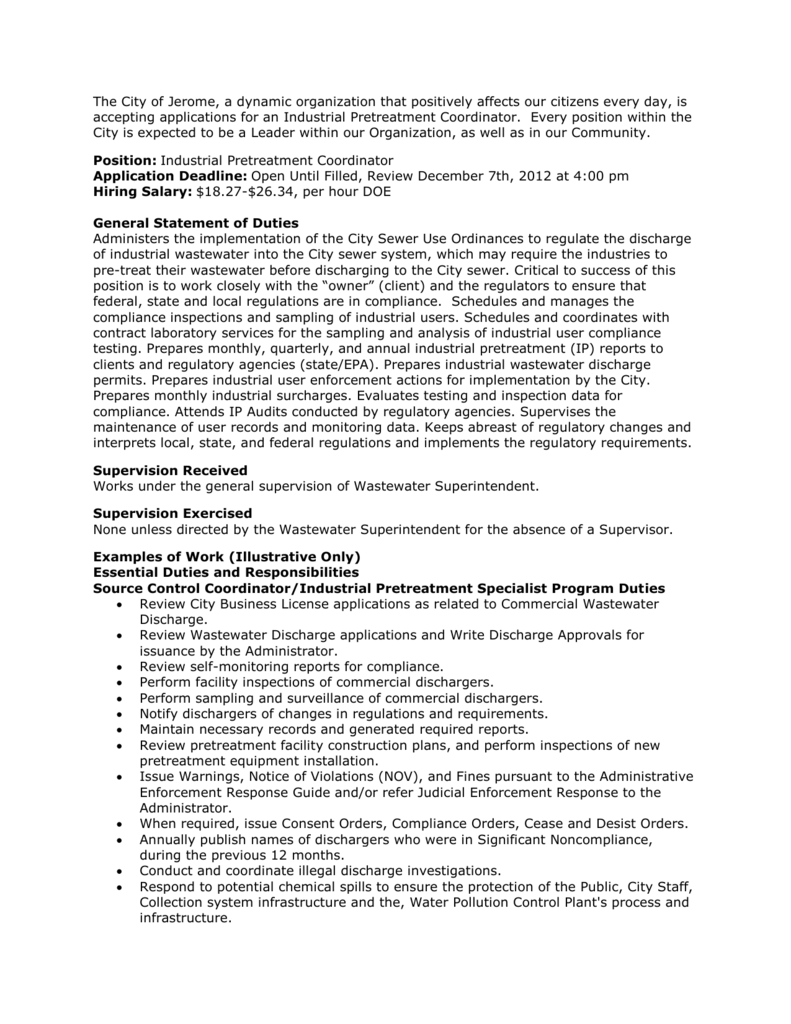 The City of Jerome, a dynamic organization that positively affects our citizens every day, is
accepting applications for an Industrial Pretreatment Coordinator. Every position within the
City is expected to be a Leader within our Organization, as well as in our Community.
Position: Industrial Pretreatment Coordinator
Application Deadline: Open Until Filled, Review December 7th, 2012 at 4:00 pm
Hiring Salary: $18.27-$26.34, per hour DOE
General Statement of Duties
Administers the implementation of the City Sewer Use Ordinances to regulate the discharge
of industrial wastewater into the City sewer system, which may require the industries to
pre-treat their wastewater before discharging to the City sewer. Critical to success of this
position is to work closely with the "owner" (client) and the regulators to ensure that
federal, state and local regulations are in compliance. Schedules and manages the
compliance inspections and sampling of industrial users. Schedules and coordinates with
contract laboratory services for the sampling and analysis of industrial user compliance
testing. Prepares monthly, quarterly, and annual industrial pretreatment (IP) reports to
clients and regulatory agencies (state/EPA). Prepares industrial wastewater discharge
permits. Prepares industrial user enforcement actions for implementation by the City.
Prepares monthly industrial surcharges. Evaluates testing and inspection data for
compliance. Attends IP Audits conducted by regulatory agencies. Supervises the
maintenance of user records and monitoring data. Keeps abreast of regulatory changes and
interprets local, state, and federal regulations and implements the regulatory requirements.
Supervision Received
Works under the general supervision of Wastewater Superintendent.
Supervision Exercised
None unless directed by the Wastewater Superintendent for the absence of a Supervisor.
Examples of Work (Illustrative Only)
Essential Duties and Responsibilities
Source Control Coordinator/Industrial Pretreatment Specialist Program Duties
 Review City Business License applications as related to Commercial Wastewater
Discharge.
 Review Wastewater Discharge applications and Write Discharge Approvals for
issuance by the Administrator.
 Review self-monitoring reports for compliance.
 Perform facility inspections of commercial dischargers.
 Perform sampling and surveillance of commercial dischargers.
 Notify dischargers of changes in regulations and requirements.
 Maintain necessary records and generated required reports.
 Review pretreatment facility construction plans, and perform inspections of new
pretreatment equipment installation.
 Issue Warnings, Notice of Violations (NOV), and Fines pursuant to the Administrative
Enforcement Response Guide and/or refer Judicial Enforcement Response to the
Administrator.
 When required, issue Consent Orders, Compliance Orders, Cease and Desist Orders.
 Annually publish names of dischargers who were in Significant Noncompliance,
during the previous 12 months.
 Conduct and coordinate illegal discharge investigations.
 Respond to potential chemical spills to ensure the protection of the Public, City Staff,
Collection system infrastructure and the, Water Pollution Control Plant's process and
infrastructure.

Administer the Source Control functions of the Strength of Waste Surcharge
Program.
 Attend Pretreatment Conferences and Training Seminars.
Building Services Manager Program Duties
 Require that Pretreatment Program mandated pretreatment devices be installed per
Building Code.
Knowledge, Skills and Abilities
 Substantial knowledge of methods, equipment materials, tools, and standard
practices for sampling and testing of water quality, industrial and commercial waste
discharge.
 Ability to read and interpret City Ordinances, Discharge Permits, State and Federal
Codes, Technical Manuals and Journals.
 Ability to work with mathematical concepts such as probability and statistical
inference and fundamental mathematics.
 Ability to apply concepts such as fractions, percentages, ratios and proportions to
practical situations.
 Ability to grasp mechanical and chemical industrial concepts and processes.
 Ability to deal with non-verbal symbolism (formulae, scientific equations, graphs,
etc) in more difficult phases.
 Ability to apply principles of logic or scientific thinking to a range of intellectual and
practical problems.
 Ability to develop proficiency with sophisticated laboratory apparatus and equipment
and ability to calibrate instrumentation.
 Ability to perform accurate, repeatable work, to correlate data, make logical analysis
and interpret laboratory reports and industrial compliance reports.
 Proficiency in the use of computer software Microsoft Word, Excel spreadsheets,
email communications.
 Ability to write reports, business correspondence and documentation of evidence
gathered through facility inspections.
 Demonstrated ability to effectively present information and to tactfully respond to
questions from groups of managers, clients, industrial facility managers and the
general public.
 Ability to adhere to policies and procedures and demonstrates proficiency in the care
and use of all site specific, facility required PPE (Personal Protection Equipment),
including respirators, gas detectors, confined space equipment, etc.)
 Must present a professional attitude and appearance at all times.
 Must demonstrate ability to work in a team environment and willingness to assume
additional or new responsibilities readily.
 Must possess a valid driver's license and a safe driving record if performing field
work.
Acceptable Education and Experience
 High school diploma or GED
 Wastewater operator training/experience and or laboratory training/experience
preferred.
Or
 An equivalent combination of experience, knowledge, skill and ability to meet the
demands and requirements of the position
Special Qualifications
 Must have a Class I Wastewater License at time of hire or ability to acquire in 12
months of hire.
 Must have Collections I License at time of hire or ability to acquire in 12 months of
hire.
 Must have a valid Idaho Driver's License.
 Must complete "Industrial Pretreatment" Kenn Kerri Course within 6 months of hire.
 Bilingual (Spanish/English) is optional.
Essential Physical Abilities
 The employee must frequently lift and/or move up to 10 pounds and occasionally lift
and/or move up to 50 pounds. In the course of lifting, the employee may frequently
be required to bend or squat.
 The employee will be expected to preform work from an elevated position including
climbing and working from ladders.
 The Employee will be expected to work in confined spaces and must be able to wear
appropriate equipment including belts and harnesses. The employee also must
possess sufficient physical and mental ability to withstand a confined environment.
 Employee may frequently be exposed to untreated wastewater (containing human
waste). Employee must not have physical or mental barriers to performing these
tasks; also employees will be requested to receive Hepatitis combination vaccinations
for their protection.
 Specific vision abilities required by this job include close vision, distance vision, color
vision, depth perception, and the ability to adjust focus.
 While performing the duties of this job, the employee must prove adequate dexterity
to: manipulate, handle, feel or operate objects, tools, or controls and reach with
hands and arms. The employee frequently is required to stand. The employee is
occasionally required to walk; talk or hear; sit; climb or balance; stoop, kneel,
crouch, or crawl, and smell.
 While performing the duties of this job, the employee works in outside weather
conditions. The employee works near moving mechanical parts and is frequently
exposed to wet and/or humid conditions. The employee occasionally works in high,
precarious places and is occasionally exposed to fumes or airborne particles, risk of
electrical shock, and vibration. The employee is frequently exposed to toxic or
caustic chemicals.
*To apply, please submit a City of Jerome employment application, cover letter, and résumé. Application
and additional information are available online at www.ci.jerome.id.us or you may also contact the
Human Resource Office at (208) 324-8189 or email [email protected]*
The City of Jerome is committed to providing equal employment opportunity for all persons without
regard to race, color, religion, gender, age, national origin, sexual orientation, gender identity, disability,
veteran status, or any other applicable legally protected status. Qualified veterans who provide required
documentation will be given preference in accordance with Idaho state law.