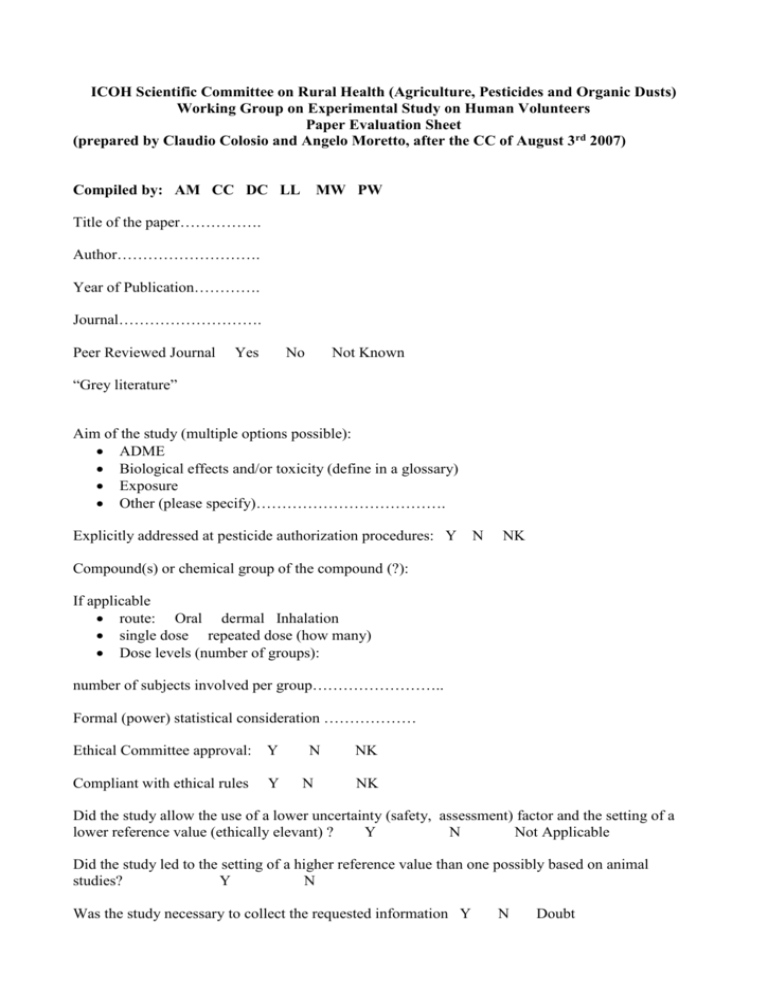 ICOH Scientific Committee on Rural Health (Agriculture, Pesticides and Organic Dusts)
Working Group on Experimental Study on Human Volunteers
Paper Evaluation Sheet
(prepared by Claudio Colosio and Angelo Moretto, after the CC of August 3rd 2007)
Compiled by: AM CC DC LL
MW PW
Title of the paper…………….
Author……………………….
Year of Publication………….
Journal……………………….
Peer Reviewed Journal
Yes
No
Not Known
"Grey literature"
Aim of the study (multiple options possible):
 ADME
 Biological effects and/or toxicity (define in a glossary)
 Exposure
 Other (please specify)……………………………….
Explicitly addressed at pesticide authorization procedures: Y
N
NK
Compound(s) or chemical group of the compound (?):
If applicable
 route: Oral dermal Inhalation
 single dose repeated dose (how many)
 Dose levels (number of groups):
number of subjects involved per group……………………..
Formal (power) statistical consideration ………………
Ethical Committee approval:
Y
Compliant with ethical rules
Y
N
N
NK
NK
Did the study allow the use of a lower uncertainty (safety, assessment) factor and the setting of a
lower reference value (ethically elevant) ?
Y
N
Not Applicable
Did the study led to the setting of a higher reference value than one possibly based on animal
studies?
Y
N
Was the study necessary to collect the requested information Y
N
Doubt
Short comment of the reviewer (if any)………………………………………………………..
GLOSSARY
 ADME: refers to studies aimed at identifying the key metabolic steps/metabolites or kinetic
parameters in humans to be compared with those in animals. Similarities or differences
between humans and animals may either increase or decrease the uncertainty of the
extrapolation of toxicological effects and dose levels to humans. These include, among
others, dermal penetration studies, identification of metabolic pathways (qualitative and
quantitative), urinary excretion.
 Biological effects and/or toxicity: studies in humans should be conducted at dose levels not
expected to cause clinical signs of toxicity. Rather changes of biochemical or physiological
parameters without clinical consequences are evaluated. For instance inhibition of plasma or
RBC (acetyl)cholinesterase or formation of methahemoglobin can be detected before they
reach levels with clinically significant consequences.
 Exposure: observational studies or experimental studies can provide information on the
extent of exposure in given operational conditions. These might be conducted with the
active compounds, and hence biological and/or physiological parameters can also be
measured, or with surrogates (e.g. dyes or fluorescent compounds) providing only data on
external exposure.