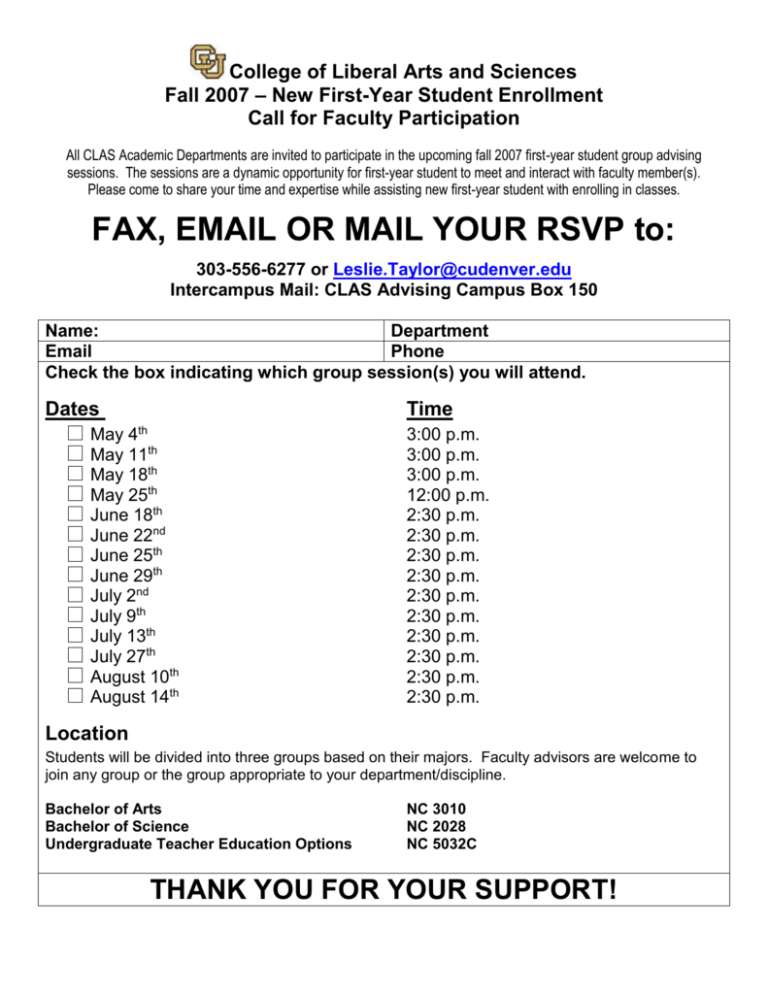 College of Liberal Arts and Sciences
Fall 2007 – New First-Year Student Enrollment
Call for Faculty Participation
All CLAS Academic Departments are invited to participate in the upcoming fall 2007 first-year student group advising
sessions. The sessions are a dynamic opportunity for first-year student to meet and interact with faculty member(s).
Please come to share your time and expertise while assisting new first-year student with enrolling in classes.
FAX, EMAIL OR MAIL YOUR RSVP to:
303-556-6277 or Leslie.Taylor@cudenver.edu
Intercampus Mail: CLAS Advising Campus Box 150
Name:
Department
Email
Phone
Check the box indicating which group session(s) you will attend.
Dates
Time
May 4th
May 11th
May 18th
May 25th
June 18th
June 22nd
June 25th
June 29th
July 2nd
July 9th
July 13th
July 27th
August 10th
August 14th
3:00 p.m.
3:00 p.m.
3:00 p.m.
12:00 p.m.
2:30 p.m.
2:30 p.m.
2:30 p.m.
2:30 p.m.
2:30 p.m.
2:30 p.m.
2:30 p.m.
2:30 p.m.
2:30 p.m.
2:30 p.m.
Location
Students will be divided into three groups based on their majors. Faculty advisors are welcome to
join any group or the group appropriate to your department/discipline.
Bachelor of Arts
Bachelor of Science
Undergraduate Teacher Education Options
NC 3010
NC 2028
NC 5032C
THANK YOU FOR YOUR SUPPORT!