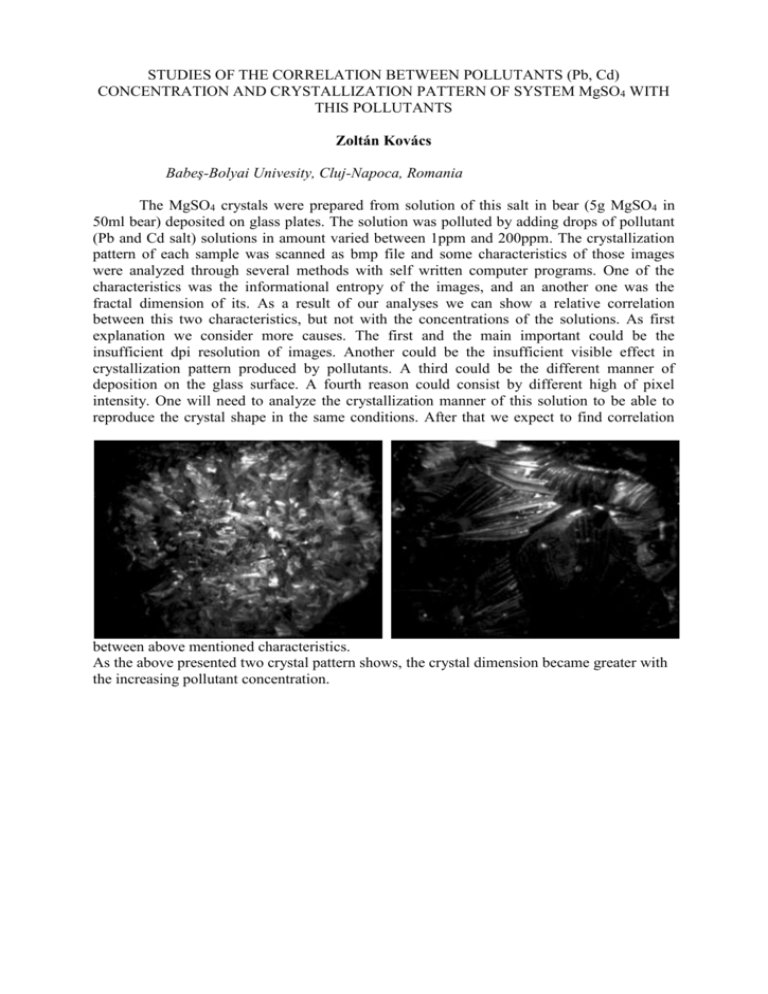 STUDIES OF THE CORRELATION BETWEEN POLLUTANTS (Pb, Cd)
CONCENTRATION AND CRYSTALLIZATION PATTERN OF SYSTEM MgSO4 WITH
THIS POLLUTANTS
Zoltán Kovács
Babeş-Bolyai Univesity, Cluj-Napoca, Romania
The MgSO4 crystals were prepared from solution of this salt in bear (5g MgSO4 in
50ml bear) deposited on glass plates. The solution was polluted by adding drops of pollutant
(Pb and Cd salt) solutions in amount varied between 1ppm and 200ppm. The crystallization
pattern of each sample was scanned as bmp file and some characteristics of those images
were analyzed through several methods with self written computer programs. One of the
characteristics was the informational entropy of the images, and an another one was the
fractal dimension of its. As a result of our analyses we can show a relative correlation
between this two characteristics, but not with the concentrations of the solutions. As first
explanation we consider more causes. The first and the main important could be the
insufficient dpi resolution of images. Another could be the insufficient visible effect in
crystallization pattern produced by pollutants. A third could be the different manner of
deposition on the glass surface. A fourth reason could consist by different high of pixel
intensity. One will need to analyze the crystallization manner of this solution to be able to
reproduce the crystal shape in the same conditions. After that we expect to find correlation
between above mentioned characteristics.
As the above presented two crystal pattern shows, the crystal dimension became greater with
the increasing pollutant concentration.