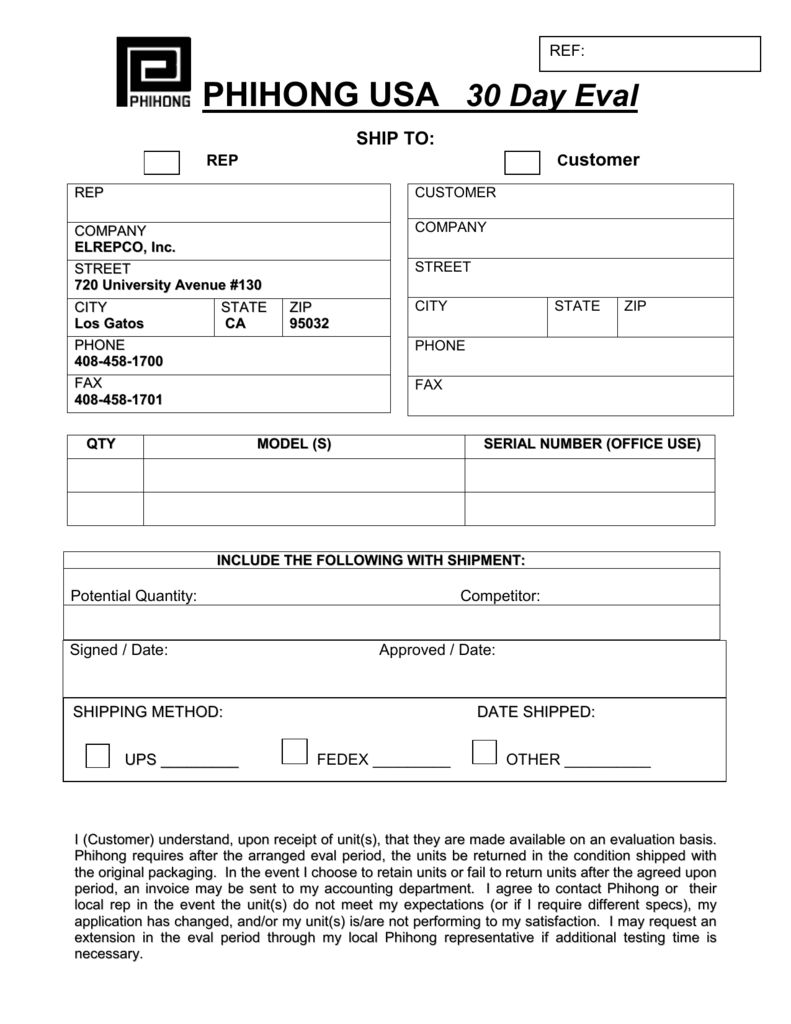 REF:
PHIHONG USA 30 Day Eval
SHIP TO:
Customer
REP
REP
CUSTOMER
COMPANY
ELREPCO, Inc.
COMPANY
STREET
720 University Avenue #130
STREET
CITY
Los Gatos
PHONE
408-458-1700
FAX
408-458-1701
STATE
CA
ZIP
95032
CITY
STATE
ZIP
PHONE
FAX
QTY
MODEL (S)
SERIAL NUMBER (OFFICE USE)
INCLUDE THE FOLLOWING WITH SHIPMENT:
Potential Quantity:
Signed / Date:
Competitor:
Approved / Date:
SHIPPING METHOD:
UPS _________
DATE SHIPPED:
FEDEX _________
OTHER __________
I (Customer) understand, upon receipt of unit(s), that they are made available on an evaluation basis.
Phihong requires after the arranged eval period, the units be returned in the condition shipped with
the original packaging. In the event I choose to retain units or fail to return units after the agreed upon
period, an invoice may be sent to my accounting department. I agree to contact Phihong or their
local rep in the event the unit(s) do not meet my expectations (or if I require different specs), my
application has changed, and/or my unit(s) is/are not performing to my satisfaction. I may request an
extension in the eval period through my local Phihong representative if additional testing time is
necessary.