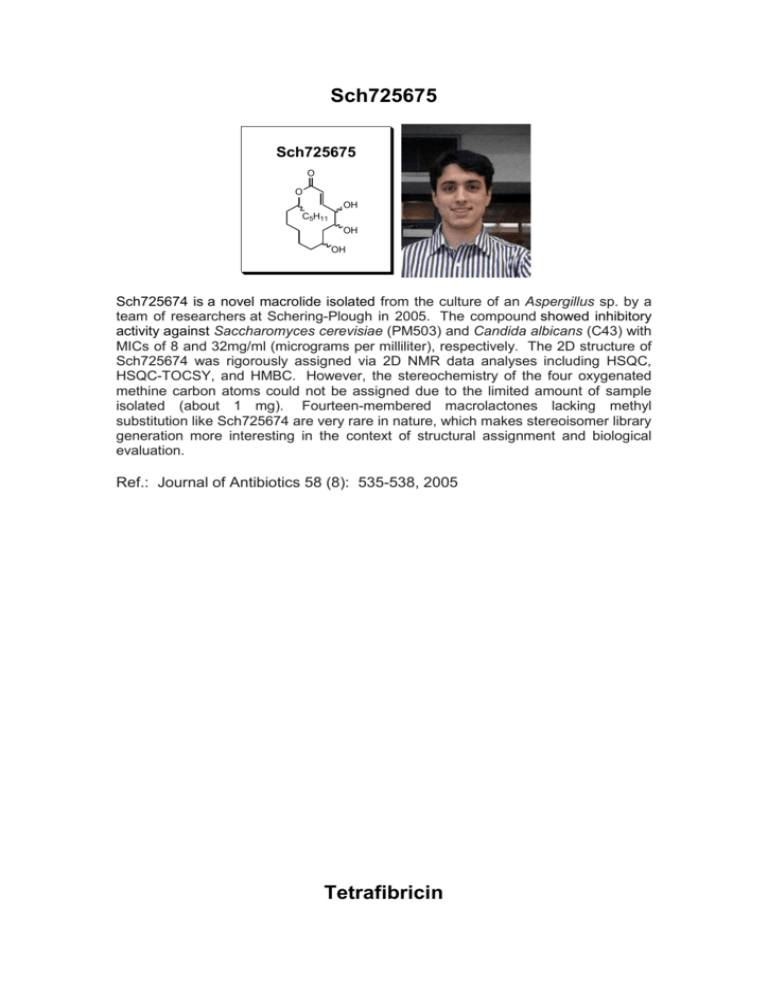 Sch725675
Sch725675
O
O
OH
C5H11
OH
OH
Sch725674 is a novel macrolide isolated from the culture of an Aspergillus sp. by a
team of researchers at Schering-Plough in 2005. The compound showed inhibitory
activity against Saccharomyces cerevisiae (PM503) and Candida albicans (C43) with
MICs of 8 and 32mg/ml (micrograms per milliliter), respectively. The 2D structure of
Sch725674 was rigorously assigned via 2D NMR data analyses including HSQC,
HSQC-TOCSY, and HMBC. However, the stereochemistry of the four oxygenated
methine carbon atoms could not be assigned due to the limited amount of sample
isolated (about 1 mg). Fourteen-membered macrolactones lacking methyl
substitution like Sch725674 are very rare in nature, which makes stereoisomer library
generation more interesting in the context of structural assignment and biological
evaluation.
Ref.: Journal of Antibiotics 58 (8): 535-538, 2005
Tetrafibricin
Tetrafibricin
HOOC
HO
OH
H2 N
OH
OH
OH
OH
OH
OH
OH
O
OH
Tetrafibricin is a novel nonpeptidic fibrinogen receptor isolated from the culture broth
of Streptomyces neyagawaensis NR0577. Tetrafibricin competitively inhibited (Ki =
9.9 nM) the binding of biotinylated fibrinogen to purified active glycoprotein GPIIb/IIIa
immobilized on plastic plate. Tetrafibricin strongly inhibited the binding of fibrinogen
to its receptors with an IC50 of 46 nM. It also inhibited ADP-, collagen-, and thrombininduced aggregation of human platelets with IC50s of 5.6, 11.0 and 7.6 μM,
respectively. To our knowledge, there is no total synthesis of tetrafibricin done yet.
Only two papers have been published toward the total synthesis of tetrafibricin.
Cossy's group synthesized the C1-C13, C15-C25, C27-C40 fragments of tetrafibricin
by a sequence of chemoselective cross-metathesis reactions and enantioselective
allyltitanations of aldehydes. And Roush's group reported the synthesis of the C1C19 fragment of tetrafibricin via a highly diastereoselective double allylboration
developed in their laboratory.
Tulearin A
Tulearin A
O
O
OH HO
O
O
NH2
Tulearin A is a representative marine macrolide that was isolated by Kashman and
coworkers in 2008. Bioguided separation (brine shrimp set) of the CHCl3/CH3OH
(1:1) extract of Madagascar Fascaplysinopsis sp. sponge collected in Salary Bay
north of Tulear provided 6.6 mg of 18-membered macrolactone, tulearin A, in yield of
0.019 wt %. Until now, there is no total synthesis of tulearin A. In 2009, one
stereoisomer (C2-epi, C15-epi) of tulearin A was synthesized by Cossy, Curran and
co-workers.
Ref. 1. Bishara, A.; Rudi, A.; Aknin, M.; Neumann, D.; Ben-Califa, N.; Kashman, Y.
Org. Lett. 2008, 10, 153.
2. Mandel, A. L.; Bellosta, V.; Curran, D. P.; Cossy, J. Org. Lett. 2009, 11, 3282.
Dictyostatin
Dictyostatin and its analogs
OH
OH
HO
HO
O
OH
O
O
OH
OH
O
OH
The synthesis of various analogs of the marine natural product dictyostatin have
been of great interest in our laboratory. Dictyostatin is a 22-membered macrolactone
isolated in 1994 by Pettit and coworkers from the marine sponge Spongia sp. It
inhibits the growth of a variety of cancer cell lines at the low nanomolar range. Since
its isolation, structure elucidation and biological activity came to light, we have
synthesized a number of analogs in our laboratory in order to gain more insight
regarding structure-activity relationships (SAR) studies. We aim to develop a
practical, more convergent and higher yielding route to easily access dictyostatin and
its simplified analogs.
OH
16
HO
26
16
HO
21
O
OH
O
O
1
9
OH
OH
Dictyostatin
16
HO
OH
OH
6-epi-dictyostatin
26
16
HO
21
O
O
9
OH
26
21
O
1
OH
O
1
9
OH
26
21
O
1
9
OH
16-desmethyl-25,26-dihydrodictyostatin
OH
OH
16-desmethyl-25,26-dihydro-6-epi-dictyostatin
Reference for the isolation:
1) Pettit, G. A.; Cichacz, Z. A.; Gao., F.; Boyd, M. R.; Schmidt, J. M. J. Chem. Soc.,
Chem Commun. 1994, 1111-1112.
Reference for the re-isolation:
2) Isbrucker, R. A.; Cummins, J.; Pomponi, S. A.; Longley. R. E.; Wright, A. E.
Biochem. Pharmacol. 2003, 66, 75-82.
References for Dictyostain total syntheses:
1) Shin, Y.; Fournier, J-H.; Fukui, Y.; Brückner, A. M.; Curran, D. P. Angew. Chem.
Int. Ed. 2004, 43, 4634-4637.
2) Paterson, I.; Britton, R.; Delgado, O.; Meyer, A.; Poullennec, K. G. Angew. Chem.
Int. Ed. 2004, 43, 4629-4633.
3) O'Neil, G. W.; Phillips, A. J. J. Am. Chem. Soc. 2006, 128, 5340.
4) Ramachandran, P. V.; Srivastava, A.; Hazra, D. Org. Lett. 2007, 9, 157-160.