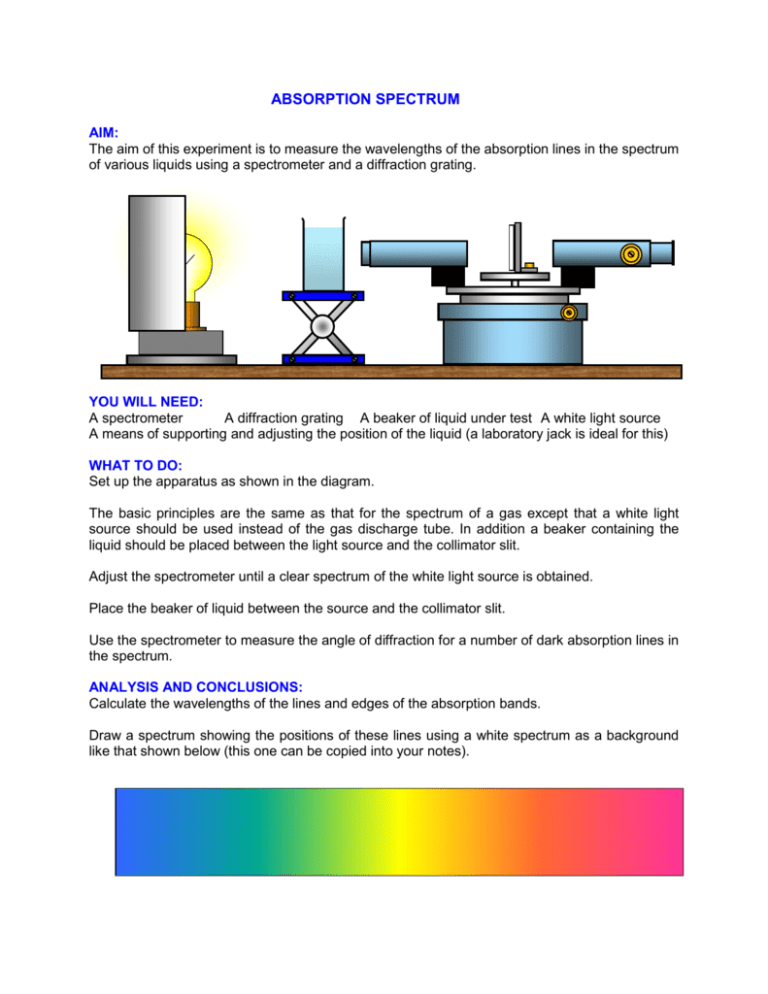 ABSORPTION SPECTRUM
AIM:
The aim of this experiment is to measure the wavelengths of the absorption lines in the spectrum
of various liquids using a spectrometer and a diffraction grating.
YOU WILL NEED:
A spectrometer
A diffraction grating A beaker of liquid under test A white light source
A means of supporting and adjusting the position of the liquid (a laboratory jack is ideal for this)
WHAT TO DO:
Set up the apparatus as shown in the diagram.
The basic principles are the same as that for the spectrum of a gas except that a white light
source should be used instead of the gas discharge tube. In addition a beaker containing the
liquid should be placed between the light source and the collimator slit.
Adjust the spectrometer until a clear spectrum of the white light source is obtained.
Place the beaker of liquid between the source and the collimator slit.
Use the spectrometer to measure the angle of diffraction for a number of dark absorption lines in
the spectrum.
ANALYSIS AND CONCLUSIONS:
Calculate the wavelengths of the lines and edges of the absorption bands.
Draw a spectrum showing the positions of these lines using a white spectrum as a background
like that shown below (this one can be copied into your notes).