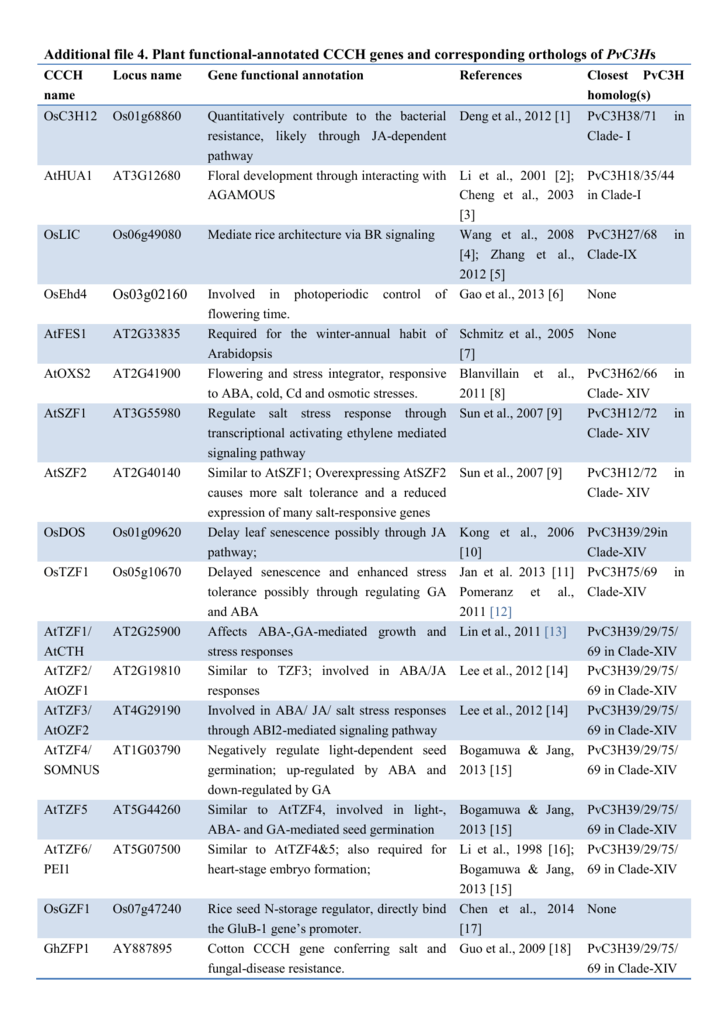 Additional file 4. Plant functional-annotated CCCH genes and corresponding orthologs of PvC3Hs
CCCH
name
Locus name
Gene functional annotation
OsC3H12
Os01g68860
AtHUA1
AT3G12680
OsLIC
Os06g49080
OsEhd4
Os03g02160
AtFES1
AT2G33835
AtOXS2
AT2G41900
AtSZF1
AT3G55980
AtSZF2
AT2G40140
OsDOS
Os01g09620
OsTZF1
Os05g10670
AtTZF1/
AtCTH
AtTZF2/
AtOZF1
AtTZF3/
AtOZF2
AtTZF4/
SOMNUS
AT2G25900
AtTZF5
AT5G44260
AtTZF6/
PEI1
AT5G07500
OsGZF1
Os07g47240
GhZFP1
AY887895
Quantitatively contribute to the bacterial Deng et al., 2012 [1]
resistance, likely through JA-dependent
pathway
Floral development through interacting with Li et al., 2001 [2];
AGAMOUS
Cheng et al., 2003
[3]
Mediate rice architecture via BR signaling
Wang et al., 2008
[4]; Zhang et al.,
2012 [5]
Involved in photoperiodic control of Gao et al., 2013 [6]
flowering time.
Required for the winter-annual habit of Schmitz et al., 2005
Arabidopsis
[7]
Flowering and stress integrator, responsive Blanvillain et al.,
to ABA, cold, Cd and osmotic stresses.
2011 [8]
Regulate salt stress response through Sun et al., 2007 [9]
transcriptional activating ethylene mediated
signaling pathway
Similar to AtSZF1; Overexpressing AtSZF2 Sun et al., 2007 [9]
causes more salt tolerance and a reduced
expression of many salt-responsive genes
Delay leaf senescence possibly through JA Kong et al., 2006
pathway;
[10]
Delayed senescence and enhanced stress Jan et al. 2013 [11]
tolerance possibly through regulating GA Pomeranz et al.,
and ABA
2011 [12]
Affects ABA-,GA-mediated growth and Lin et al., 2011 [13]
stress responses
Similar to TZF3; involved in ABA/JA Lee et al., 2012 [14]
responses
Involved in ABA/ JA/ salt stress responses Lee et al., 2012 [14]
through ABI2-mediated signaling pathway
Negatively regulate light-dependent seed Bogamuwa & Jang,
germination; up-regulated by ABA and 2013 [15]
down-regulated by GA
Similar to AtTZF4, involved in light-, Bogamuwa & Jang,
ABA- and GA-mediated seed germination
2013 [15]
Similar to AtTZF4&5; also required for Li et al., 1998 [16];
heart-stage embryo formation;
Bogamuwa & Jang,
2013 [15]
Rice seed N-storage regulator, directly bind Chen et al., 2014
the GluB-1 gene's promoter.
[17]
Cotton CCCH gene conferring salt and Guo et al., 2009 [18]
fungal-disease resistance.
AT2G19810
AT4G29190
AT1G03790
References
Closest PvC3H
homolog(s)
PvC3H38/71
Clade- I
in
PvC3H18/35/44
in Clade-I
PvC3H27/68
Clade-IX
in
None
None
PvC3H62/66
Clade- XIV
PvC3H12/72
Clade- XIV
in
PvC3H12/72
Clade- XIV
in
in
PvC3H39/29in
Clade-XIV
PvC3H75/69 in
Clade-XIV
PvC3H39/29/75/
69 in Clade-XIV
PvC3H39/29/75/
69 in Clade-XIV
PvC3H39/29/75/
69 in Clade-XIV
PvC3H39/29/75/
69 in Clade-XIV
PvC3H39/29/75/
69 in Clade-XIV
PvC3H39/29/75/
69 in Clade-XIV
None
PvC3H39/29/75/
69 in Clade-XIV
MsZFN
EU624138.1
When
ectopically overexpressed
in Chao et al., 2014 PvC3H38/71
Arabidopsis, it postponed Arabidopsis [19]
Clade-I
flowering time
in
References:
1.
2.
3.
4.
5.
6.
7.
8.
9.
10.
11.
12.
13.
14.
Deng H, Liu H, Li X, Xiao J, Wang S: A CCCH-type zinc finger nucleic acid-binding protein
quantitatively confers resistance against rice bacterial blight disease. Plant Physiol 2012,
158(2):876-889.
Li J, Jia D, Chen X: HUA1, a regulator of stamen and carpel identities in Arabidopsis, codes for
a nuclear RNA binding protein. Plant Cell 2001, 13(10):2269-2281.
Cheng Y, Kato N, Wang W, Li J, Chen X: Two RNA binding proteins, HEN4 and HUA1, act in
the processing of AGAMOUS pre-mRNA in Arabidopsis thaliana. Dev Cell 2003, 4(1):53-66.
Wang L, Xu Y, Zhang C, Ma Q, Joo S-H, Kim S-K, Xu Z, Chong K: OsLIC, a novel CCCH-type
zinc finger protein with transcription activation, mediates rice architecture via
brassinosteroids signaling. PloS one 2008, 3(10):e3521.
Zhang C, Xu Y, Guo S, Zhu J, Huan Q, Liu H, Wang L, Luo G, Wang X, Chong K: Dynamics of
brassinosteroid response modulated by negative regulator LIC in rice. PLoS Genet 2012,
8(4):e1002686.
Gao H, Zheng XM, Fei G, Chen J, Jin M, Ren Y, Wu W, Zhou K, Sheng P, Zhou F et al: Ehd4
encodes a novel and Oryza-genus-specific regulator of photoperiodic flowering in rice. PLoS
Genet 2013, 9(2):21.
Schmitz RJ, Hong L, Michaels S, Amasino RM: FRIGIDA-ESSENTIAL 1 interacts genetically
with FRIGIDA and FRIGIDA-LIKE 1 to promote the winter-annual habit of Arabidopsis
thaliana. Development 2005, 132(24):5471-5478.
Blanvillain R, Wei S, Wei P, Kim JH, Ow DW: Stress tolerance to stress escape in plants: role of
the OXS2 zinc-finger transcription factor family. Embo J 2011, 30(18):3812-3822.
Sun J, Jiang H, Xu Y, Li H, Wu X, Xie Q, Li C: The CCCH-type zinc finger proteins AtSZF1 and
AtSZF2 regulate salt stress responses in Arabidopsis. Plant Cell Physiol 2007, 48(8):1148-1158.
Kong Z, Li M, Yang W, Xu W, Xue Y: A novel nuclear-localized CCCH-type zinc finger protein,
OsDOS, is involved in delaying leaf senescence in rice. Plant Physiol 2006, 141(4):1376-1388.
Jan A. MK, Todaka D., Kidokoro S., Abo M., Yoshimura E., Shinozaki K., Nakashima K.,
Yamaguchi-Shinozaki K.: OsTZF1, a CCCH-tandem zinc finger protein, confers delayed
senescence and stress tolerance in rice by regulating stress-related genes. Plant Physiol 2013,
161:1202-1216.
Pomeranz M, Finer J, Jang JC: Putative molecular mechanisms underlying tandem CCCH zinc
finger protein mediated plant growth, stress, and gene expression responses. Plant Signal Behav
2011, 6(5):647-651.
Lin PC, Pomeranz MC, Jikumaru Y, Kang SG, Hah C, Fujioka S, Kamiya Y, Jang JC: The
Arabidopsis tandem zinc finger protein AtTZF1 affects ABA- and GA-mediated growth, stress
and gene expression responses. Plant J 2011, 65(2):253-268.
Lee SJ, Jung HJ, Kang H, Kim SY: Arabidopsis zinc finger proteins AtC3H49/AtTZF3 and
AtC3H20/AtTZF2 are involved in ABA and JA responses. Plant Cell Physiol 2012,
53(4):673-686.
15.
16.
17.
18.
19.
Bogamuwa S, JANG JC: The Arabidopsis tandem CCCH zinc finger proteins AtTZF4, 5 and 6
are involved in light-, abscisic acid- and gibberellic acid-mediated regulation of seed
germination. Plant Cell Environ 2013, 36(8):1507-1519.
Li Z, Thomas TL: PEI1, an embryo-specific zinc finger protein gene required for heart-stage
embryo formation in Arabidopsis. Plant Cell 1998, 10(3):383-398.
Chen Y, Sun A, Wang M, Zhu Z, Ouwerkerk PF: Functions of the CCCH type zinc finger protein
OsGZF1 in regulation of the seed storage protein GluB-1 from rice. Plant Mol Biol 2014,
84(6):621-634.
Guo YH, Yu YP, Wang D, Wu CA, Yang GD, Huang JG, Zheng CC: GhZFP1, a novel
CCCH-type zinc finger protein from cotton, enhances salt stress tolerance and fungal disease
resistance in transgenic tobacco by interacting with GZIRD21A and GZIPR5. New Phytol 2009,
183(1):62-75.
Chao Y, Zhang T, Yang Q, Kang J, Sun Y, Gruber MY, Qin Z: Expression of the alfalfa
CCCH-type zinc finger protein gene MsZFN delays flowering time in transgenic Arabidopsis
thaliana. Plant Sci 2014, 215–216(0):92-99.