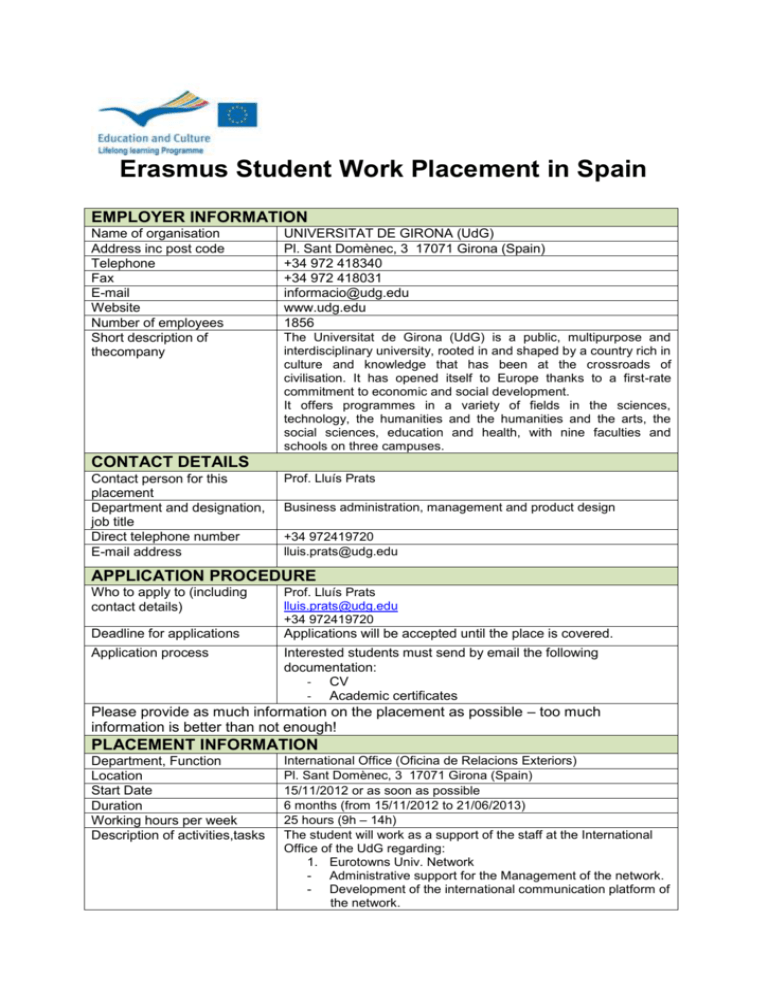 Erasmus Student Work Placement in Spain
EMPLOYER INFORMATION
Name of organisation
Address inc post code
Telephone
Fax
E-mail
Website
Number of employees
Short description of
thecompany
UNIVERSITAT DE GIRONA (UdG)
Pl. Sant Domènec, 3 17071 Girona (Spain)
+34 972 418340
+34 972 418031
informacio@udg.edu
www.udg.edu
1856
The Universitat de Girona (UdG) is a public, multipurpose and
interdisciplinary university, rooted in and shaped by a country rich in
culture and knowledge that has been at the crossroads of
civilisation. It has opened itself to Europe thanks to a first-rate
commitment to economic and social development.
It offers programmes in a variety of fields in the sciences,
technology, the humanities and the humanities and the arts, the
social sciences, education and health, with nine faculties and
schools on three campuses.
CONTACT DETAILS
Contact person for this
placement
Department and designation,
job title
Direct telephone number
E-mail address
Prof. Lluís Prats
Business administration, management and product design
+34 972419720
lluis.prats@udg.edu
APPLICATION PROCEDURE
Who to apply to (including
contact details)
Prof. Lluís Prats
lluis.prats@udg.edu
+34 972419720
Deadline for applications
Applications will be accepted until the place is covered.
Application process
Interested students must send by email the following
documentation:
- CV
- Academic certificates
Please provide as much information on the placement as possible – too much
information is better than not enough!
PLACEMENT INFORMATION
Department, Function
Location
Start Date
Duration
Working hours per week
Description of activities,tasks
International Office (Oficina de Relacions Exteriors)
Pl. Sant Domènec, 3 17071 Girona (Spain)
15/11/2012 or as soon as possible
6 months (from 15/11/2012 to 21/06/2013)
25 hours (9h – 14h)
The student will work as a support of the staff at the International
Office of the UdG regarding:
1. Eurotowns Univ. Network
- Administrative support for the Management of the network.
- Development of the international communication platform of
the network.
-
Follow up of the institutions' engagement to the network.
2. Administrative support for the management of students'
Accommodation (please
select)
Details of financial and "in
kind" support to be provided
placement internship programs
Accommodation is on the student expense. The UdG can help the
student to find accommodation.
Erasmus Placement grant (requested by the student to his/her
home institution).
Students will be granted the same facilities as the students enrolled
in the university, as free access to the library, computer facilities
and to wireless connection. They will benefit of the support to
incoming students service and special rates to use the sport
facilities of the UdG Sports Service.
Other
COMPETENCES, SKILLS and EXPERIENCE REQUIREMENTS
Languages and level of
competence required
Computer skills and level of
skills required
Drivers license
Other
Good command of English B2 (written and spoken). Spanish
language skills will be taken into consideration.
Good intercultural communication skills.
Creativity and self-engagement.
Must be a student enrolled on a Bachelor or Master level degree
course.
Not required.