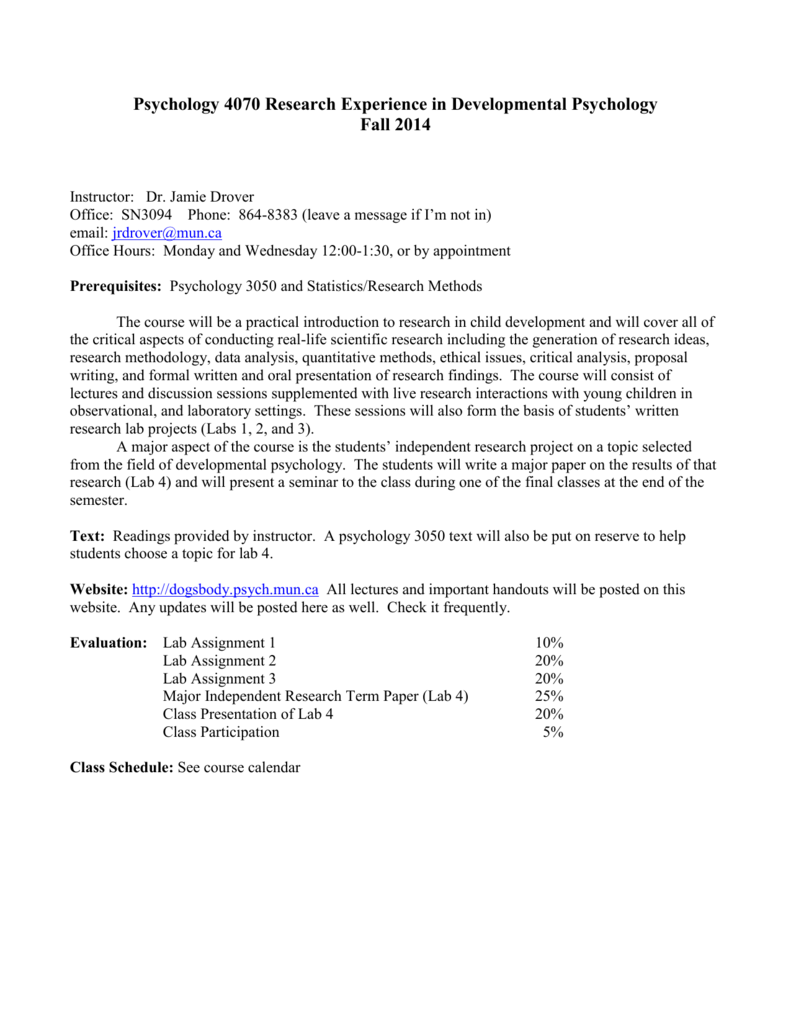 Psychology 4070 Research Experience in Developmental Psychology
Fall 2014
Instructor: Dr. Jamie Drover
Office: SN3094 Phone: 864-8383 (leave a message if I'm not in)
email: [email protected]
Office Hours: Monday and Wednesday 12:00-1:30, or by appointment
Prerequisites: Psychology 3050 and Statistics/Research Methods
The course will be a practical introduction to research in child development and will cover all of
the critical aspects of conducting real-life scientific research including the generation of research ideas,
research methodology, data analysis, quantitative methods, ethical issues, critical analysis, proposal
writing, and formal written and oral presentation of research findings. The course will consist of
lectures and discussion sessions supplemented with live research interactions with young children in
observational, and laboratory settings. These sessions will also form the basis of students' written
research lab projects (Labs 1, 2, and 3).
A major aspect of the course is the students' independent research project on a topic selected
from the field of developmental psychology. The students will write a major paper on the results of that
research (Lab 4) and will present a seminar to the class during one of the final classes at the end of the
semester.
Text: Readings provided by instructor. A psychology 3050 text will also be put on reserve to help
students choose a topic for lab 4.
Website: http://dogsbody.psych.mun.ca All lectures and important handouts will be posted on this
website. Any updates will be posted here as well. Check it frequently.
Evaluation: Lab Assignment 1
Lab Assignment 2
Lab Assignment 3
Major Independent Research Term Paper (Lab 4)
Class Presentation of Lab 4
Class Participation
Class Schedule: See course calendar
10%
20%
20%
25%
20%
5%
Lab 1: Will consist of an observation conducted on children at the MUN daycare centre.
Lab 2: Will consist of a group experiment conducted on a 4 year-old boy. Each group member will
hand in a separate paper.
Lab 3: Will consist of a group experiment conducted on a 1 year-old boy. Each group member will
hand in a separate paper.
Major term paper (Lab 4): Due last day of classes. Note also that the Major research paper requires a
formal ethics proposal that is to be submitted to (and approved by) the Department of Psychology Ethics
Committee. This must be completed and approved before the research can begin. The study will be
presented in class.
Rules and Regulations: Proposals and assignments can be submitted in class or via e-mail. Late
submissions will be penalized immediately by 10% per day.