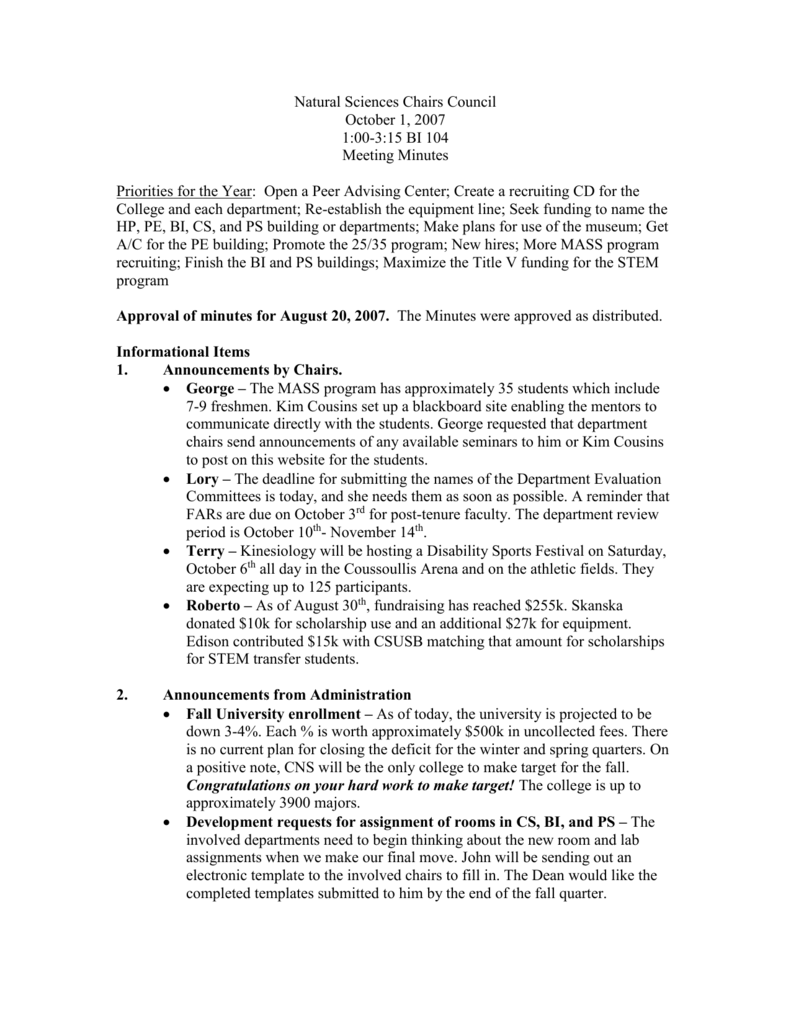 Natural Sciences Chairs Council
October 1, 2007
1:00-3:15 BI 104
Meeting Minutes
Priorities for the Year: Open a Peer Advising Center; Create a recruiting CD for the
College and each department; Re-establish the equipment line; Seek funding to name the
HP, PE, BI, CS, and PS building or departments; Make plans for use of the museum; Get
A/C for the PE building; Promote the 25/35 program; New hires; More MASS program
recruiting; Finish the BI and PS buildings; Maximize the Title V funding for the STEM
program
Approval of minutes for August 20, 2007. The Minutes were approved as distributed.
Informational Items
1.
Announcements by Chairs.
 George – The MASS program has approximately 35 students which include
7-9 freshmen. Kim Cousins set up a blackboard site enabling the mentors to
communicate directly with the students. George requested that department
chairs send announcements of any available seminars to him or Kim Cousins
to post on this website for the students.
 Lory – The deadline for submitting the names of the Department Evaluation
Committees is today, and she needs them as soon as possible. A reminder that
FARs are due on October 3rd for post-tenure faculty. The department review
period is October 10th- November 14th.
 Terry – Kinesiology will be hosting a Disability Sports Festival on Saturday,
October 6th all day in the Coussoullis Arena and on the athletic fields. They
are expecting up to 125 participants.
 Roberto – As of August 30th, fundraising has reached $255k. Skanska
donated $10k for scholarship use and an additional $27k for equipment.
Edison contributed $15k with CSUSB matching that amount for scholarships
for STEM transfer students.
2.
Announcements from Administration
 Fall University enrollment – As of today, the university is projected to be
down 3-4%. Each % is worth approximately $500k in uncollected fees. There
is no current plan for closing the deficit for the winter and spring quarters. On
a positive note, CNS will be the only college to make target for the fall.
Congratulations on your hard work to make target! The college is up to
approximately 3900 majors.
 Development requests for assignment of rooms in CS, BI, and PS – The
involved departments need to begin thinking about the new room and lab
assignments when we make our final move. John will be sending out an
electronic template to the involved chairs to fill in. The Dean would like the
completed templates submitted to him by the end of the fall quarter.





Verdiem Software – The Dean is requesting a list with short justifications
from department chairs of faculty that need their computers to remain on
throughout the evening after they leave campus. Otherwise, the computer
needs to be put in sleep mode or turned off.
Graduate Open House – October 3rd
Undergraduate Open House – October 27th
RIMI Grant – Promoting health for all by improving health capacity. The PI
is Sybil Carrere
REU Meeting at UCR – The Dean attended this meeting and they are
interested in sending UCR faculty to speak at our seminars in order to expand
REU opportunities for our students. The Dean will distribute the list of UCR
faculty willing to participate in this collaboration to the department chairs.
Action Items:
1.
Discussion Items:
1.
Title V Grant for STEM programs – Diane Podolske, Carol Dixon, and Cynthia
Litton discussed the new $2.5 million over five years grant that we received to
assist in retention of math and science students. The Learning Center is seeking
tutors for these students. They will take recommendations from the department
chairs. The grant allows for 74 hours of tutoring per week.
2.
Scheduling Update
a. Fall. Be sure that ALL students are enrolled that are sitting in your classes
b. Winter. Priority registration begins on November 1st.
c. Spring. Schedule build begins on October 22nd. The large lecture rooms
have already been allocated.
3.
New students for Fall, 2007 – Per the attachment, the Dean went over a proposed
schedule for the student orientation on September 19th. IT is as follows:
 8:30-10:00am Freshmen Check-in – Santos Manuel Student Union
 9:30-10:45am College Presentation
 11:00-11:45am Department Orientation / Transfer Check-in Santos
Manuel Student Union
 12:00-1:00pm Lunch
 1:30-2:45pm Transfer Orientation
 3:00-3:45pm Department Orientation
4.
Review of Orientation Program – The orientation went very well. Some of the
following suggestions were made:
 Have one session with both freshmen and transfer students
 Suggest study techniques
 Tips on taking exams
 Social networking
 Faculty eat lunch with the students
5.
6.
7.
8.
Review of 25/35 initiative – The Dean will be sending out a letter to the students
to reinforce the initiative and to encourage them to utilize the Learning Center. He
will suggest some test taking and studying techniques.
College Peer Advising Program (Cindy) – Both centers (HP-235 and TO-145)
are up and running. The student advisors have been trained by Cindy and they are
motivated and eager to get started. Students that come into the centers must sign
in and the advisors are keeping a log for statistical purposes. Cindy requested that
the chairs provide names of faculty that the peer advisors could contact if a
question arises that they need an answer for.
Pre-Engineering Initiative for K-12 – If there are any faculty interested in
pursuing any of the following, please contact the Dean:
a.
Accelerated College Entrance Program – Kim and Alan explained the high
school programs their departments are involved in. High school AP students
enroll in specific chemistry and geology courses at their high school and do labs
here on campus and receive credit for both high school and college.
b.
Project Lead the Way – Started at San Diego State. There are currently 6
programs in the Inland Empire.
c.
Mathematics, Engineering, Science Achievement (MESA) – This program
has been around for approximately 37 years, yet has been floundering in recent
years.
d.
Competitions
Construction
a.
BI Building – We still have air balancing problems. We are about 90%
complete, but it will be approximately another 3 weeks before the balancing
should be completed. John is still working on getting temporary certification on
all hoods. WE have been informed that the water is safe; however there is a
problem with the hot water, so it is shut off for the time being.
b.
PS Building – Construction remains on schedule. The contractor shows
completion toward the end of March. We will plan to move back into the building
during the summer. PS-010 is scheduled to be ready for use in the spring quarter.
c
Observatory – They are trying to get completed the working construction
plans. Leo Connolly has a scheduled meeting with the architect on Thursday of
this week.