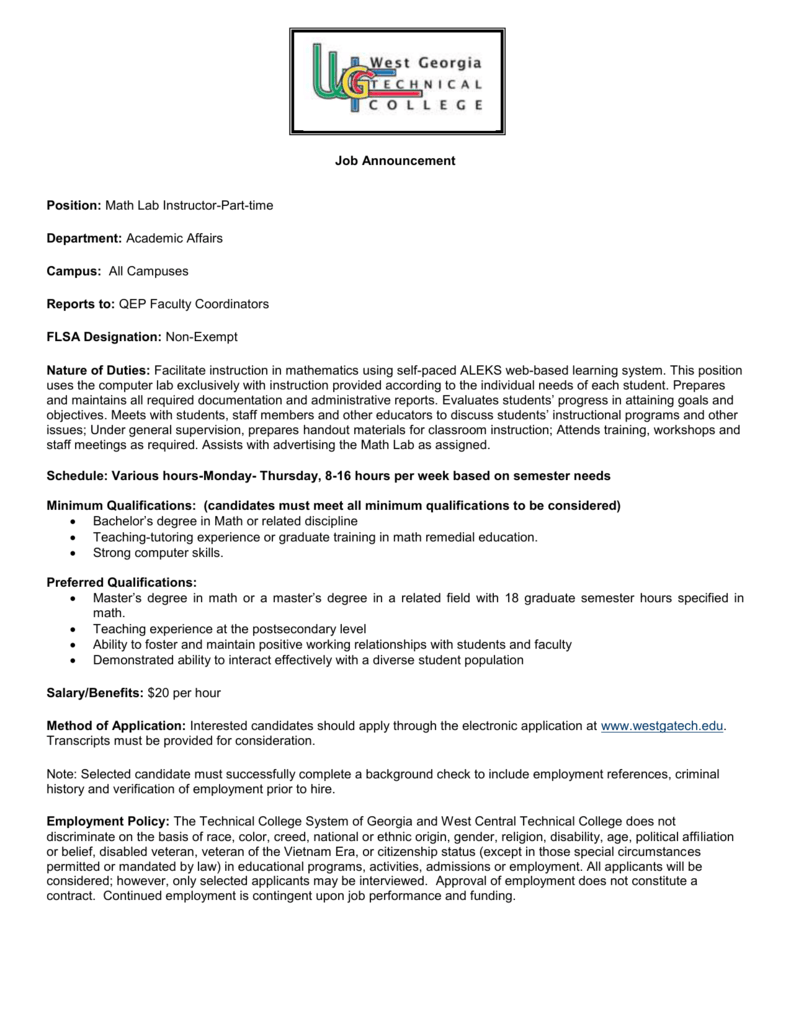 Job Announcement
Position: Math Lab Instructor-Part-time
Department: Academic Affairs
Campus: All Campuses
Reports to: QEP Faculty Coordinators
FLSA Designation: Non-Exempt
Nature of Duties: Facilitate instruction in mathematics using self-paced ALEKS web-based learning system. This position
uses the computer lab exclusively with instruction provided according to the individual needs of each student. Prepares
and maintains all required documentation and administrative reports. Evaluates students' progress in attaining goals and
objectives. Meets with students, staff members and other educators to discuss students' instructional programs and other
issues; Under general supervision, prepares handout materials for classroom instruction; Attends training, workshops and
staff meetings as required. Assists with advertising the Math Lab as assigned.
Schedule: Various hours-Monday- Thursday, 8-16 hours per week based on semester needs
Minimum Qualifications: (candidates must meet all minimum qualifications to be considered)
 Bachelor's degree in Math or related discipline
 Teaching-tutoring experience or graduate training in math remedial education.
 Strong computer skills.
Preferred Qualifications:
 Master's degree in math or a master's degree in a related field with 18 graduate semester hours specified in
math.
 Teaching experience at the postsecondary level
 Ability to foster and maintain positive working relationships with students and faculty
 Demonstrated ability to interact effectively with a diverse student population
Salary/Benefits: $20 per hour
Method of Application: Interested candidates should apply through the electronic application at www.westgatech.edu.
Transcripts must be provided for consideration.
Note: Selected candidate must successfully complete a background check to include employment references, criminal
history and verification of employment prior to hire.
Employment Policy: The Technical College System of Georgia and West Central Technical College does not
discriminate on the basis of race, color, creed, national or ethnic origin, gender, religion, disability, age, political affiliation
or belief, disabled veteran, veteran of the Vietnam Era, or citizenship status (except in those special circumstances
permitted or mandated by law) in educational programs, activities, admissions or employment. All applicants will be
considered; however, only selected applicants may be interviewed. Approval of employment does not constitute a
contract. Continued employment is contingent upon job performance and funding.