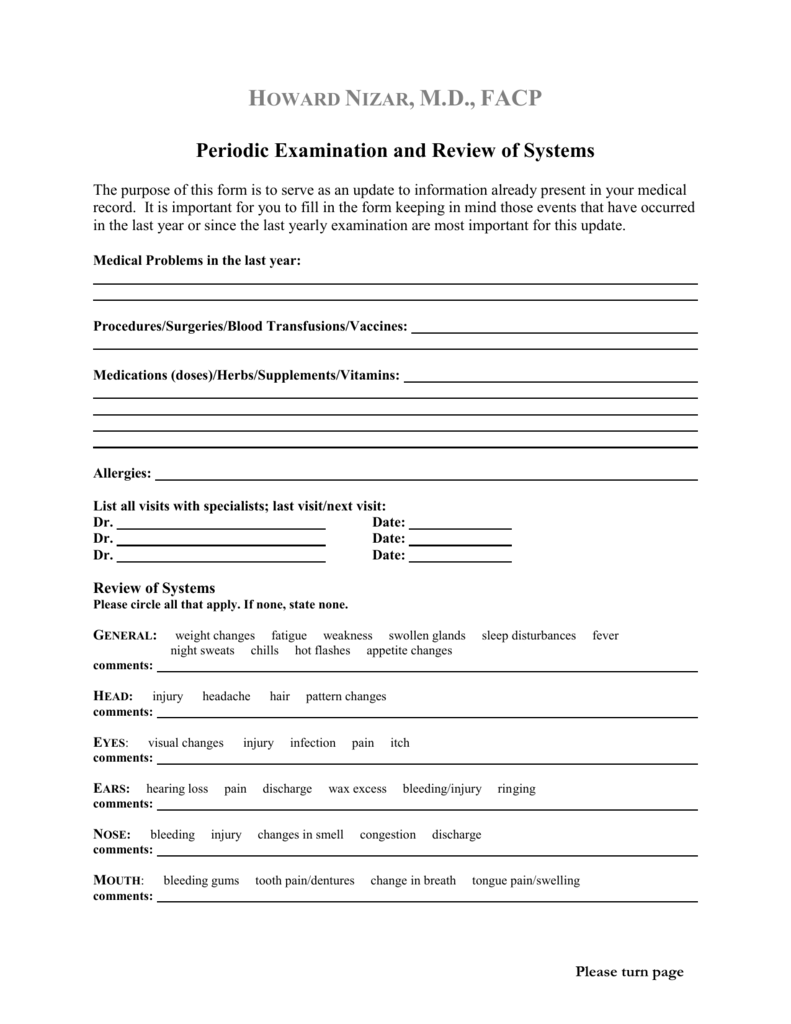 HOWARD NIZAR, M.D., FACP
Periodic Examination and Review of Systems
The purpose of this form is to serve as an update to information already present in your medical
record. It is important for you to fill in the form keeping in mind those events that have occurred
in the last year or since the last yearly examination are most important for this update.
Medical Problems in the last year:
Procedures/Surgeries/Blood Transfusions/Vaccines:
Medications (doses)/Herbs/Supplements/Vitamins:
Allergies:
List all visits with specialists; last visit/next visit:
Dr.
Date:
Dr.
Date:
Dr.
Date:
Review of Systems
Please circle all that apply. If none, state none.
GENERAL:
weight changes fatigue weakness swollen glands
night sweats chills hot flashes appetite changes
sleep disturbances
fever
comments:
HEAD:
injury
comments:
headache
EYES:
visual changes
comments:
EARS:
hearing loss
comments:
NOSE:
bleeding
comments:
MOUTH:
hair
injury
pain
injury
bleeding gums
pattern changes
infection
discharge
pain
wax excess
changes in smell
tooth pain/dentures
itch
bleeding/injury
congestion
ringing
discharge
change in breath
tongue pain/swelling
comments:
Please turn page
THROAT:
voice changes
pain
trouble swallowing
swelling
comments:
NECK:
swelling
comments:
pain
CARDIO/PULMONARY:
decreased mobility
chest pain palpitations shortness of breath (positional, nighttimes, exertional)
cough (mucous/blood) pain with breathing snoring
comments:
GASTROINTESTINAL:
nausea vomiting diarrhea
constipation
pain heartburn rectal bleeding
change in stool caliber
comments:
GENITOURINARY:
urinary habit changes incontinence
burning with urination stones
nighttime urination
blood/dark
comments:
Male: discharge
sexual dysfunction
testicle pain/swelling
groin pain/swelling
infection
comments:
Female:
discharge
painful intercourse
periods absent/abnormal bleeding
itching/burning
comments:
BREAST:
pain
lumps
discharge
swelling
nipple changes
comments:
SKIN/NAILS:
rash peeling itching redness infections
pattern changes nail changes/ infections bruising
comments:
EXTREMETIES:
skin growths
color changes
hair
swelling pain temperature changes injury numbness/ tingling
color changes joint pain/swelling/warmth loss of function
comments:
BACK:
pain
comments:
stiffness
injury
NEUROPSYCHIATRIC:
seizures blackouts tingling dizziness (position related) paralysis
loss of feeling double vision slurred speech
mood swings depression
panic attacks anxiety hearing voices
comments:
Patient Signature:_____________________ Date __________ Provider Initial ___________
Thank you !