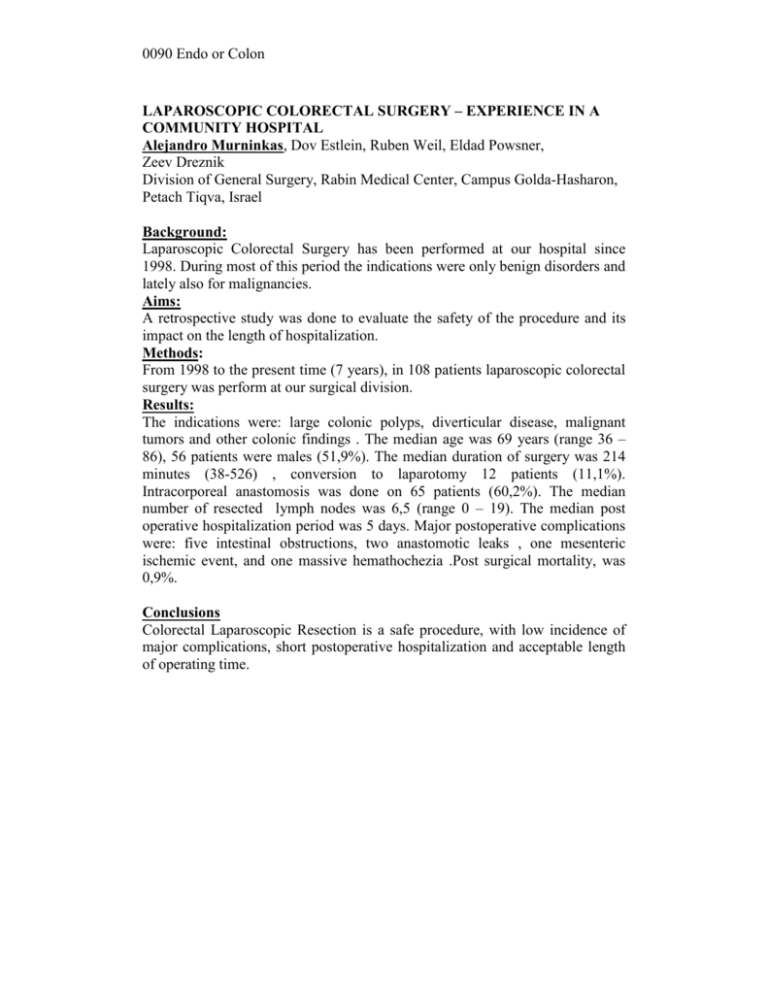 0090 Endo or Colon
LAPAROSCOPIC COLORECTAL SURGERY – EXPERIENCE IN A
COMMUNITY HOSPITAL
Alejandro Murninkas, Dov Estlein, Ruben Weil, Eldad Powsner,
Zeev Dreznik
Division of General Surgery, Rabin Medical Center, Campus Golda-Hasharon,
Petach Tiqva, Israel
Background:
Laparoscopic Colorectal Surgery has been performed at our hospital since
1998. During most of this period the indications were only benign disorders and
lately also for malignancies.
Aims:
A retrospective study was done to evaluate the safety of the procedure and its
impact on the length of hospitalization.
Methods:
From 1998 to the present time (7 years), in 108 patients laparoscopic colorectal
surgery was perform at our surgical division.
Results:
The indications were: large colonic polyps, diverticular disease, malignant
tumors and other colonic findings . The median age was 69 years (range 36 –
86), 56 patients were males (51,9%). The median duration of surgery was 214
minutes (38-526) , conversion to laparotomy 12 patients (11,1%).
Intracorporeal anastomosis was done on 65 patients (60,2%). The median
number of resected lymph nodes was 6,5 (range 0 – 19). The median post
operative hospitalization period was 5 days. Major postoperative complications
were: five intestinal obstructions, two anastomotic leaks , one mesenteric
ischemic event, and one massive hemathochezia .Post surgical mortality, was
0,9%.
Conclusions
Colorectal Laparoscopic Resection is a safe procedure, with low incidence of
major complications, short postoperative hospitalization and acceptable length
of operating time.