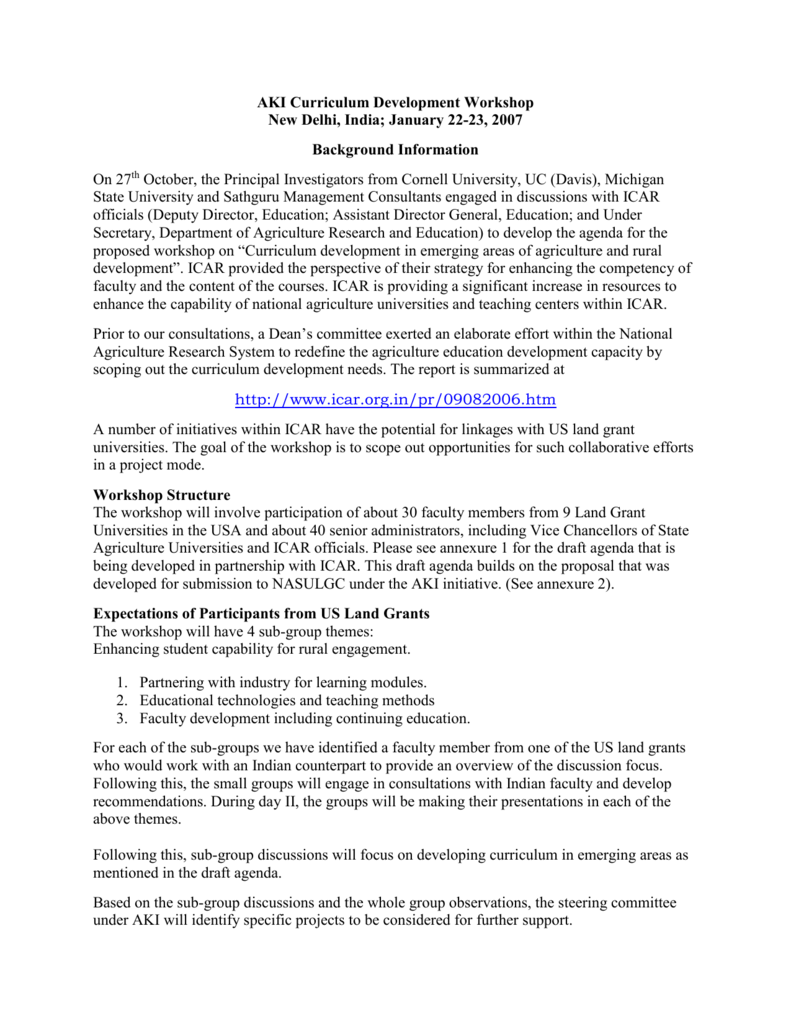 AKI Curriculum Development Workshop
New Delhi, India; January 22-23, 2007
Background Information
On 27th October, the Principal Investigators from Cornell University, UC (Davis), Michigan
State University and Sathguru Management Consultants engaged in discussions with ICAR
officials (Deputy Director, Education; Assistant Director General, Education; and Under
Secretary, Department of Agriculture Research and Education) to develop the agenda for the
proposed workshop on "Curriculum development in emerging areas of agriculture and rural
development". ICAR provided the perspective of their strategy for enhancing the competency of
faculty and the content of the courses. ICAR is providing a significant increase in resources to
enhance the capability of national agriculture universities and teaching centers within ICAR.
Prior to our consultations, a Dean's committee exerted an elaborate effort within the National
Agriculture Research System to redefine the agriculture education development capacity by
scoping out the curriculum development needs. The report is summarized at
http://www.icar.org.in/pr/09082006.htm
A number of initiatives within ICAR have the potential for linkages with US land grant
universities. The goal of the workshop is to scope out opportunities for such collaborative efforts
in a project mode.
Workshop Structure
The workshop will involve participation of about 30 faculty members from 9 Land Grant
Universities in the USA and about 40 senior administrators, including Vice Chancellors of State
Agriculture Universities and ICAR officials. Please see annexure 1 for the draft agenda that is
being developed in partnership with ICAR. This draft agenda builds on the proposal that was
developed for submission to NASULGC under the AKI initiative. (See annexure 2).
Expectations of Participants from US Land Grants
The workshop will have 4 sub-group themes:
Enhancing student capability for rural engagement.
1. Partnering with industry for learning modules.
2. Educational technologies and teaching methods
3. Faculty development including continuing education.
For each of the sub-groups we have identified a faculty member from one of the US land grants
who would work with an Indian counterpart to provide an overview of the discussion focus.
Following this, the small groups will engage in consultations with Indian faculty and develop
recommendations. During day II, the groups will be making their presentations in each of the
above themes.
Following this, sub-group discussions will focus on developing curriculum in emerging areas as
mentioned in the draft agenda.
Based on the sub-group discussions and the whole group observations, the steering committee
under AKI will identify specific projects to be considered for further support.
Summary of Project
Cornell University in collaboration with Michigan State University (MSU), University of
California Davis (UC Davis), Sathguru Management Consultants, and the Indian Council for
Agricultural Research (ICAR) propose to develop a long-term collaboration to enhance and
internationalize curriculum in emerging areas of agricultural development. The areas identified
as top priority within the newly launched "Agricultural Knowledge Initiative" for curriculum
development and capacity development are biotechnology, food processing and marketing, and
water management. The three U.S. land grant universities propose to organize and conduct a
workshop to address curriculum and capacity development needs in the above areas. ICAR is
currently in the process of reviewing its own curriculum needs. Deans from State Agricultural
Universities (SAUs) in India will present their findings at the proposed workshop while faculty
from the three U.S. land grant universities will present and discuss the emerging AKI needs.
After a three-day deliberation involving sharing of experiences between ICAR and the three US
universities, a draft report and recommendations for enhancing curriculum needs will be
prepared. ICAR will host the workshop and manage local logistics. International Programs (IP)
at Cornell University's College of Agriculture and Life Sciences will facilitate linkages and
logistical support for participants from the three U.S. land grant universities.
The proposal also includes a study tour of selected ICAR nominees (faculty/ Deans from SAUs)
to visit the three U.S. universities to learn first hand how curriculum needs are being addressed.
After the study tour the report and recommendations will be finalized, reported to NASUGC and
posted on a web site so that all interested faculty in U.S. and India will have access and be able
to participate in future work. The proposed steering committee of this project will also interact
on a continuing basis with the AKI Board and the committee involved in capacity and
curriculum development.
Significant impacts for this proposal include 1) internationalizing curriculum needs in the three
important priority areas of AKI and 2) linking the three U.S. land grant institutions with the
SAUs of India so that the agreed upon relevant courses become a part of the regular curriculum
for both undergraduates and graduate students in both India and the U.S.
The various courses and distance learning tools proposed by the three U.S. land grant
universities, plus the relevant needs identified during the workshop, will lead to a long term
linkage between India and the U.S. to produce students who can respond to the changing needs
in global agriculture. Capacity building areas identified for mid-career scientists in the three AKI
priority areas will help India realize its ambition towards the second green revolution.
Sustainability of this project is ensured as all of them have on-going collaborations with ICAR
and have commitment towards internationalizing curriculum to create students who will bring
about a major change to address the needs of both the private and public sectors. The approach
presented in this proposal is a win-win for all the participating institutions.
Draft agenda for the workshop on
CURRICULUM DEVELOPMENT IN EMERGING AREAS
OF AGRICULTURE AND RURAL DEVELOPMENT.
The workshop will be held over two days. The indicative dates are 22nd January and 23rd
January 2007.
Day 1 January 22, 2007
9:30 a.m. to 10:00 a.m.
Opening remarks – DG, ICAR
DDG (Education)
10:00 a.m. to 11:00 a.m.
Emerging trends in curriculum development in India –
An Indian speaker – Dr.P.L.Gautam.
11:00 a.m. to 11:30 a.m.
Coffee Break.
11:30 a.m. to 12:30 p.m.
Emerging trends in curriculum development among Land
Grant universities in USA – Ronnie Coffman.
(The presentation will be for half an hour for each of the presenters with half an hour
allocated for questions).
12:30 p.m. to 1:30 p.m.
Lunch break
1:30 p.m. to 2:30 p.m.
Presentation for 10 minutes providing overview of the
discussion focus for each of the sub-groups by 4 presenters.
The presenters will be:
a) Enhancing student capability for rural engagement - James Hill & C.Ramasamy,
TNAU
b) Partnering with industry for learning modules – Vijayaraghavan & Karim
Maredia
c) Educational technologies and teaching methods – Medha Deware (Cornell) &
Director, NAARM.
d) Faculty development including continuing education – Paul Mircotte (UC-Davis
& DDG, Education, ICAR).
The presenters will be the moderators for each of the sub-groups. The sub-groups will
discuss the themes for two hours. At the end of the discussion session, the group will
prepare a brief power point presentation and will choose members of the group to present
to the whole group.
Day 2: January 23rd 2007
9:00 a.m. to 12:30 pm.
Each group makes presentation on the earlier day subgroup discussions, followed by discussions. 20 minutes
presentation with 40 minutes discussion for each).
12:30 p.m. to 1:30 p.m.
Lunch.
1:30 p.m. to 3:00 p.m.
Curriculum development for emerging opportunities.
Energy and bio fuels
Foods for health (agriculture – nutrition – health)
Intellectual property management and intellectual property management
Gender development
New life sciences
National resources and environmental management
Value addition and markets
Animal sciences & fisheries
(Each of the sub-groups will discuss for an hour and a half and come up with summary
findings
3:00 to 5:00 p.m.
Presentation by each of the groups.
5:00 p.m. to 5:30 p.m.
Closing remarks and briefing on next steps.