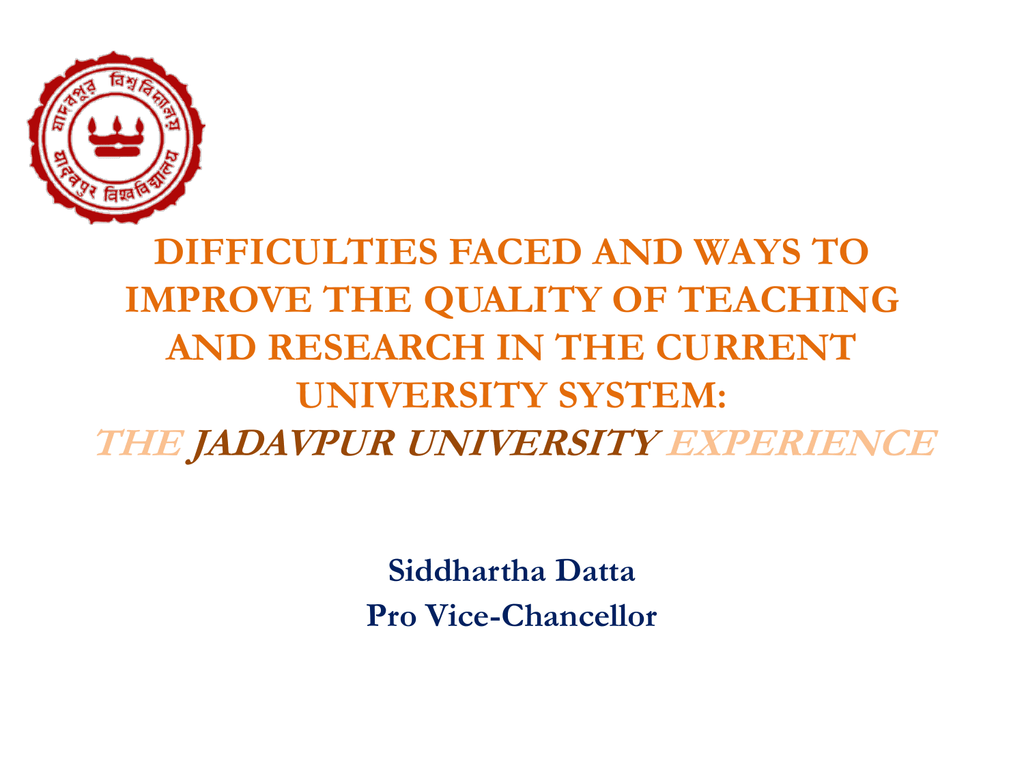 DIFFICULTIES FACED AND WAYS TO
IMPROVE THE QUALITY OF TEACHING
AND RESEARCH IN THE CURRENT
UNIVERSITY SYSTEM:
THE JADAVPUR UNIVERSITY EXPERIENCE
Siddhartha Datta
Pro Vice-Chancellor
Difficulties Faced
I. Human Resource
Students
No University Fellowship for research
students.
Teachers
(i) Disparity of pay scale with respect to
Central universities and private universities.
(ii) Therefore, attracting quality teachers from
outside state/country is nearly impossible.
(iii) Retention of best teaching talents
difficult.
II. Infrastructure
1. Very little funding for development purposes under
Plan head (UGC has frozen XII Plan funds at the
level of XI Plan period).
2. Therefore, it becomes nearly impossible to plan for
the future in current circumstances.
3. This is particularly important when it comes to
housing for outstation teachers, researchers and
students.
4. Further, this makes procurement and maintenance
of equipment difficult.
5. Maintenance grant for equipment seldom given.
III. Other Factors
1. No formal mechanism for publicizing
achievements which would help to attract better
quality teachers and students.
2. Doctoral and postdoctoral research, especially in
emerging areas not integrated with teaching/syllabi.
3. Inadequate collaboration with National
Laboratories and foreign institutions of excellence.
4. Poor interface with industry.
5. Complicated process for signing agreements for
joint or dual degree programmes, especially with
foreign institutions.
6. Inadequate scope and efforts to raise funds from
external sources including alumni, industry, private
sector.
7. Fee revision: important and necessary, but
neglected.
8. Inefficiency and complicated bureaucratic
procedures on part of government agencies like
UGC, leading to delays and lapses.
9. Inadequately trained support staff in university
administration. Accountability and incentive
system both absent.
10. Poor awareness regarding importance of
maintaining records and other data in regard
to university's performance.
11. No centralized system for data gathering
and analysis.
12. Low use of Information &
Communication Technology (ICT) in
university administration.
13. Research
(i) The analysis of research output, especially in
terms of contribution to society, is poor.
(ii) Accountability & transparency for research
output need improvement.
(iii) No formal mechanism within the university
system to reach out to marginal and backward
sections of society.
(iv) Funding for basic/fundamental research
decreasing.
Ways to Improve Quality
1. Human resource
Students
Must introduce University Fellowships for research
students.
Teachers
(i) Evaluation system of teachers needs
improvement.
(ii) Incentive schemes (not necessarily financial)
should be introduced.
(iii) State universities' teachers should receive pay
packages commensurate with Central universities.
2. Universities need a formal mechanism when it comes
to interaction with media to publicize achievements in
teaching and research.
3. The future of research is interdisciplinary.
(i) This needs to be promoted.
(ii) Research areas need to be identified right from the
UG level.
(iii) Courses and teaching modules must be
restructured accordingly.
(iv) Interdisciplinary studies should be built into the
formal structure of university syllabi.
4. Universities must make special efforts for
collaboration with other institutions in India and
abroad and have inter-university collaboration
and exchanges within India.
5. Must attract international students, to keep
pace with a rapidly-changing, globalized
environment.
6. Must improve interface and collaboration with
industry.
7. Universities require greater autonomy for
better functioning.
8. In Jadavpur University, tuition fees were last revised
in 2001. Hostel fees were last revised in the 1970s.
Spending government funds for everyone seems to be
a case of subsidizing the rich with money taken
from all, including the poor. Urgent need for fee
revision, including hostel charges, with adequate
provision for financially disadvantaged students.
9. The UGC must become less bureaucratic and more
efficient. It is to be hoped that the RUSA (Rashtriya
Uchchatar Shiksha Abhiyan) will address this matter,
on a urgent footing.
10. Accountability of support staff and provision for
incentives need to be built into the university system.
11. Urgent need to introduce Enterprise Resource
Planning (ERP) software in all universities.
12. Urgent need to enhance ICT facilities in university
administration.
13. Research
(i) Should become more inclusive and sensitive to
the needs of society, especially the most
marginalized sections.
(ii) It must be accessible. Universities must devise
mechanisms to ensure that fruits of research
reach those who need it most.
(iii) Universities should give incentives (not
necessarily financial) to those who carry out
research. Both students and teachers should
receive such incentives.
(iv) Government must increase funding for
basic/fundamental research.
Thank you!