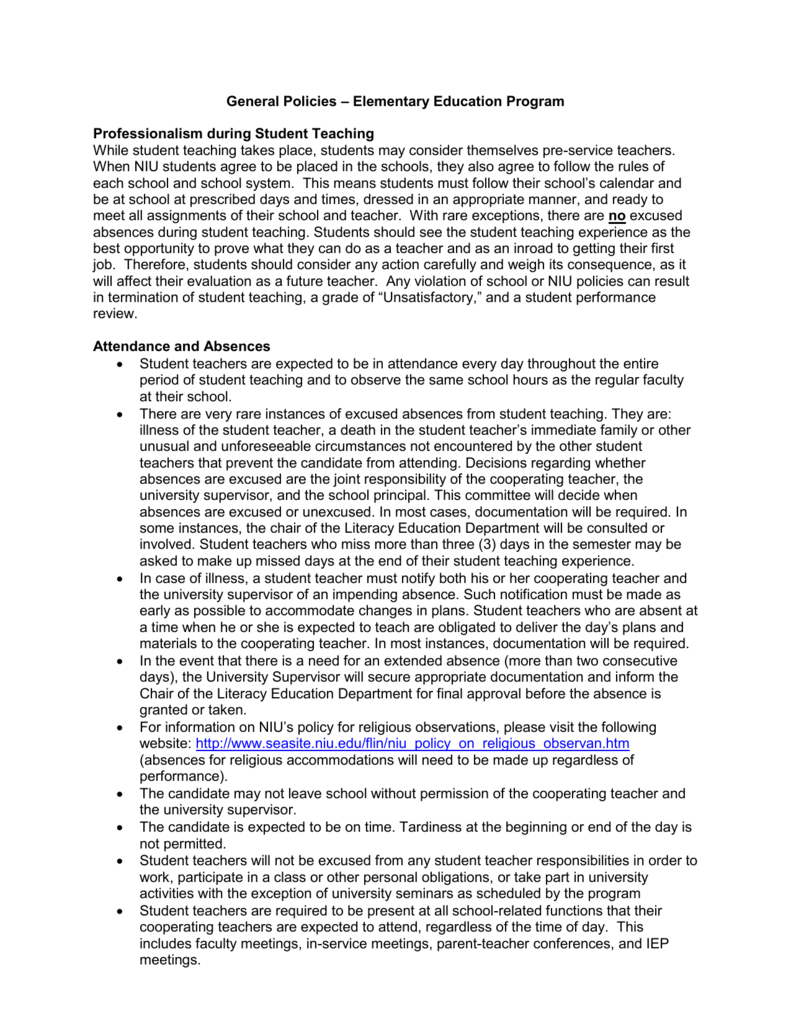 General Policies – Elementary Education Program
Professionalism during Student Teaching
While student teaching takes place, students may consider themselves pre-service teachers.
When NIU students agree to be placed in the schools, they also agree to follow the rules of
each school and school system. This means students must follow their school's calendar and
be at school at prescribed days and times, dressed in an appropriate manner, and ready to
meet all assignments of their school and teacher. With rare exceptions, there are no excused
absences during student teaching. Students should see the student teaching experience as the
best opportunity to prove what they can do as a teacher and as an inroad to getting their first
job. Therefore, students should consider any action carefully and weigh its consequence, as it
will affect their evaluation as a future teacher. Any violation of school or NIU policies can result
in termination of student teaching, a grade of "Unsatisfactory," and a student performance
review.
Attendance and Absences
 Student teachers are expected to be in attendance every day throughout the entire
period of student teaching and to observe the same school hours as the regular faculty
at their school.
 There are very rare instances of excused absences from student teaching. They are:
illness of the student teacher, a death in the student teacher's immediate family or other
unusual and unforeseeable circumstances not encountered by the other student
teachers that prevent the candidate from attending. Decisions regarding whether
absences are excused are the joint responsibility of the cooperating teacher, the
university supervisor, and the school principal. This committee will decide when
absences are excused or unexcused. In most cases, documentation will be required. In
some instances, the chair of the Literacy Education Department will be consulted or
involved. Student teachers who miss more than three (3) days in the semester may be
asked to make up missed days at the end of their student teaching experience.
 In case of illness, a student teacher must notify both his or her cooperating teacher and
the university supervisor of an impending absence. Such notification must be made as
early as possible to accommodate changes in plans. Student teachers who are absent at
a time when he or she is expected to teach are obligated to deliver the day's plans and
materials to the cooperating teacher. In most instances, documentation will be required.
 In the event that there is a need for an extended absence (more than two consecutive
days), the University Supervisor will secure appropriate documentation and inform the
Chair of the Literacy Education Department for final approval before the absence is
granted or taken.
 For information on NIU's policy for religious observations, please visit the following
website: http://www.seasite.niu.edu/flin/niu_policy_on_religious_observan.htm
(absences for religious accommodations will need to be made up regardless of
performance).
 The candidate may not leave school without permission of the cooperating teacher and
the university supervisor.
 The candidate is expected to be on time. Tardiness at the beginning or end of the day is
not permitted.
 Student teachers will not be excused from any student teacher responsibilities in order to
work, participate in a class or other personal obligations, or take part in university
activities with the exception of university seminars as scheduled by the program
 Student teachers are required to be present at all school-related functions that their
cooperating teachers are expected to attend, regardless of the time of day. This
includes faculty meetings, in-service meetings, parent-teacher conferences, and IEP
meetings.
Outside Commitments
Work or family/personal responsibilities cannot be excuses for failing to meet the commitments
of student teaching. If such interference occurs, the student teacher will be given the choice of
withdrawing from student teaching or making the personal adjustments necessary to give full
attention to the program.
Substitute Teaching
Student teachers may not serve as substitute teachers. A substitute teacher must be provided
by the school should the cooperating teacher be absent. However, student teachers who have
progressed to the teaching duties portion of their student teaching experience may teach in the
classroom to which they are assigned as a student teacher, in the presence of a substitute
teacher.
Conduct
Student teachers must, at all times, conduct themselves in a manner that is consistent with
professional, ethical, and moral standards. Failure to do so may result in termination of student
teaching. Student teachers may not date students or any personnel employed at the school in
which they are student teaching.
Dress Code
The attire and grooming of student teachers while in the school should conform to the accepted
good practices at the school. Student teacher will dress professionally. Professionally includes,
but is not limited to the following:
a. Jeans, jean-style pants, sweat pants, pajama pants, or shorts
(Shorts are defined as knee length or shorter)
b. Tight-fitting, provocative clothing (such as low-riders or crop tops)
c. Revealing/low-cut tops
d. Clothing that reveals undergarments
e. Skirts or dresses that are shorter than knee-length
f. Leggings unless top/skirt/dress is knee-length or longer
g. Flip flops, sport sandals, or shoes that would prohibit you from performing your
duties safely
h. Cover all tattoos
i. Remove all nose rings, eyebrow rings, tongue rings and lip rings. Clear plastic
studs or "spacers" are not permitted
j. Men are expected to remove all ear piercings
Corporal Punishment
Student teachers may not administer corporal punishment, nor may they serve as "witness"
when licensed school personnel administer corporal punishment.
Holidays and Vacations
Student teachers must follow the schedule of the public school to which they are assigned.
School holidays and vacations may or may not coincide with NIU's schedule. In all cases,
student teachers are obliged to adhere to the schedules of their assigned schools.
Child Abuse
Student teachers should follow school system protocol when reporting suspected child abuse. It
is the cooperating teacher's responsibility to carry out the reporting procedures.
Religious Readings
Student teachers may not use any religious or sacred text (for example, the Bible, the Koran,
the Torah, et al.)
Searching Students
Student teachers may not initiate or carry out an independent search of students or students'
lockers. Unless directly ordered by the school principal to do so, student teachers must not
participate in search and seizure activities.
School Shutdown or Strike
In the case of school shutdown or a teacher strike in the school to which student teachers are
assigned, their attendance at that school will be suspended until such time as the cause for the
shutdown is remedied or the strike is settled. Student teachers should not become involved in a
strike or in the issues or politics surrounding a strike or potential strike.
Tuberculosis Test
NIU candidates are required to demonstrate freedom from the communicable disease
tuberculosis prior to the beginning of the senior student teaching experience. Documentation is
on file in the Clinical Placement Office at NIU.
Liability
The school district must provide NIU candidates with liability protection as is provided to regular
employees of the district. (ISBE Code Provision: 105 ILCS 5/10-20.20)
Student Teaching is Not a Paid Experience
The Illinois State Board of Education (ISBE) does not allow candidates enrolled in an early
clinical or a student teaching experience to be paid for that experience.
Student Teaching Responsibilities
Candidates who are completing their senior student teaching are responsible only for the
classroom teacher's regular assignments.
Transportation
Student teachers are responsible for providing their own transportation.