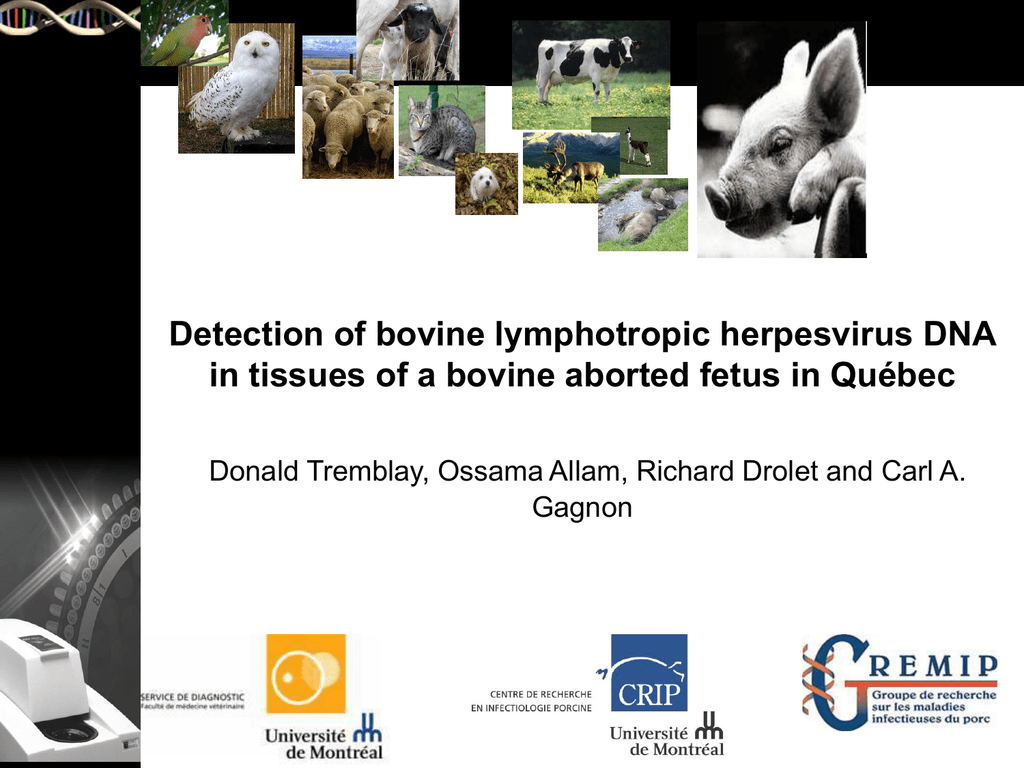 Detection of bovine lymphotropic herpesvirus DNA
in tissues of a bovine aborted fetus in Québec
Donald Tremblay, Ossama Allam, Richard Drolet and Carl A.
Gagnon
Project premises
In
late 2008, the Molecular Biology Diagnostic
Laboratory (MBDL) of the Faculty of veterinary
medicine of the University of Montreal started a
research project to investigate the etiological agents
involved in cow abortion in Québec, Canada
-Molecular diagnostic (PCR)
4 principal pathogens:
-BVDV
-Bovine herpesvirus type 1 (IBR)
-Leptospira spp
-Neospora caninum
1 more (public health concern): Coxiella burnetti
Data compilation
-Analyses are paid for. The results are given to the
veterinarian as part of the regular diagnostic (24
hours delay after reception).
-The laboratory is sending coolers with identified
collecting tubes to the submitting veterinary.
-vaccinal status of the herd
-live attenuated,
-killed viruses and
-unvaccinated
-Historic
-Blood for the serological follow-up
Methodology and results
To date (May 2010)
-96 cases submitted
-86 placentae
-PCRs are done on
-placentae (when available)
-1 pool of all other tissues.
Methodology and results
Standard qualitative PCR
IBR: polymerase A gene detection
Leptospira spp.:Gravekamp C. et al., 1993
Real-Time PCR (quantitative)
BVD: AgPath-ID BVDV (Life technologies)
Neospora caninum: Ghalmi F. et al., 2008
Coxiella burnetti: Klee S.R. et al., 2006
Results
Number of positive detected by PCR for each pathogen (%)
BVDV
IBR
Leptospira
Neospora
caninum
5 (5,2)
6 (6,3)
2 (2,1)
9 (9,4)
Coxiella
burnetti
1 (1,0)
Results
Since 1 case had BVDV and Leptospira spp.
-74 samples (77,1%) without any positive
detection
-abortion rate in the herd?
-IBR: Slight increase since January 2010
(4 cases)
Results
General bacterial detection by 16S rRNA sequencing:
-detection on placenta was inconclusive (environmental
contamination of the samples)
-Very few amplification on individual tissues (contamination)
More target:
-Mycobacterium spp.
-Salmonella spp.
-Toxoplasma
-General Herpesvirus
-General Coronavirus
-Campylobacter spp.
-Listeria monocytogenes
-Chlamydophila spp.
-etc….
General Herpesvirus
In January 2010
-case of BHV4 submitted to the MBDL
-First tested for IBR
detected with a pan-herpesvirus nested-PCR
Vandevanter et al., 1996
General Herpesvirus
250
Exo I
Exo II'
Exo II
500
Exo III
750
Motif A
DFA
Motif B
ILK
TGV
Motif C
IYG
1000
KG1 1236
- DNA polymerase gene
- Final fragment of 210 bps
- Degenerate primers
- Product is unique for each viral species (with little strain variation)
Results
- First 26 cases were tested for detection of
pan-herpesvirus
- 2 amplifications:
- IBR (already reported case)
- Bovine lymphotropic herpesvirus (BLHV)
Bovine lymphotropic herpesvirus
- Herpesviridae family within the subfamily
Gammaherpesvirinae
- First described in 1998 (Cornell University)
- Rovnak J. et al 1998
- Search of Herpesvirus as co-factor in the bovine leukemia
virus (BLV) pathogenesis
- 80% positives in animals tested (n=147)
Bovine lymphotropic herpesvirus
- Report case in 2006 in the UK
- Cobb et al., The Veterinary Report 2006
- Cases of chronic unresponsive endometritis
- 33% of a 180-head milking herd was affected with
a purulent metritis that did not respond to standard
antibiotic therapies
- Investigation in 2008
- Banks et al., The Veterinary Journal 2008
- small-scale investigation of UK dairy herds reporting recurrent
episodic or chronic non-responsive post-partum metritis
- High prevalence in affected herds (but no control unaffected
herds)
- No association with calving problems
Results
- Second consecutive abortion, fifth in the last year
- Placenta and pool of tissues also positive for
Neospora caninum
- Individual tissues of the aborted fetus tested
- Brain and lymph nodes were positive
- Tropism of Herpesvirus for neuronal cells and lymphocytes
- No histopathological lesion suggestive of a viral
infection could be found in BLHV nested-PCR
positives tissues
Results
Investigation in the 60 other submitted placenta
- 6 others BLHV amplified
- 1/6 had Leptospira spp. infection
-Total of 7 cases (11,7% of 60
submitted placenta)
Conclusion
- First description of a Bovine Lymphotropic
Herpesvirus in Canada
- To our knowledge, it is the first time that BLHV is
described in tissues of an aborted fetus
- It is difficult to ascertain that BLHV has a role to play
in the cause of the abortion (presence of recognized
pathogens and no significant viral lesions)
- Important to report the presence of BLHV in Canada
because it is the first step toward the country
improvement of bovine pathogens surveillance.
Questions?