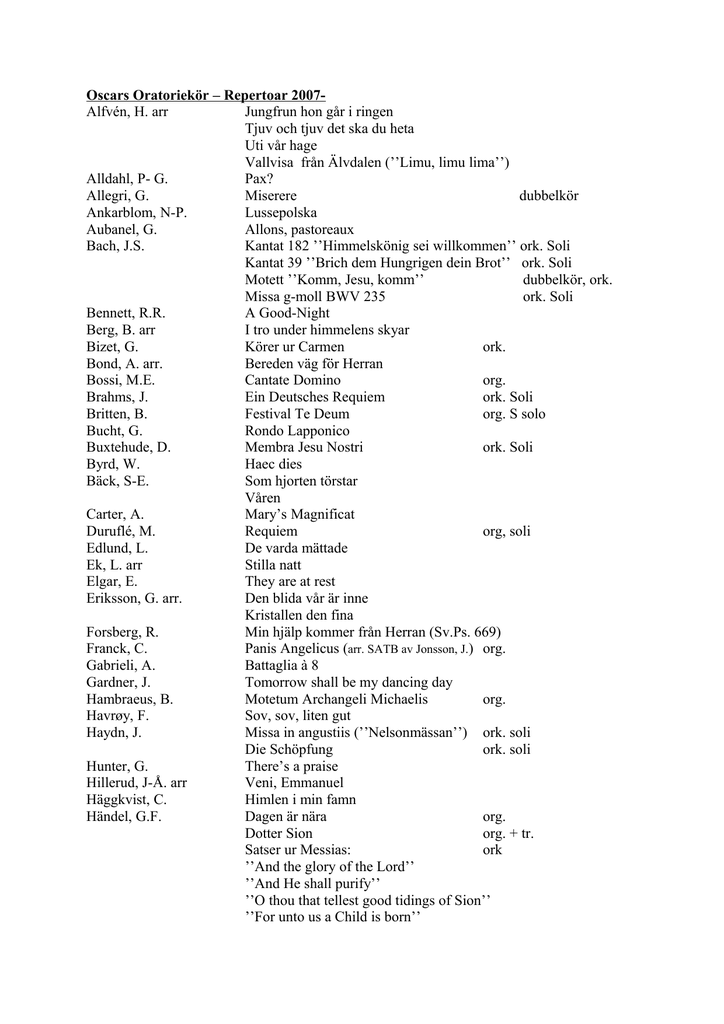 Oscars Oratoriekör – Repertoar 2007Alfvén, H. arr
Jungfrun hon går i ringen
Tjuv och tjuv det ska du heta
Uti vår hage
Vallvisa från Älvdalen (''Limu, limu lima'')
Alldahl, P- G.
Pax?
Allegri, G.
Miserere
dubbelkör
Ankarblom, N-P.
Lussepolska
Aubanel, G.
Allons, pastoreaux
Bach, J.S.
Kantat 182 ''Himmelskönig sei willkommen'' ork. Soli
Kantat 39 ''Brich dem Hungrigen dein Brot'' ork. Soli
Motett ''Komm, Jesu, komm''
dubbelkör, ork.
Missa g-moll BWV 235
ork. Soli
Bennett, R.R.
A Good-Night
Berg, B. arr
I tro under himmelens skyar
Bizet, G.
Körer ur Carmen
ork.
Bond, A. arr.
Bereden väg för Herran
Bossi, M.E.
Cantate Domino
org.
Brahms, J.
Ein Deutsches Requiem
ork. Soli
Britten, B.
Festival Te Deum
org. S solo
Bucht, G.
Rondo Lapponico
Buxtehude, D.
Membra Jesu Nostri
ork. Soli
Byrd, W.
Haec dies
Bäck, S-E.
Som hjorten törstar
Våren
Carter, A.
Mary's Magnificat
Duruflé, M.
Requiem
org, soli
Edlund, L.
De varda mättade
Ek, L. arr
Stilla natt
Elgar, E.
They are at rest
Eriksson, G. arr.
Den blida vår är inne
Kristallen den fina
Forsberg, R.
Min hjälp kommer från Herran (Sv.Ps. 669)
Franck, C.
Panis Angelicus (arr. SATB av Jonsson, J.) org.
Gabrieli, A.
Battaglia à 8
Gardner, J.
Tomorrow shall be my dancing day
Hambraeus, B.
Motetum Archangeli Michaelis
org.
Havrøy, F.
Sov, sov, liten gut
Haydn, J.
Missa in angustiis (''Nelsonmässan'') ork. soli
Die Schöpfung
ork. soli
Hunter, G.
There's a praise
Hillerud, J-Å. arr
Veni, Emmanuel
Häggkvist, C.
Himlen i min famn
Händel, G.F.
Dagen är nära
org.
Dotter Sion
org. + tr.
Satser ur Messias:
ork
''And the glory of the Lord''
''And He shall purify''
''O thou that tellest good tidings of Sion''
''For unto us a Child is born''
''Hallelujah''
''Since by man came death''
''Worthy is the Lamb''
''Amen''
Jansson, L.
To the mothers in Brazil (Salve Regina), (arr G. Eriksson)
Jones, T.
A child is born
Jennefelt, T.
''Led milda ljus'' och ''Härlig är jorden'' ur Den gömda källan
Kullnes, Å.
Gör mig ödmjuk, gör mig stilla
Larsson, L.-E.
Förklädd gud
ork. soli
Liljefors, R.
När det lider mot jul
Lindberg, O.
Adventshymn
Lloyd-Webber, A.
Joseph and the Amazing Technicolour ork, soli, sceniskt
Dreamcoat (musikal)
(på svenska)
Lundvik, H.
Som ett blommande mandelträd
Veraine – stämning
Malmfors, Å.
Wiegenlied
Mendelssohn, F
Symfoni no 2 ''Lobgesang''
ork, soli
Förlän oss, Herre, helig frid
Moraeus, P.
Koppången
piano
Morén, J.
Se, vi gå upp till Jerusalem
Mozart, W.A.
Ave Verum Corpus
org.
Requiem
ork, soli
Nielsen, C.
Förunderligt och märkligt
Nilsson, S., Wallenäs, L. Gabriellas sång
Nordqvist, G.
Jul, jul, strålande jul
Nyberg, A.
Natten vidgar sig och brister
I Betlehem mitt hjärta
Den signade dag
Nyberg, H. arr.
I denna ljuva sommartid
Nystedt, K.
Peace I leave with You
Olofsson, P.
Bana väg för Herren
ork.
Psaltarpsalm (''Nu är jag alltid hos dig'') ork.
Var inte rädd
Psalm 103
Han gör sina änglar till vindar
Olofsson, P. arr.
Bereden väg
ork.
Gå Sion, din Konung att möta
ork.
Det susar genom livets strid
ork.
Jag skulle vilja våga tro
Credo (Sv.Ps. 766)
Guds änglar är hans sändebud (Sv. Ps. 483)
Kom låt oss nu förenas här (Sv. Ps. 16)
The Sussex Mummers' Christmas Carol bar. solo
Olhans, M.
Adventets Konung
Olsson, O.
Psalmus CXX
Canticum Simeonis
Rex gloriosae
Ave Maris Stella
Jesu dulcis memoria
Advent
org.
Orff, C.
Palestrina, G.P.
Peterson-Berger, W.
Poulenc, F.
Purcell, H.
Pårt, A.
Rathbone, G.
Reger, M.
Rehnqvist, K.
Rheinberger, J.
Rosenberg, H.
Rutter, J.
Sandström, J.
Schubert, F.
Sixten, F.
Sköld, B-G
Stanford, C.V.
Stenhammar, W.
Söderman, A.
Tippett, M.
Tormis, V.
Vaughan Williams, R.
Verdi, G
Vogler, G.J.
Wagner, R.
Warren, M.
Wennerberg, G.
Whitacre, E.
Widéen, I.
Widestrand, O.
Wikander, D.
Åberg, J. H. arr.
Åhlén, W.
Jag lyfter mina ögon
Gammal Julvisa: ''Guds Son är född''
Carmina Burana
ork., soli
Ave Maria
Vårsång
I furuskogen
Stabat Mater
ork. S solo
Marie
Dido & Aeneas
ork., soli, sceniskt
In these delightful, pleasant groves
Music for a while (bearb G. Eriksson)
Bogorόditse Djévo
Rejoice in the Lord alway
org.
Marias vaggsång
damkör
Var inte rädd för mörkret
2-st damkör
I himmelen, i himmelen
damkör
Abendlied
Kyrie ur Cantus Missae (op 109)
Koral I, II (damkör), IV, V, VII
ur ''Johannes uppenbarelse'' (symf. no 4)
God be in my head
Star Carol
Det är en ros utsprungen
dubbelkör
Till ingång (ur Deutsche Messe)
org?
Mässa G-dur
ork, soli
Ropa ut din glädje, dotter Sion
org.
När vintermörkret kring oss står
O for a closer walk
Nunc Dimitis
The Blue Bird
Sverige
Vårnatt
Andliga sånger (7 satser)
org, S solo
Five Spirituals
soli.
(från A Child of Our Time)
Raua needmine (Järnets förbannelse)
Silence & music
''Va, Pensiero'' (''Fångarnas kör'') ur Nabucco, ork.
''Vedi!'' (''Smideskören'') ur Il Trovatore, ork.
Hosianna
(org.)
''Treulich geführt' (''Brudkören'') ur Lohengrin, ork.
Joyful, joyful
Gören portarna höga
piano, solo
Little birds
Gläns över sjö och strand
Källan
Kung Liljekonvalje
Dofta, dofta, vit syrén
I himmelen, i himmelen
Sommarpsalm
Öhrwall, A.
Härlig är jorden
Goder afton
Satser ur Gaudete:
Nr 4b: Låt oss fröjdas
Nr 7: En jungfru födde ett barn i dag
Nr 9: Se vad glädje nu är här
Övriga sånger:
Alta Trinita Beata
Ding dong! merrily on high
Goder morgon i denna sal
O Kriste du som ljuset är
Staffanspotpurri i Oscars
Medley-Choir (Hej mitt vinterland – Nej se det snöar – Snögubben Froste – The Sleigh Ride),
arr Holgersson, J.