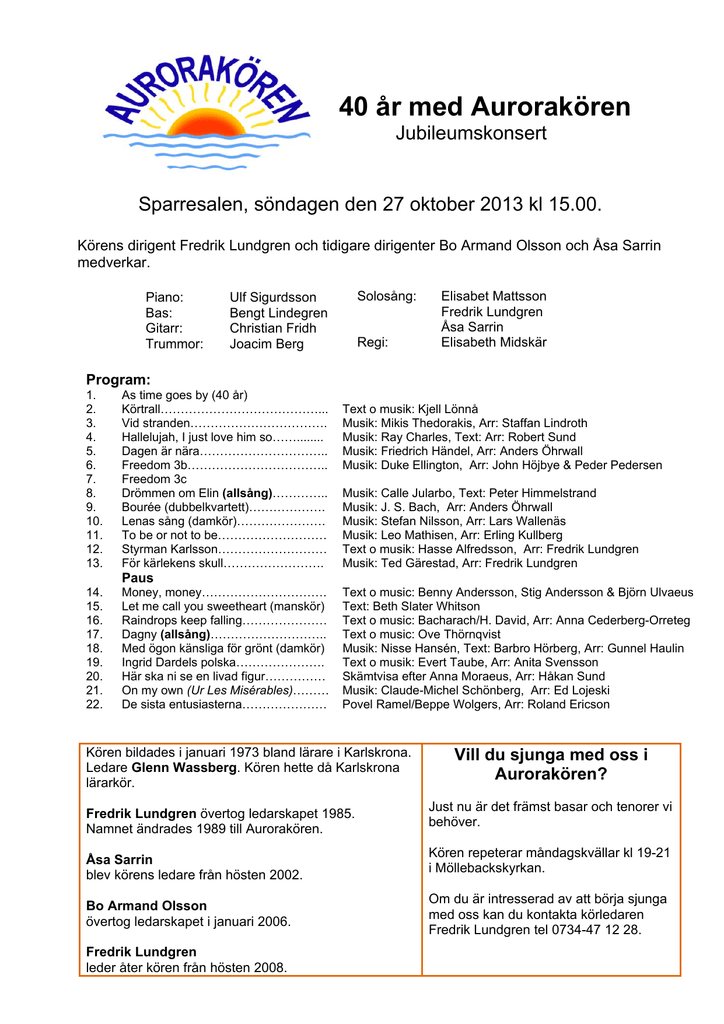 40 år med Aurorakören
Jubileumskonsert
Sparresalen, söndagen den 27 oktober 2013 kl 15.00.
Körens dirigent Fredrik Lundgren och tidigare dirigenter Bo Armand Olsson och Åsa Sarrin
medverkar.
Piano:
Bas:
Gitarr:
Trummor:
Solosång:
Ulf Sigurdsson
Bengt Lindegren
Christian Fridh
Joacim Berg
Regi:
Elisabet Mattsson
Fredrik Lundgren
Åsa Sarrin
Elisabeth Midskär
Program:
1.
2.
3.
4.
5.
6.
7.
8.
9.
10.
11.
12.
13.
As time goes by (40 år)
Körtrall…………………………………...
Vid stranden…………………………….
Hallelujah, I just love him so……........
Dagen är nära…………………………..
Freedom 3b……………………………..
Freedom 3c
Drömmen om Elin (allsång)…………..
Bourée (dubbelkvartett)……………….
Lenas sång (damkör)………………….
To be or not to be………………………
Styrman Karlsson………………………
För kärlekens skull…………………….
Text o musik: Kjell Lönnå
Musik: Mikis Thedorakis, Arr: Staffan Lindroth
Musik: Ray Charles, Text: Arr: Robert Sund
Musik: Friedrich Händel, Arr: Anders Öhrwall
Musik: Duke Ellington, Arr: John Höjbye & Peder Pedersen
Musik: Calle Jularbo, Text: Peter Himmelstrand
Musik: J. S. Bach, Arr: Anders Öhrwall
Musik: Stefan Nilsson, Arr: Lars Wallenäs
Musik: Leo Mathisen, Arr: Erling Kullberg
Text o musik: Hasse Alfredsson, Arr: Fredrik Lundgren
Musik: Ted Gärestad, Arr: Fredrik Lundgren
Paus
14.
15.
16.
17.
18.
19.
20.
21.
22.
Money, money………………………….
Let me call you sweetheart (manskör)
Raindrops keep falling…………………
Dagny (allsång)………………………..
Med ögon känsliga för grönt (damkör)
Ingrid Dardels polska………………….
Här ska ni se en livad figur……………
On my own (Ur Les Misérables)………
De sista entusiasterna…………………
Text o music: Benny Andersson, Stig Andersson & Björn Ulvaeus
Text: Beth Slater Whitson
Text o music: Bacharach/H. David, Arr: Anna Cederberg-Orreteg
Text o music: Ove Thörnqvist
Musik: Nisse Hansén, Text: Barbro Hörberg, Arr: Gunnel Haulin
Text o musik: Evert Taube, Arr: Anita Svensson
Skämtvisa efter Anna Moraeus, Arr: Håkan Sund
Musik: Claude-Michel Schönberg, Arr: Ed Lojeski
Povel Ramel/Beppe Wolgers, Arr: Roland Ericson
Kören bildades i januari 1973 bland lärare i Karlskrona.
Ledare Glenn Wassberg. Kören hette då Karlskrona
lärarkör.
Fredrik Lundgren övertog ledarskapet 1985.
Namnet ändrades 1989 till Aurorakören.
Åsa Sarrin
blev körens ledare från hösten 2002.
Bo Armand Olsson
övertog ledarskapet i januari 2006.
Fredrik Lundgren
leder åter kören från hösten 2008.
Vill du sjunga med oss i
Aurorakören?
Just nu är det främst basar och tenorer vi
behöver.
Kören repeterar måndagskvällar kl 19-21
i Möllebackskyrkan.
Om du är intresserad av att börja sjunga
med oss kan du kontakta körledaren
Fredrik Lundgren tel 0734-47 12 28.