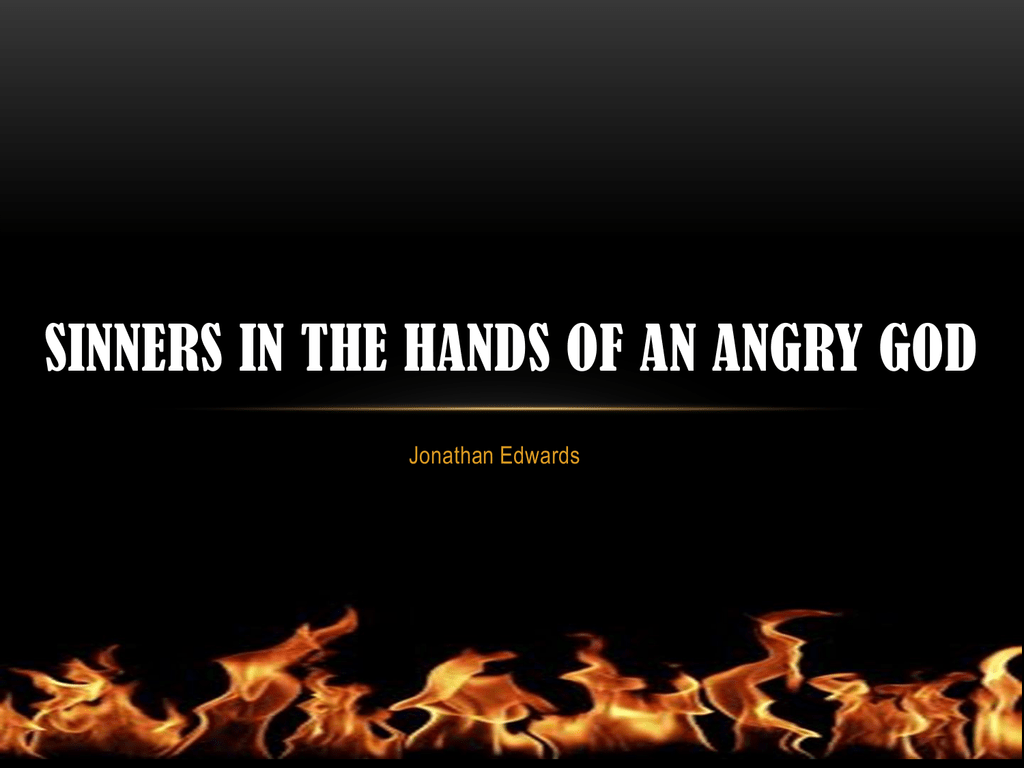 SINNERS IN THE HANDS OF AN ANGRY GOD
Jonathan Edwards
JOURNAL
• What is something someone could say to you that would
cause you to become fearful? How do you think you would
react if told this?
PURITANS AND THEIR BELIEFS
• In the mid-1600's, the Puritans were English Protestants who
wanted to "purify" the Church of England and rid it of all Roman
Catholic practices.
• Left for the new world in 1620 to escape religious persecution
and established the Massachusetts Bay Colony.
RELIGIOUS BELIEFS
• Believed all humans are born with sin.
• Predestination: God has already chosen who is going to
heaven.
• Christ died only for the people God elected to go to heaven.
• Did not regard leading a godly, life as the CAUSE of a person's
salvation, but rather as an encouraging sign of the EFFECT of
being chosen by God to reside in heaven.
• Uncertainty of one's eternal fate, only made believers redouble
their efforts to purify their own lives and society as a whole
• The church's officials were the government's officials.
RELIGIOUS PRACTICES
• Emphasized a strict adherence to Biblical principles
• A rejection of the "worldliness" of society
• Hard work was an honor to God
• Everyone should pursue both moral purity down to the smallest
detail
• The devil was behind every evil deed.
PURITAN LIFE
• The Puritans put God and hard work first in their lives.
•
They believed in strict conformity and a very strict version
of God.
• They wore very simple clothes and did not allow dancing.
• They believed sex was only for reproductive purposes.
• They believed that witches and witchcraft were real.
• They worked together as a community to build their towns,
but this often led to a fear of outsiders and nonconformity.
• The Puritans believed in a "fire and brimstone" method of
preaching, and led lives in fear of an angry God.
PURITAN HOME
PURITAN WOMAN
PURITAN CHILDREN
• In 1692, children were expected to behave under the same strict
code as the adults.
• Showed no of emotion (excitement, fear, or anger)
• Disobedience was severely punished.
• Rarely played, as toys and games were scarce.
• Children completed chores
• Attended church services
THE "DARK SIDE" OF PURITANISM
• "Fall Aways" were completely shunned by the community and it was
perfectly acceptable to "discipline" them and publicly humiliate them.
• Self-denial was the focus: no love, no passion, salvation by good
works—maybe
Sin, punishment
• 2 worst sins—witchcraft and adultery.
• Public humiliation was the only way to free oneself from sins.
• Open confession was a must.
JONATHAN EDWARDS
Son & grandson of Puritan ministers
Ordained a minister at the age of twenty-three
Believed deeply in predestination
Known for his "preaching of terror"
His sermon was preached in 1741 and became the most famous
sermon in American to this day.
Convictions:
• Wrote essays on Apologetics (reasoned arguments usually
about religion or philosophy),
• Grace is a gift from God given to afford us the need and desire
for faith.
• We pathetically destine ourselves from hell and are only kept
out of it because God holds the thread of grace by which we
daily attempt to hang ourselves from.
The Great Awakening:
• A spiritual revival in the colonies in the 1730s and 40s
• was part of the Great Awakening, known as a "Theologian of the
Heart".
Legacy
• Remembered as one of America's most important theologians
FIGURES OF SPEECH
1. Epic simile: an extended comparison between two unlike
objects, using the words like, as
Ex. "The wrath of God is like great waters that are dammed for the
present; they increase more and more, and rise higher and
higher…"
2. Metaphor: comparison between two unlike objects, stating that
one thing is another
Ex. Your eyes, two windows into your soul.
3. Allusion: a reference to something (literature, location, myth,
art, etc.) either directly or by implication
Ex. "I was surprised his nose was not growing like Pinocchio's."
4. Symbol: Something concrete that represents something abstract
5. Imagery: Visually descriptive language
6. Anaphora: The repetition of a word or phrase at the beginning of
successive clauses
Ex. Now is the time for action. Now is the time to take up arms. Now is
the time to fight for your country.
7. Rhetorical Question: a question posed for its persuasive effect
without the expectation of a reply
Ex. Aren't you ashamed of yourself?
• 8. Hyperbole: The use of exaggeration to evoke strong feelings or
create a strong impression, but it not meant to be taken literally.
Ex: He is older than the hills.
• 9. Personification: Giving personal nature or human characteristics
to something non-human.
Ex: Hunger roared in my stomach.
• 10. Alliteration: The repetition of a particular sound in the stressed
syllables of words or phrases.
Ex: Peter Picked a Peck of Pickled Peppers
EMOTIONAL APPEALS
• Scare tactic: A strategy intended to influence public reaction by
the exploitation of fear.
• Cataplexis: Discourse that threatens punishment, misfortune,
or disaster.
PURITAN SERMONS
•
The Puritans believed that the real power of a sermon was to be found in its words,
rather than its delivery. Since the words were thought to be divinely inspired, it was
believed that the words alone carried enough power to affect the congregation.
•
As the preacher was simply a flawed agent of God's work, his presentation of the sermon
was expected to be as unadorned as possible, so that the delivery of the sermon would
not distract listeners from the words. Preachers usually spoke their sermons in a
deliberate monotone.
•
Consider this effect as you read and listen to "Sinners in the Hands of an Angry God."
EMOTIONAL APPEALS
•
Emotional appeals are messages designed to persuade an audience by creating strong
feelings. They often include sensory language to create vivid imagery and loaded words
to create these types of feelings.
•
Fear, which taps into a fear of losing one's safety or security
•
Pity, which draws on a sympathy or compassion for others
•
Guilt, which relies on one's sense of ethics or morality
SINNERS IN THE HANDS OF AN ANGRY GOD
•
Main point: God's grace is the only thing that truly keeps sinners from Hell
•
Theme: Repent!
•
Tone: Serious and emotional. Actually reported to have been delivered in a monotone
voice, yet the congregation erupted in mass hysteria.
•
http://www.youtube.com/watch?v=NMiqF3CJGBc
AFTER READING
•
Skim Edward's "Sinners in the Hands of an Angry God" (p.71-75). Fill out the chart with a
partner or group of no more than THREE (3).
Imagery (quote)
Purpose
Imagery (quote)
Purpose
Hell is "the world of misery, lake of brimstone
is extended under you"
Describes the ferocities of hell
"You have no more influence to hold you up
than a spider's web a rock"
Shows human futility
"God holds you over the pit of hell as a
spider over a fire"
Illustrates the precarious position of humans
YOUR HOMEWORK
•
•
•
According to Jonathan Edwards, what is a constant threat to all human beings?
Why do you think Edwards wrote and delivered the sermon? What was his purpose?
What tactics does Edwards use to communicate his point to the congregation?