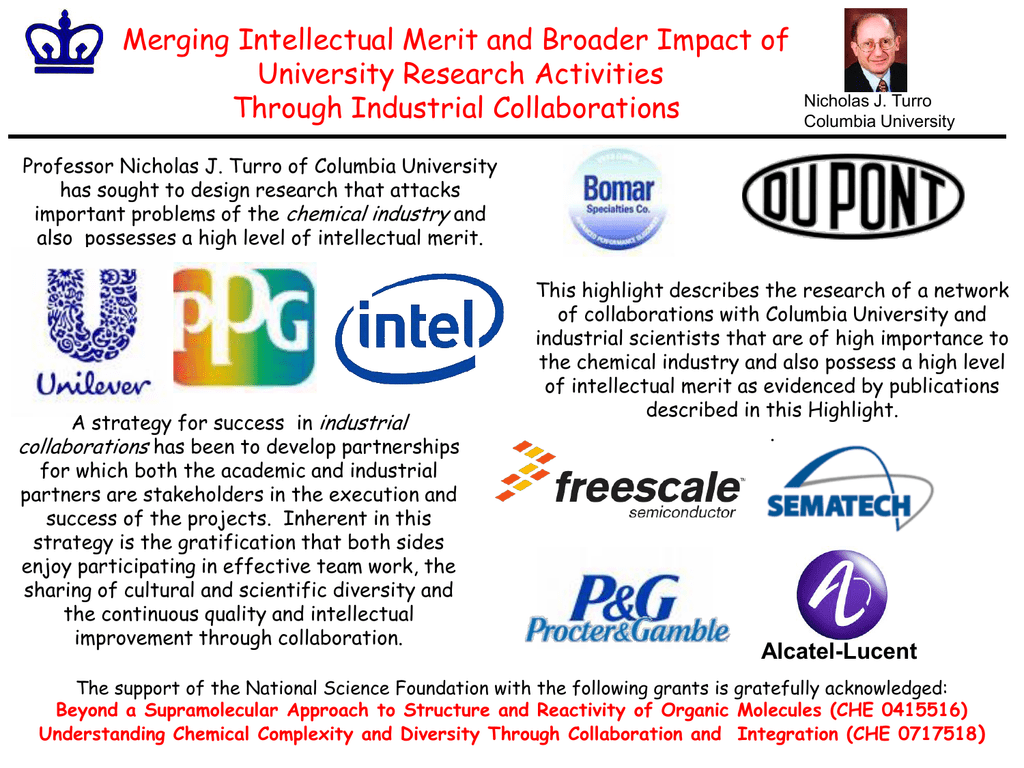 Merging Intellectual Merit and Broader Impact of
University Research Activities
Through Industrial Collaborations
Nicholas J. Turro
Columbia University
Professor Nicholas J. Turro of Columbia University
has sought to design research that attacks
important problems of the chemical industry and
also possesses a high level of intellectual merit.
A strategy for success in industrial
collaborations has been to develop partnerships
for which both the academic and industrial
partners are stakeholders in the execution and
success of the projects. Inherent in this
strategy is the gratification that both sides
enjoy participating in effective team work, the
sharing of cultural and scientific diversity and
the continuous quality and intellectual
improvement through collaboration.
This highlight describes the research of a network
of collaborations with Columbia University and
industrial scientists that are of high importance to
the chemical industry and also possess a high level
of intellectual merit as evidenced by publications
described in this Highlight.
.
Alcatel-Lucent
The support of the National Science Foundation with the following grants is gratefully acknowledged:
Beyond a Supramolecular Approach to Structure and Reactivity of Organic Molecules (CHE 0415516)
Understanding Chemical Complexity and Diversity Through Collaboration and Integration (CHE 0717518 )
Energy efficient "Green" diaper manufacturing, tracking molecules adsorbed on porous catalytic solids
and application of a universal ligand concept for the manufacture of flexible electronic materials.
Industrial collaborator: Dr. Andreas Flohr, Proctor & Gamble,
Schwalbach, Germany.
A novel method for the surface cross-linking (Figure left) of
superabsorbent polymer particles used for manufacturing diapers has
been developed. Polymer materials produced have superior properties
such as liquid flow thought the fluid particle bed and capacity. In
addition, the process is projected to be more energy efficient (through
green chemistry) than the current thermal method for cross-linking.
Reference: J. Appl. Polymer Sci., 111, 2163-2170 (2009).
Industrial collaborator: Dr. Lloyd Abrams, DuPont,
Wilmington, DE.
An understanding of the supramolecular structure and dynamics
of absorption of molecules on the external and internal surface
of porous solids is of critical importance in a range of solid state
catalysis. Electron spin resonance (Figure right) has been
employed to quantitatively determine the surface structure and
dynamics of organic molecules adsorbed on the external surface
of the important MFI family of zeolite catalysts.
Reference: J. Am. Chem. Soc., 130, 11344-11354 (2008).
Industrial collaborator: Dr. Ashok Maliakal, Alcatel-Lucent, Murray Hill, NJ
A "universal ligand" concept incorporating a phosphonate surface anchor and a
terminal alkyne moiety that binds to TiO2 was employed as a method to
synthesize TiO2 nanoparticles with organic polystyrene and poly(s-butyl acrylate)
polymer shells. The resulting materials (Figure left) were incorporated as high
dielectric films in capacitor and organic thin film transistor devices as promising
candidate materials for flexible electronics applications.
Reference: Molecular Rapid Comm., 29, 1544-1547 (2008).
The manufacture of computer chips by photolithography: understanding photochemistry at 157 nm,
producing immersion fluids with high refractive index and inventing novel two photon acid producing
materials. This research was performed in collaboration with International SEMATECH, a consortium of
USA industries whose members make up 50% of the worldwide chip market.
Industrial collaborator: Dr. Roger French, DuPont, Wilmington,
Delaware.
The photolithographic industry has considered the use of 157 nm
lasers as a means of making smaller features in the manufacture of
computer chips. The only materials that are suitably transparent at
157 nm are perfluorocarbons whose photochemistry was elucidated by
our investigations (Figure left)
Reference: J. Am. Chem. Soc., 127, 8320-8327 (2005).
Industrial collaborator: Dr. Will Conley, Freescale Semiconductor,
Austin, TX
Producing immersion fluids that are transparent at 193 nm and that
possess a high refractive index is an important goal for producing
smaller features in making computer chips by photolithography. An
empirical correlation (Figure right) was developed that allows an
accurate prediction of the best candidates for such immersion fluids.
Importantly, the correlation revealed that cyclic saturated
hydrocarbons possess a significantly higher refractive index than
linear hydrocarbons of comparable molecular weight.
Reference: Chem. Matter, 19, 3641-3647 (2007).
H
H
H
H
Industrial collaborator: Dr. Paul Zimmerman, Intel, Portland, Oregon.
Theory predicts that photolithography performed on current 193 nm tools
can achieve smaller features in the production of computer chips through
the use of materials that produced acid in a sequential two photon sequence.
The existence of such materials was demonstrated (Figure left). A
naphthalene dimer was cleaved by the first photon to produce a naphthalene
monomer that produced an acid upon absorption of a second photon.
Reference: Chem. Materials, 20, 7374-7376 (2008)
A novel method to make smaller computer chips, increasing the applications of water soluble
polymers through structural modifications and a probing investigation of mechanism of
radical-radical combination inefficiency in free radical polymer syntheses.
Industrial collaborator: Dr. Paul Zimmerman, Intel, Portland,
Oregon.
.A novel method to produce smaller features in computer chips by
double exposure lithography has been designed. The double
exposure method has the potential to produced chips through a
much cheaper pathway than alternatives. However, this
technology requires the development of new methods and new
materials whose feasibility are analyzed.
Reference: Optical Microlithography XXI, Ed. H. J. Levinson
and M. V. Dusa, Proc. SPIE, 6924, 6924A 1-11 (2008)
Industrial collaborator Dr. K. P. Ananthapadmanabhan,
Unilever Research, Trumbull, CT.
Hydrophobically modified polelectrolytes are important in a
range of applications due to their ability to associate with
materials that are important in cosmetics, paints and foods.
The mechanism of association/dissociation of a hydrophobically
modified anionic polymer with a cationic surfactant was
elucidated by a multi-pronged battery of techniques.
Reference: Langmuir, 23, 5906-5913 (2007).
Industrial collaborator: Dr. Igor Khudyakov, Bomar
Specialties, Winsted, CT
The mechanism of radical-radical recombination reactions is
critical in determining the efficiency of radical polymerization
reactions which are at the heart of the manufacture of many
industrially important materials. We have determined for the
first time the basis of the inefficiency of the reactions of
reactive radicals with inert diradicals.
Reference: J. Am. Chem. Soc, 129, 7785-7792 (2007).
Senior industrial collaborators
Summary
Dr. Roger French
DuPont
Wilmington, DE
Dr. Ashok Maliakal
Alcatel•Lucent
Murray Hill, NJ
Dr.Igor Khudyakov
Bomar Specialties
Winsted, CT
Dr. Will Conley
Freescale
Semiconductor
Austin, TX
Dr. Lloyd Abrams
DuPont
Wilmington, DE
Dr. Paul Zimmerman
Intel
Portland, OR
NSF's Broader Impact review criteria
encourage its university research force
to consider activities that are "outside
of the box" of the traditional aspects of
research that emphasize academic
training and intellectual merit.
Activities that enhance the training of
students and postdoctoral associates
through partnering and collaborations
with industrial partners are an effective
means to expose researchers to the
critical aspects of translating ideas and
discoveries into practical applications.
Attacking important industrial
projects while maintaining a high level
of intellectual merit is a demanding
challenge, but one that can be quite
gratifying when the effective merging
of high intellectual merit and
industrial needs can be achieved.
Dr. Andreas Flohr
Proctor & Gamble
Schwalbach,
Germany
Dr. K. Ananthapadmanabhan
Unilever
Trumbull, CT
Dr. Forrest Blackburn
PPG Industries
Pittsburg, PA
The outstanding assistance of Prof. Tom Poon and Dr. Steffen
Jockusch in preparing this Highlight is gratefully acknowledged.