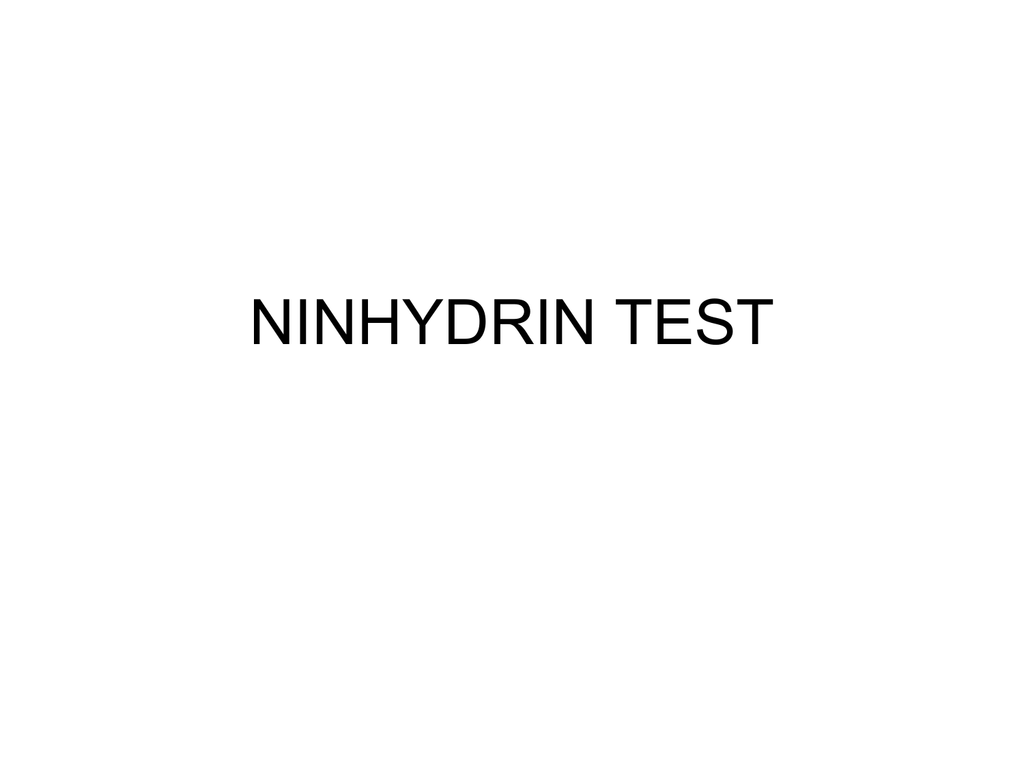 NINHYDRIN TEST
BACKGROUND
Ninhydrin test is one of the most sensitive
test for amino acids and is given positive
by all the free amino acids, proteins,
peptones as well as ammonia and other
primary amines. It is used for detection of
all amino acids expect proline and
hydroxyproline. Because they don't have
free amino group.
OBJECTIVE
• To detect alpha amino acids in given
solution.
PRINCIPLE
• Ninhydrin is a powerful oxidizing agent and
causes oxidative decarboxylation of α-amino
acids producing CO2 and ammonia. The
reaction of ninhydrin with amino acids is as
follows
α-amino acids + ninhydrin → aldehyde + CO2
+ NH3 + Hydindantin
Hydindantin + NH3 + ninhydrin → blue complex
• Ninhydrin is reduced to hydindantin during
reaction with the α-amino group. The
amino acid in turn is converted to an
aldehyde, ammonia and CO2. hydindantin
and ammonia interact with another
molecule of ninhydrin to form a purple
coloured product.
REAGENTS
• Ninhydrin solution, 0.1%
PROCEDURE
• Take 1ml of given solution and add 2
drops of 0.1% ninhydrin solution.
• Mix and boil for 1-2 minutes and allow it to
cool.
INTERPRETATION
• A blue color develops if test is positive.
• Proline and hydroxyproline give a yellow
color.
PRECAUTIONS
• While performing the test with casein or
alpha keratin which are dissloved in
alkaline solutions, add few drops of 1%
acetic acid to neutralize and then perform
ninhydrin test.
SULPHUR TEST
OBJECTIVE
• This test is used for sulphur containing
amino acid cysteine. Cysteine is a neutral
amino acid.
PRINCIPLE
• When cysteine or cystine or proteins containing
these amino acids are boiled with strong alkali,
e.g., sodium hyroxide, the sulphur present in the
protein is liberated as sodium sulphide. This
reacts with lead acetate to frm a brown or black
precipitate of lead sulphide.
R-SH + 2NaOH → R-OH + Na2S + H2O
Na2S + (CH3COO)2Pb → PbS ↓ 2CH3COONa
• Cysteine and cystine respond to this test
but the sulphur present in methionine is
not released by the above treatment,
therefore, methionine does not answer this
test. Casein and gelatin, which contain
methionine but practically negligible
amounts of cysteine give a negative test.
REAGENTS
• Sodium hydroxide, 40% solution in water
• Lead acetate, 2% soultion in water
PROCEDURE
• Take 2ml of the given solution in a test
tube and add 2ml of 40 % sodium hyroxide
solution and boil for two minutes.
• Add 1ml of lead acetate solution and then
warm slightly.
INTERPRETATION
• A brown or black precipitate forms if
cysteine or protein containing cysteine is
present in the given solution.