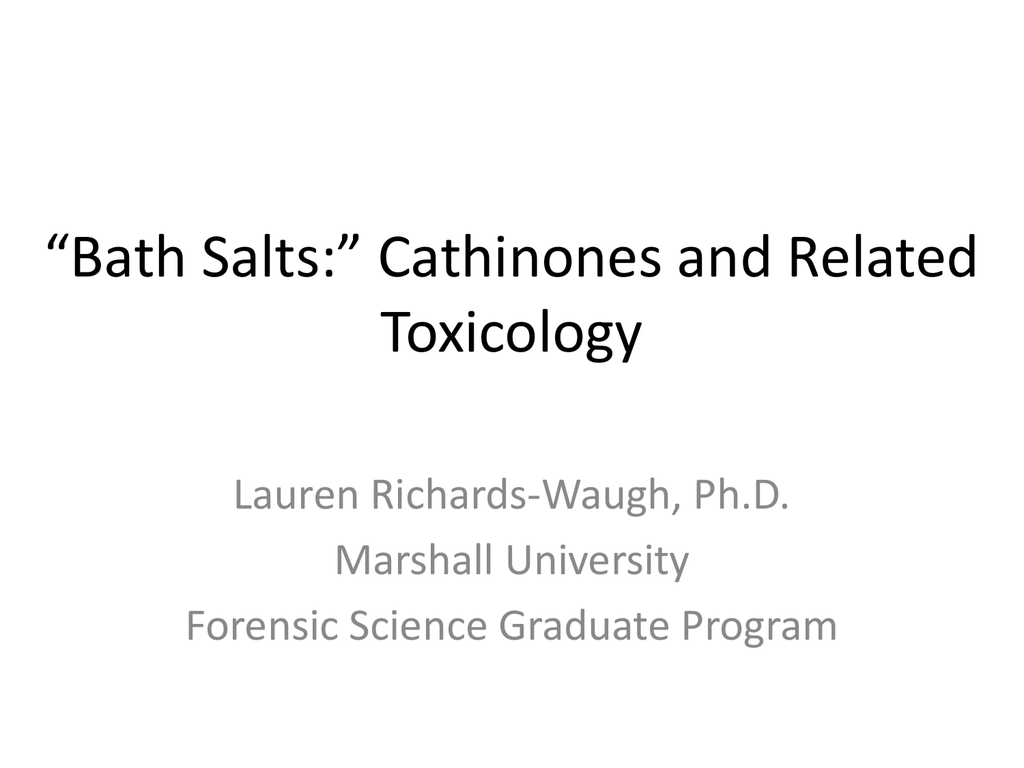 "Bath Salts:" Cathinones and Related
Toxicology
Lauren Richards-Waugh, Ph.D.
Marshall University
Forensic Science Graduate Program
Outline
• Description of the problem
• Classification of widely abused synthetic
cathinones
• Methylone, mephedrone, and 3,4methylenedioxypyrovalerone (MDPV)
– Pharmacology
– Case reports
• Second generation compounds
• Alpha-pyrrolidinopentiophenone (α-PVP)
– Pharmacology
– Case Reports
Cathinone
• Pharmacologically active, natural component of
the khat plant (Catha edulis)
• Chewing of the leaves for stimulant properties
has a long history
• Dried leaves are not as stimulating
• Naturally converted to cathine (much less active)
Initial Good Intentions
• Methcathinone and mephedrone were first
synthesized in the late 1920s
• Prescribed as antidepressants
• Medical use was not long term
– Serious side effects
• Had a revival in the mid-2000s
– Many more have been synthesized
How did we get here?
• 2004 – move toward combing pharmaceutical
literature for novel compounds
• Production moves from clandestine labs to
international industrial chemical suppliers
• Internet marketing and sales
• Began with 1-benzylpiperidines (BZP)
• Currently, cathinones , cannabinoids, tryptamines,
NBOMe compounds
Most Commonly Reported Desirable
Effects
•
•
•
•
•
•
•
Increased alertness
Analgesic effects
Increased energy
Stimulation
Increased libido
Euphoria
Empathy
Synthetic Cathinones
• Often described as a "legal" alternative to cocaine or
amphetamine
• "Designer" drugs – structurally similar to existing drugs
• Contained within products marketed as bath salts,
bonsai food, powder cleaner and many others
– Labeled "not for human consumption"
US Poison Control Centers:
Calls regarding human Exposures to Bath Salts
7,000
6138
6,000
5,000
4,000
3,000
2691
2,000
1,000
0
833
304
2010
2011
2012
2013 (as of
10/31)
https://aapcc.s3.amazonaws.com/files/library/Bath_Salts_Data_for_Website_10.31.2013.pdf
– accessed Nov. 22, 2013
MDPV Timeline
• Around 2005 – Online discussions of MDPV began
– Tracked by The Psychonaut Web Mapping Project
• 2008 through 2009 – escalating number of user
accounts reported online
• 2010 – first "bath salt" exposure reported to a U.S.
Poison Control Center
• "Bath salts" cases began to flood the U.S. news
media in early 2011
Classification of Synthetic Cathinones
α-methylated
phenethylamines
Phenethylamines
Methylenedioxyphenethylamines
Ring substituted
methylenedioxyphenethylamines
β-ketonated
methylenedioxyphenethylamines
Ring substituted
amphetamines
Cathinone
β-ketonated
amphetamines
Substituted
cathinones
Pyrrolidine
Derivatives
Most frequently abused synthetic
cathinones
• United States
– 3,4-methylenedioxypyrovalerone (MDPV)
• Substance most commonly detected in blood and urine in
patients hospitalized for bath salts overdose in the US
– 3,4-methylenendioxymethcathinone (methylone)
• Europe
– 4-methylmethcathinone (mephedrone)
– Replacing MDMA in "ecstasy" tablets
Structural Similarities
MDMA
Amphetamine
Dopamine
Pyrovalerone
MDPV
Phenethylamine
Methylone
Mephedrone
Predicted Pharmacology of Synthetic
Cathinones
• Structural similarities to compounds with known
pharmacology
– MDMA, amphetamines, dopamine
• Increases the amount of extracellular monoamine
neurotransmitters
– Dopamine (DA), Norepinephrine (NE), Serotonin (5-HT)
– Abbreviations for respective transporters = DAT, NET and SERT
• Mechanisms leading to increased extracellular
neurotransmitters
– Stimulate release and Inhibit reuptake
• Small number of studies evaluating pharmacology,
toxicology, and physiology
Mechanism of Action:
Mephedrone, Methylone and MDPV
• In vitro studies performed using rat brain
synaptosomes
– IC50 for DAT, NET and SERT uptake measured
• Uptake of all three neurotransmitters blocked by methylone and
mephedrone
• MDPV blocks DAT and NET uptake, but not SERT
– EC50 determined for release of DAT, NET and SERT
• Mephedrone and methylone stimulate release at all three
transporters
• MDPV is inactive as a releaser
Synthetic Cathinones Administered to
Rodents
• Lack of scientific literature describing
pharmacology and toxicology until very recently
• Compounds introduced to market faster than
studies can be performed
• Several studies performed since 2012
–
–
–
–
–
Marusich et al., NeuroToxicology. 2012
Aarde et al., Neuropharmacology. 2013
Baumann et al., Neuropsychopharmacology. 2013
Fentegrossi et al., Neuropharmacology 2013
Cameron et al., Psychopharmacology. 2013
Summary of MDPV Effects in Rodents
• Self administration
• Increased dopamine release
• Increased locomotor activity
– Time and dose dependent
• Tachycardia
• Hypertension
• Effects and behaviors dependent on temperature
– Stereotypy, self injury, hyperthermia
Sympathomimetic/Stimulant Toxidrome
Toxidrome = recognizable syndromes related to drug toxicity
Signs and Symptoms
–
–
–
–
–
–
–
–
Excessive speech
Excessive motor activity
Tremor
Insomnia
Anorexia
Hyperreflexia
Seizures
Rhabdomyolysis
–
–
–
–
–
–
–
–
Tachycardia
Hyperactive bowel sounds
Diaphoresis
Anxiety
Delusions
Mydriasis
Paranoia
Piloerection
Causative Agents
–
–
–
–
–
–
–
–
–
–
–
Amphetamines
Methamphetamine
Caffeine
Cocaine
Ephedrine
LSD
Methylphenidate
Nicotine
PCP
Salbutamol
Phenylpropanolamine
Symptoms Reported in Cases of
Synthetic Cathinone Intoxication
Sympathomimetic, cardiovascular, CNS and neuropsychiatric effects
Leading Causes of Death in Cases
Involving Synthetic Cathinones
1. Acute drug toxicity
– Decedent has usually ingested multiple drugs
2. Self harm and at risk behavior
– Hanging
– Self-inflicted gunshot wounds
– Self-mutilation (lacerations)
– Jumping from tall structures
– Slitting one's own throat
MDPV Case Series Overview
• 11 Fatalities investigated at the West Virginia Office of the
Chief Medical Examiner (WV OCME)
• Timeline: March 2011 and November 2011
– 6 Accidental (Drug Related)
• 5 were positive for other drugs in addition to MDPV
– 3 Accidental (Non-drug Related)
• 1 motor vehicle accident
• 2 accidental drownings
– 1 Suicide
• Hanging
– 1 Homicide
• Gun shot wound (inflicted by law enforcement)
Accidental Drug Overdoses
Accidental Drug Overdoses
• Male, 47 y, COD = Fatal excited delirium due to MDPV
intoxication
• Female, 51 y, COD = Hypoxic encephalopathy due to
fatal excited delirium due to presumed MDPV
intoxication
• Male, 28, COD = Combined MDPV, duloxetine, and
lithium intoxication
– Evidence of self mutilation
– Previous suicide attempts
– Capsules and journal discovered on death scene
Non-Drug Overdose Cause of Death
Synthetic Cathinones Banned in the US
• October 21, 2011 – mephedrone, methylone, MDPV as
well as their salts, isomers, and isomers of salts
temporarily placed onto Schedule 1 of the Controlled
Substances Act (CSA)
• June 2012 – Synthetic Drug Abuse Prevention Act was
passed
– Mephedrone and MDPV added to Schedule 1 of CSA
• October 2012 – Mephedrone scheduling extended
until April 20, 2013
New Synthetic Stimulants Reported in
Forensic Casework
• Marinetti and Antonides, JAT 2013
– Most recently –α-pyrrolidonpentiophenone (α-PVP) and
Pentylone
– Others detected – Methylone, Pyrovalerone and Methedrone
• Shanks et al., JAT 2012
– Report MPPP, α-PVP and Butylone detected in products
analyzed between September 8, 2011 and April 1, 2012 ("Postfederal ban")
• WV OCME
– α-PVP detected in several postmortem cases
– Pentedrone also detected in one case
Alpha-PVP –similarities to other wellstudied compounds
• MDPV and pyrovalerone
– Pyrrolidine derivative compounds tend to lack entactogenic
effects
– Pyrovalerone causes the releases of dopamine and
norepinephrine from respective nerve terminals
• Structural analogs of pyrovalerone have been shown to
inhibit monoamine transporters including dopamine,
serotonin and norepinephrine
MDPV
α-PVP
Pyrovalerone
α-PVP Case Series
• Six fatalities investigated at the WV OCME between
March and December 2012
• Many more clues in α-PVP cases than MDPV cases
– Evidence submitted in one case
• All three vials contained α-PVP and pentedrone
• Vial "SF" also contained N-ethylcathinone, 4-methyl-Nethylcathinone, butylone, and 3',4'-methylenedioxy-αpyrrolidinobutiophenone (MDPBP)
α-PVP Case Series:
Toxicology Findings, COD and MOD
January 28, 2014 – DEA Notice of
Intent to Schedule
(1) 4-methyl-N-ethylcathinone (4-MEC)
(2) 4-methylalpha-pyrrolidinopropiophenone (4-MePPP)
(3) alphapyrrolidinopentiophenone (α-PVP)
(4) 1-(1,3-benzodioxol-5-yl)-2-(methylamino)butan-1-one (butylone)
(5) 2-(methylamino)-1-phenylpentan-1-one (pentedrone)
(6) 1-(1,3-benzodioxol-5-yl)-2-(methylamino)pentan-1-one (pentylone)
(7) 4-fluoro-Nmethylcathinone (4-FMC)
(8) 3-fluoro-N-methylcathinone (3-FMC)
(9) 1-(naphthalen-2-yl)-2-(pyrrolidin-1-yl)pentan-1-one (naphyrone)
(10) alpha-pyrrolidinobutiophenone (α-PBP)
Current Products for Sale
www.bath-salts-direct.com
- Accessed November 19, 2013
Current Products for Sale
A Few Compounds Advertised in
Products Currently for Sale
• 3',4'-Methylenedioxy-a-pyrrolidinobutyrophenone (MDPBP)
• α-pyrrolidinopentiophenone (α-PVP)
MDPBP
α-PVP
Buphedrone
Naphyrone
Methiopropamine
Pentedrone
Summary and Conclusions
• In general, synthetic cathinones cause an increase in the
extracellular concentrations of the neurotransmitters DA,
NE and/or 5-HT
• Symptoms of synthetic cathinone intoxication include
sympathomimetic, cardiovascular and CNS overstimulation
as well neuropsychiatric effects
• Manufacturers of bath salts products quickly adjust to
legislation to change the composition of their products
– Results in limited knowledge regarding pharmacology and
toxicology of newer compounds
• Due to structural similarities, many synthetic cathinones
(will likely) have similar pharmacology and toxicology
Your Brain on Bath Salts
http://www.pbs.org/newshour/multimedia/bath-salts/
Full References for Studies Listed
During Presentation
•
Aarde, S. M., P. K. Huang, K. M. Creehan, T. J. Dickerson and M. A. Taffe (2013). "The novel recreational drug 3,4methylenedioxypyrovalerone (MDPV) is a potent psychomotor stimulant: self-administration and locomotor
activity in rats." Neuropharmacology 71: 130-140.
•
Baumann, M. H., J. S. Partilla and K. R. Lehner (2013). "Psychoactive "bath salts": not so soothing." Eur J Pharmacol
698(1-3): 1-5.
•
Baumann, M. H., J. S. Partilla, K. R. Lehner, E. B. Thorndike, A. F. Hoffman, M. Holy, R. B. Rothman, S. R. Goldberg,
C. R. Lupica, H. H. Sitte, S. D. Brandt, S. R. Tella, N. V. Cozzi and C. W. Schindler (2013). "Powerful cocaine-like
actions of 3,4-methylenedioxypyrovalerone (MDPV), a principal constituent of psychoactive 'bath salts' products."
Neuropsychopharmacology 38(4): 552-562.
•
Cameron, K., R. Kolanos, R. Verkariya, L. De Felice and R. A. Glennon (2013). "Mephedrone and
methylenedioxypyrovalerone (MDPV), major constituents of "bath salts," produce opposite effects at the human
dopamine transporter." Psychopharmacology (Berl) 227(3): 493-499.
•
Fantegrossi, W. E., B. M. Gannon, S. M. Zimmerman and K. C. Rice (2013). "In vivo effects of abused 'bath salt'
constituent 3,4-methylenedioxypyrovalerone (MDPV) in mice: drug discrimination, thermoregulation, and
locomotor activity." Neuropsychopharmacology 38(4): 563-573.
•
Marinetti, L. J. and H. M. Antonides (2013). "Analysis of synthetic cathinones commonly found in bath salts in
human performance and postmortem toxicology: method development, drug distribution and interpretation of
results." J Anal Toxicol 37(3): 135-146.
Marusich, J. A., K. R. Grant, B. E. Blough and J. L. Wiley (2012). "Effects of synthetic cathinones contained in "bath
salts" on motor behavior and a functional observational battery in mice." Neurotoxicology 33(5): 1305-1313.
•
•
Shanks, K. G., T. Dahn, G. Behonick and A. Terrell (2012). "Analysis of first and second generation legal highs for
synthetic cannabinoids and synthetic stimulants by ultra-performance liquid chromatography and time of flight
mass spectrometry." J Anal Toxicol 36(6): 360-371.