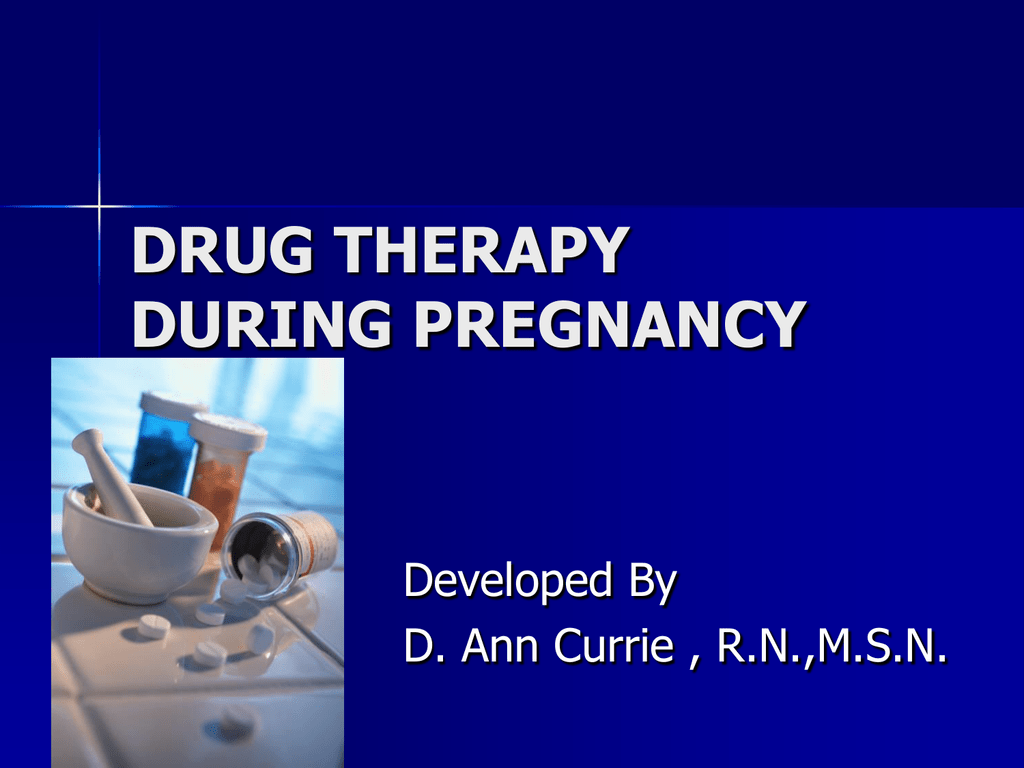 DRUG THERAPY
DURING PREGNANCY
Developed By
D. Ann Currie , R.N.,M.S.N.



PHYSIOLOGICAL CHANGES DURING
PREGNANCY AND THEIR IMPACT ON
DRUG THERAPY
EVERY SYSTEM IN THE BODY IS
EFFECTED BY PREGNANCY
PHARMACOKENETICS OF DRUGS IS
EFFECTED BY PREGNANCY
PHARMACOKENETICS OF
DRUGS DURING
PREGNANCY



ABSORPTION- DECREASED GI
MOTILITY CAUSES INCREASED DRUG
ABSORPTION.
DISTURBUTION- PROTIEN BINDING IS
DECREASED CAUSES INCREASED FREE
DRUG TO BE AVAILABLE.
METABOLISM-INCREASED HEPATIC
METABOLISM OCCURS FOR SOME
DRUGS
PHARMACOKENETICS

EXCRETION- IN THE 3RD TRIMESTER
INCREASED RENAL BLOOD FLOW &
GFR CAUSES SOME DRUGS TO CLEAR
THE BODY FASTER.
DRUG THERAPY IN THE
CHILDBEARING CLIENT


REQUIRES SPECIAL
CONSIDERATIONS
IS CHALLENGING
TO PROVIDE
EFFECTIVE TX
WHILE AVOIDING
HARM TO
EMBRYO,FETUS OR
NEONATE


CENTERED ON
RISK/BENEFIT
RATIO
EFFECTS OF
DRUGS NOT
ALWAYS KNOWN
ANY DRUG TAKEN BY
THE PREGNANT OR
BREASTFEEDING
CLIENT HAS THE
POTENTIAL TO REACH
THE FETUS BY WAY OF
MATERNAL
CIRCULATION OR
NEONATE BY WAY OF
BREASTMILK
EFFECTS OF DRUGS ON
THE EMBRYO, FETUS, OR
NEONATE








MAY VARY--NO EFFECT.
LITTLE
SERIOUS- FETAL TOXICITY
SPONTANEOUS ABORTION
DEATH
FETAL MALFUNCTION
FETAL MALFORMATIONS.
DRUG THERAPY DURING
PREGNACY




CENTERED ON RISK/BENEFIT RATIO
EFFECTS OF SOME MEDICATION ARE
KNOWN
UNKNOWN- NEW MEDICATIONS,
DIFFERENT COMBINATIONS,
DEFICIENCY IN MATERNAL
METABOLISM
NO DRUG IS ABSOLUTELY SAFE.
RECENT STUDIES


75% OF PREGNANT CLIENTS USE 310 DIFFERENT DRUGS(PRESCRIPTION
OR OTC'S) OTHER THAN
VITAMINS/MINERAL SUPPLEMENTS
DURING THEIR PREGNANCY.
OTC'S WERE USED 4 TIMES THAT OF
PRESCRIPTION DRUGS.
TYPES OF DRUGS USED
IN THE STUDY BY
PREGNANT CLIENTS







DIETARY
SUPPLEMENTS
ANTIEMETICS
ANTACIDS
TRANQUILIZERS
HYPNOTICS
ANTIBIOBIOTICS
ANTIHISTAMINES





ANALGESICS
DIURETICS
ETOH
CNS DEPRESSANTS
CNS STIMULANTS
DRUG LEVELS IN THE
FETUS REACHED 50100% OF THE
MATERNAL BLOOD
LEVELS
SELF TREATMENT WITH
DRUGS DURING
PREGNANCY



SELF TX OF MINOR ILLNESSES OR
DISCOMFORTS SHOULD BE
DISCOURAGED
*SELFTREATMENT OF ANY ILLNESSES
SHOULD BE DISCOURAGED
WOMEN SHOULD BE INSTRUCTED TO
KEEP A COMPLETE RECORD OF ALL
MEDICATIONS TAKEN .
THE CHALLENGE OF
PROVIDING EFFECTIVE
CARE/TX FOR THE
CHILDBEARING CLIENT



AVOID HARM TO EMBRYO, FETUS,
NEONATE.
DILEMMA UNFORTUNATELY THE RISK
OF MOST DRUGS HAVE NOT BEEN
ESTABLISHED.
DESPITE NOT KNOWING DRUG
THERAPY DURING PREGNANCY


CANNOT OR SHOULD NOT BE AVOIDED
BECAUSE THE HEALTH OF THE FETUS
DEPENDS ON THE HEALTH OF THE
MOTHER.
FOR EXAMPLE: SEIZURES ,DM, MG,
SLE,OR INFECTIONS.
BIRTH DEFECTS



INCIDENCE OF MAJOR STRUCTURAL
DEFECTS(ABNORMALITIES) IS ABOUT
6% OF ALL PREGNANCIES.
3% ARE CAUSED BY DRUGS OR
ENVIRONMENTAL
FACTORS/EXPOSURE
3% HAVE A UNKNOWN CAUSES
BIRTH DEFECTS



1/2 OF THE BIRTH DEFECTS ARE
OBVIOUS AT BIRTH.
1/2 OF THE BIRTH DEFECTS AREN'T
DISCOVERED UNTIL LATER IN LIFE
OR DISCOVERED DURING AN
AUTOPSY
INCIDENCE OF MINOR STRUCTURAL
ABNORMALIES IS NOT KNOWN.
BIRTH DEFECTS


INCIDENCE OF FUNCTIONAL
ABNORMALITIES IS NOT KNOWNGROWTH RESTRICTIONS, MENTAL
RETARDATION, AND LEARNING
DISABLITIES
SOME ABNORMALITIES HAVE
MULTIPLE CAUSES-GENETIC
FACTORS, ENVIRONMENTAL
FACTORS, CHEMICALS OR DRUGS.
TERATOGENIC
TERATOGENESIS




TERAS-"MONSTER"
GENSIS-"PRODUCING"
BIRTH DEFECTS/DISTORTION OF
GROSS ANATOMY.
EXAMPLES- CLEFT LIP/PALATE,
CLUBFOOT, NEURAL TUBAL DEFECTS,
MISSING OR MALFORMED
LIMBS/FINGERS.
TERATOGENIC



ALSO-BEHAVORIAL AND/ OR
BIOCHEMICAL ABNORMALITIES.
TERATOGENESIS MAYBE DIRECT-IEMALFORMATIONS OF STRUCTURES
OR INDIRECT-SUCH AS INTERFERING
WITH O2 OR NUTRIENTS.
TERATOGENIC




EXAMPLE OF KNOWN TERATOGENIC
AGENTS:
ONE TIME EXPOSURE IS
THALIDOMIDE-CAUSES MISSING
LIMBS.
CONT. OR PROLONG EXPOSURE IS
ETOH-CAUSES FAS.
SEE HANDOUT FOR OTHER AGENTS.
FETAL EFFECTS FROM
DRUGS DEPEND ON
SEVERAL FACTORS




TIME- WHEN DRUG IS TAKEN IN
PREGNANCY.
PREIMPLANTATION/PRESOMITE
PERIOD-CONCEPTION TO 2 WEEK
HIGH DOSE- MAYBE
LETHAL/DEATH/ABORTIONS.
LOW DOSE-MAYBE NOTHING.




EMBRYONIC PERIOD-3-8 WEEKS
*FIRST TRIMESTER*
GROSS MALFORMATIONS
FETAL PERIOD-9-40 WEEKS(TERM)
FUNCTION PROBLEMS RATHER THAN
GROSS ANATOMY*LEARNING DEFICITS &/OR
BEHAVORIAL ABNORMALIES
WHY IS IDENTIFICATION
OF TERATOGENIC
AGENTS SOMETIMES
DIFFICULT TO IDENTIFY?






INCIDENCE OF CONGENITAL
ANOMALIES IS GENERALLY LOW.
ANIMAL TESTS MAY NOT BE RELIABLE
PROLONGED OR INCREASED
EXPOSURE MAYBE REQUIRED.
EFFECTS MAYBE DELAYED OR NOT
RECONIZED.
BEHAVIORAL EFFECTS ARE DIFFICULT
TO DOCUMENT.
CONTOLLED EXPERIMENTS CANNOT BE
DONE ON HUMANS.




DOCUMENTATION IS INCOMPLETE
ONLY IN A LIMITED NUMBER OF
DRUGS IS THE TERATOGENIC EFFECTS
KNOWN OR PROVEN.
LACK OF PROOF OF TERATOGENICITY
DOES NOT MEAN A DRUG IS SAFE IN
PREGNANCY
MAY MEAN THERE IS A LACK OF
RESEARCH OR INFORMATION.
PROVING A DRUG IS A
TERATOGEN



3 CITERIA MUST BR MET:
1. DRUG MUST CAUSE A
CHARACTERISTIC SET OF
MALFORMATIONS.
2. IT MUST ACT ONLY DURNIG A
SPECIFIC WINDOW OF
VULNERABILITY-3-8 WEEKS OF
GESTATION

3.THE INCIDENCE OF
MALFORMATIONS SHOULD INCREASE
WITH INCREASED DOSAGE &
DURATION OF EXPOSURE.
PLACENTAL DRUG
TRANSFER




THE PLACENTA IS NOT A COMPLETE
BARRIER.
SOME DRUGS ARE STOPPED.
SOME DRUGS(IN FACT MOST) ARE
NOT.
WAYS DRUGS ARE TRANSFER
ACROSS- SIMPLE DIFFUSION-ACTIVE
TRANSPORT.
TRANSFER DEPENDS ON
SEVERAL FACTORS







CHEMICAL PROPERTY OF THE DRUG
MOLECULAR WEIGHT.
PROTEIN BINDING CAPABILITIES.
CHEMICAL CONFIQURATION.
LIPID SOLUBILITY.*
PERIOD OF TIME DRUG REMAINS IN
MATERNAL BLOODSTREAM
HALFLIFE OF THE DRUG.
TRANSFER DEPENDS ON
SEVERAL FACTORS




CONT.
AMOUNT OF THE DRUG.
PATHOLOGICAL PROCESSES OF THE
PLACENTA.
WHEN IN THE PREGNANCYINCREASED BLOOD FLOW TO THE
PLACENTA IN LAST PART OF
PREGNANCY.
MOST DRUGS TRANSFER
AND ARE AT 50-100%
THAT OF THE MATERNAL
LEVELS * SOME DRUG
LEVELS ARE MORE THAN
THE MATERNAL LEVELS


DRUGS THAT TRANSFER EASILY ARE
LIPID SOLUBLE.
DRUGS THAT ARE DIFFICULT/HARD TO
TRANSFER ARE IONIZED DRUGSHIGHLY POLAR-OR PROTEIN BOUND.




HOW IS DATA COLLECTED
ON DRUGS WHICH CAUSE
PROBLEMS IN
PREGNANCIES?
NO HUMAN EXPERIMENTATION
SYSTEMATIC COLLECTION AND
ANALYZING OF DATA ON DRUGS
TAKEN BY PREGNANT CLIENTS.
REPORTING OF INFORMATION BY
HEALTH PROFESSIONALS.
SEE FORM.
THE NURSE'S ROLE AND
RESPONSIBILITY IN
DRUG THERAPY IN THE
CHILDBEARING CLIENT





KNOWLEDGE (CURRENT &ACCURATE
INFORMATION)PREGNANCY
MEDICAL CONDITIONS
MEDICAL TREATMENTS
DRUGS AND CLIENT
EDUCATION OF
PREGNANT/PREPREGNAN
T CLIENTS




PROVIDE ACCURATE INFORMATION
WITH RATIONALES
INFORMATION SOULD BE CURRENT
AND BASED ON EVIDENCE.
* ESTABLISH ENVIRONMENT
CONDUCIVE TO EXCHANCE OF
INFORMATION*- TRUST.
POTENTIAL HARM/RISKS.
EDUCATION



BENEFITS
COMMON SUBSTANCES & OTC DRUGS
TO AVOID IN PREGNANCYASA,ETOH,INCREASED DOSES OF
MULTVITAMINS,CAFFIENE,CIGARETTE
SMOKING,ETC.
AVOID SELF TX-OTC'S, DRUGS FORM
MEXICO.



ADVOCATE FOR CLIENTS AND
GENERAL PUBLIC.
* SUPPORT*
ASSIST WITH COPING IF CLIENT HAS
TAKEN A TERATOGENIC AGENT..WITH
GUILT OR FEAR…ASSOCIATED WITH
DRUGS TAKEN IN PREGNANCY.
PREGNANT CLIENT'S
BILL OF RIGHTS
"RIGHT TO KNOW"
For individual drugs see
handout.