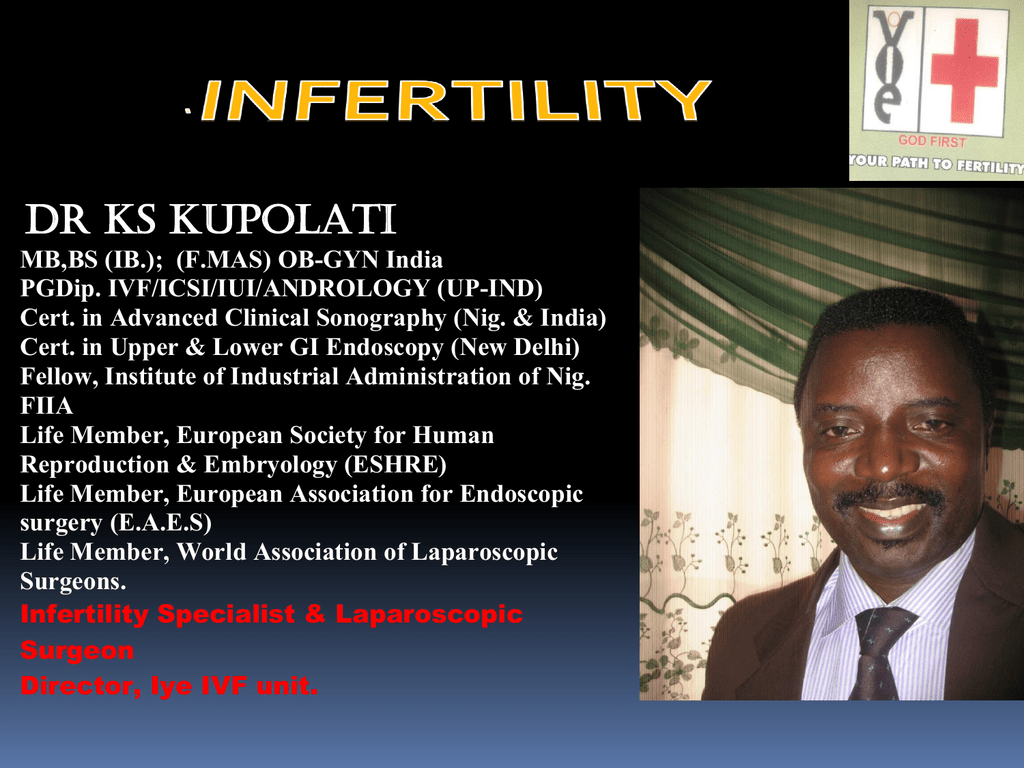 DR KS KUPOLATI
MB,BS (IB.); (F.MAS) OB-GYN India
PGDip. IVF/ICSI/IUI/ANDROLOGY (UP-IND)
Cert. in Advanced Clinical Sonography (Nig. & India)
Cert. in Upper & Lower GI Endoscopy (New Delhi)
Fellow, Institute of Industrial Administration of Nig.
FIIA
Life Member, European Society for Human
Reproduction & Embryology (ESHRE)
Life Member, European Association for Endoscopic
surgery (E.A.E.S)
Life Member, World Association of Laparoscopic
Surgeons.
Infertility Specialist & Laparoscopic
Surgeon
Director, Iye IVF unit.
TYPES OF INFERTILITY
PRIMARY
INFERTILITY
SECONDARY
INFERTILITY
EFFECT ON OUR EMOTIONS
SADNESS
Number of infertile couples
globally - >100 million.
Associated with :
- Female factor - 40%
- Male factor-30-40%
- Common to both partners
15-20% .
- Unexplained 5-10%
Coital difficulty
PID
EPISODES
PERCENT
0
1
2
3+
1%
8%
22%
41%
 Low sperm counts
 Abnormal sperm
morphology (shape)
 A low sperm motility are
usually asymptomatic
conditions to most males.
Most cases of low sperm
counts are "idiopathic" or
unexplained.
 Some cases are
associated with a swollen
varicose vein in the
scrotum, called a
varicocele.
Stress
• Heat to the genitals (e.g..
tight clothing, saunas or hot
tubs)
• Harmful lifestyle habits (
tobacco, alcohol, or drugs
such as marijuana).
• Short term illnesses,
significant stressful periods,
• Medications may
temporarily affect sperm
counts.
•
Exposure to
hazardous toxins,
chemicals, or
radiation
 Infections such as
mumps, or
venereal diseases
 Testicular injury
(sports or work
injury)
 Childhood illness
(failure of a
testicle to
descend properly)






Blockage of one of the
ducts allowing flow of
sperm from the testicle
 Injury, infection or prior
vasectomy
 Genetic absence of
these ducts (cystic
fibrosis)
Immune reaction against
sperm (antisperm
antibodies)
Testicular failure and other
hormonal problems
Chronic medical illness
(thyroid disease, diabetes,
and hypertension)
Spinal cord injuries and
paralysis
Varicocele
 A MERE TEST OF OUR
RESILIENCE
 We do not play God
We do not create life
We only help it's
expression.
GOD IS ALWAYS THE
ANSWER
THROUGH OUR LORD &
SAVIOUR.