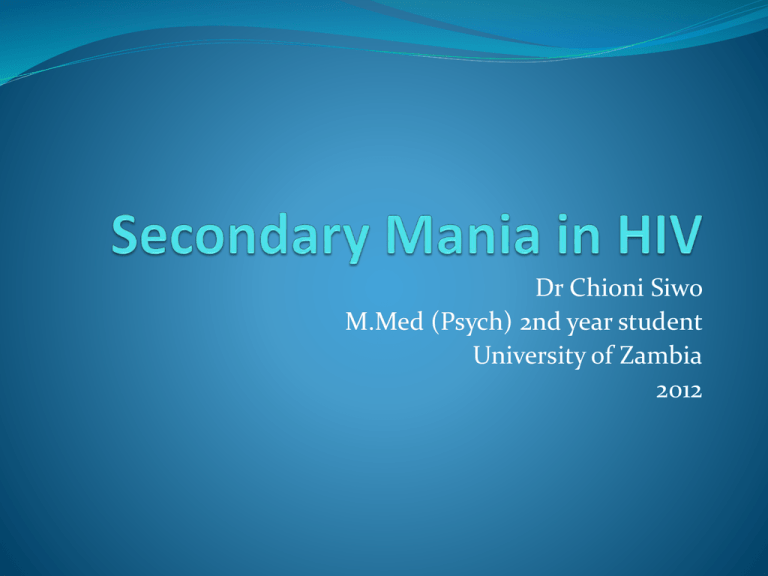 Dr Chioni Siwo
M.Med (Psych) 2nd year student
University of Zambia
2012
GOOD MORNING
OUTLINE
 What is it Secondary Mania (in HIV)?
 Prevalence
 Causes
 Clinical Picture
 Treatment
 Gaps in literature
 Proposed study
What is it?
 Manic-like disorder occurring as a direct effect of the
HIV infection
 No delirium
 No prior history of Bipolar disorder or Major
Depressive disorder.
 Otherwise has DSM-IV manic-like symptoms
Prevalence
 Not known globally
 Not known in sub-Saharan Africa
 Study by Owen Larsson et al in Australia showed a
prevalence of 8% over 17 months
 Most common cause of admission to psychiatric
hospital in Uganda especially females
Causes
• Medication
e.g. Isoniazid, anti-depressants, steroids
• Direct Insult to the brain e.g. traumas, strokes,
tumours
• Systemic Disorders such as Hyperthyroidism,
Hyperparathyroidism
• Substance Abuse
Clinical Picture
Study by Ethel Mpungu et al in Uganda in 2006, found
that HIV positive patients with Mania were:

found to have more manic symptoms (YMRS)

more irritable

more aggressive and disruptive
Clinical Picture contd…

more talkative and had decreased need for sleep

had more delusions, auditory and visual
hallucinations

mostly female
Treatment
 Studies have reported the use of Haloperidol and
Diazepam in acute phase
 It was found that HIV patients with secondary mania
responded in 2 weeks or less than
• Patients with Secondary mania in HIV respond faster
to antipsychotic drugs than patients with Bipolar
mania
Gaps in the scientific literature
• Do they benefit from continued anti-manic
medication?
• Do they have a complete recovery? In particular do
they function behaviourally, socially, and
occupationally?
Proposed study
 Case Series of 30 patients with secondary mania HIV
followed up for 6 months
 Focusing on clinical, biological and psychosocial
measures
 Results will be analyzed for patterns in the illness and
this will help with future management of patients
Objective
 To gain greater knowledge of the secondary mania, its
clinical and psychosocial correlates and its response to
treatment.
• To improve the management of patients by using
evidence based management interventions including
treatment of associated physical health conditions.
 Also to get a better understanding of the burden of
disease resulting from this mental disorder in HIV
Methodology
 SITE
A case series of 30 patients will selected from
Chainama Hospital (Zambia's only psychiatric tertiary
hospital) and University Teaching Hospital (HIV)
clinic both in Lusaka
 SETTING
It will be a longitudinal study observing progress of
the cases from commencement over a period of 6
months
Methodology contd…..
 Selected clinical observations will be made at 1, 3 and
6 months
 Family will be included
 Selection: patients will included upon meeting DSM-
IV criteria A-D for manic episode
Measures
 Semi-structured Psychiatric interview of patient
 Young's mania rating scale
 AUDIT a measure of alcohol intake
 MMSE
Measures contd…
 Measure of behaviour in home circumstances – semi-
structured interview
 Semi-structured interview of informants e.g. relatives
• For female patients menstrual cycle will be included
Measures contd…
 Physical examination
 For female patients menstrual cycle will be included
 CD4
 Sputum for AAFB, CXR
 C-Reactive protein
 FBC/ESR
Measures contd…
 LFT, Creatinine
 RPR
 Renal function
 Nutritional status and BMI
 MRI of brain – near first episode when any secondary
mania neuropathology may be detectable
Ethics
 Approval will be sought from the University of Zambia
Research and Ethics Committee
 Informed consent will be sought from the participants
 There may be issues of confidentiality in the follow up
and the involvement of the relatives when a manic
patient may not be able to give informed consent
Limitations of the Study
 There will be a bias in the case selected in that
uncooperative patients and relatives will be excluded
 No intervention will be evaluated, study will not lead
directly to improvement of patient management.
 No epidemiological conclusions can be drawn
Acknowledgements
 Dr Ravi Paul, HOD, Department of Psychiatry, School
of Medicine, UNZA
 Dr Gil Blackwood Honorary Lecturer, School of
Medicine, Department of Psychiatry, UNZA
References
 E Nakimuli-Mpungu, S Musisi Clinical presentation of Bipolar




mania in HIV positive patients in Uganda Psychosomatics 50:4
July-august 2009
Nakimuli-Mpungu, S Musisi Early onset versus late onset HIV
related secondary mania in Uganda Psychosomatics 49:530-534
2008
E Nakimuli-Mpungu, S Musisi Primary mania versus HIV related
secondary mania in Uganda American Journal of Psychiatry
163:8, August 2006
Owen-Larsson HIV infection and Psychaitric illness African
Journal of Psychiatry Volume 12, no.2 2009
Charles Krauthammer, MD; Gerald L. Klerman Secondary mania
Arch Gen Psychiatry 35(11):1333-1339, 1978
THANK YOU!