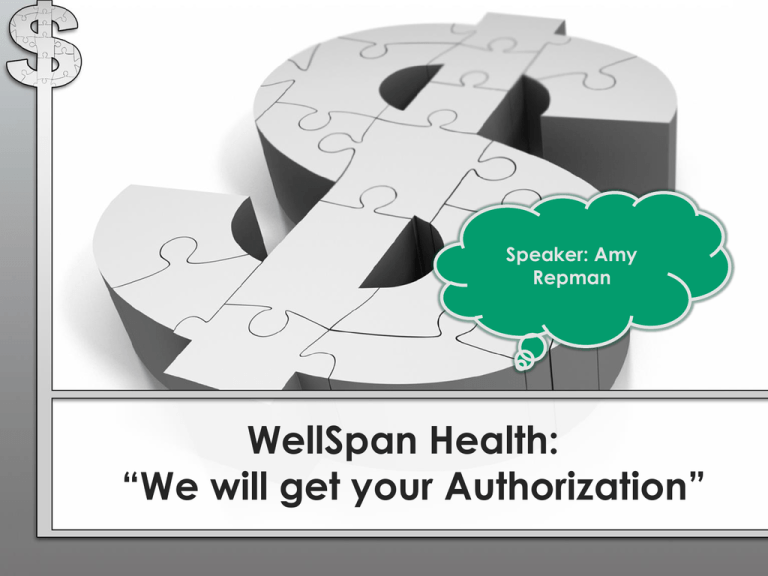 Speaker: Amy
Repman
WellSpan Health:
"We will get your Authorization"
Learning Objectives





Who are we?
Vision
Insurance Clearance
We will get your auth
Rewards and Risks
Only learning by asking the question,
feel free
WellSpan Health System
Who are we?
Integrated health system located in southcentral PA
● Top 100 – Integrated Health Systems
●
York Hospital – "Top 100" Hospital with
Thomson Reuters – 7 years
● Gettysburg Hospital – "Top 100"
Performance Improvement Leader
●
WellSpan Health System
3 hospitals (630 beds)
65 sites in 3 counties; 2 states serving
a population of 500,000, 60% overall
market share
8,000 staff, physicians, volunteers
7 residency programs, 250 students
and a research center
6 retail pharmacy sites
510-member multi-specialty
medical group
1 home health organization
PPO serving 50,000+ covered lives
Wellspan Health Statistics
●
●
●
36,000 Inpatient Discharges
1.1 million Outpatient Encounters
- 95,000+ ED visits
- 74,000 Clinic visits
- Lab-specimens and nursing
home labs
1.2 annual medical group
physician visits
Every week, a significant percentage of the AdamsYork population experiences care from WellSpan
14,133 patients visit a physician
practice
 8,708 patients fill a prescription at an
outpatient pharmacy
 17,575 patients undergo a test,
procedure or treatment
 1,918 patients receive a VNA home
visit
 685 patients are admitted
 1,678 patients visit an emergency
department

Payer Mix
Medicare
Medicare Advantage
Medicaid
Blues
Other Contracted
Commercial/Other
40%
3%
10%
18%
16%
13%
Hospital
Access
Education
and
training
Patient
Insurance
Procurement
Call
Centers
Corporate Access Department

Access call centers – Scheduling and Pre-registration

Medical Group Contact Center – First contact for medial
group practices, scheduling and pre-reg.

Nurse Call Center – patient triage, education and scheduling

Insurance Specialty Center – insurance verification, precertification, denials, authorizations

Central Registration/Admissions – Both hospitals

ED Registration – Both hospitals

Total -187 FTE's and about 217 employees to fill those positions.
Mission of insurance
department
WellSpan Health will initiate a
centralized department that
focuses on ensuring any test,
service, or procedure that is
referred by or performed by a
WellSpan Provider or facility will
have the appropriate
authorization and coverage
information to ensure
adequate reimbursement.
Department is Called Insurance
Specialty Center

In 2007, staff just monitored
hospital outpatient schedules –
Did you get it yet? Did you get it yet?
Moving
from did you get it
yet? - to I GOT IT!
Planning the Roadmap
Economies of Scale
Standardization
Revenue
Improvements
Quality of Care
Teams
Medical Group
Specialty Practices
Scheduling and
Authorizations
Medical Group
Family Medicine
Scheduling and
Authorizations
Non-Medical Group
Provider Offices
Authorizations
Monitoring
Authorizations
Denials
Insurance
Verification
We will get your
Auth Project
OIG
Ruling
Losing market
share
Insurance requirements
growing
Provider Office does what?
Three things must be completed and faxed to
special fax number at hospital by Noon the day
before a test:
Item 1
• Fax
Cover
Sheet
Item 2
• Order
form
Item 3
• Office
Note
Responsibilities of
We will get your Authorization
Specialists
Staff receives notice from Providers office to
authorize – electronically (fax server application)
Obtains authorization from insurance companies
(web or phone call)
 Notifies office of upcoming test for test
tracking
 Posts authorization information in hospital billing
system.

Centralized Authorization and Referral
Process
Risk & Rewards
Rewards
Physician
satisfaction increased
because the "administrative" tasks are
centralized and not impacting their
daily flow.
Reduced reschedules of
tests/procedures because authorization
was not in place.
Ensure it is done.
Risks & Rewards
Risks
Insurance
companies could deny
because we are not the provider.
We might not be able to get
authorization in time.
Provider documentation must be
completed.
• Addressing
Formed
risk
a team management
approach.
Provider office education.
Our opportunity
In 2011
York Hospital – 2011 fiscal year end
• ABN write off's - $126,000
• Pre-authorization write off - $246,000
• Total York Hospital - $372,000
Gettysburg Hospital:
• ABN write off's - $100,000
• Pre-authorization w/o - $ 18,000
• Total GH - $118,000
Total write offs this department could have a positive impact on $524,261
Note: number of insurance requiring insurance intervention has risen
17%.
System-wide Support Services
Offered
Alerts in scheduling system
 Managed Care Manual on
INET
 Phone queue from 7:30am to
4pm Monday through Friday
for provider offices and
hospital departments for any
questions about authorizations
and referrals or assistance in
obtaining authorizations
 Reads and interprets payer
contracts/notifications

Recruitment to find the right person
Phone Interview
 Personality Testing
 Computer Testing
 Interview
 Shadowing

Amy Repman
Amy Repman is the Director of Access at WellSpan Health with responsibilities for hospital outpatient registration
and admissions, emergency department registration, preregistration department, call center areas, insurance
procurement department, and cashiering. She also serves as the business lead for enterprise-wide centralized
scheduling initiatives in her organization as well as the business lead for kiosks implementation. She oversees
all organization wide registration operations, leads outpatient registration management initiatives and quality
call monitoring procedures for the call centers. Prior to joining WellSpan, Amy worked as an administrator in
nursing homes. She has had 20 years in leadership roles in the healthcare arena. She has a degree from
Pennsylvania State University and holds a license as a nursing home administrator from York College.
She can be contacted at: arepman@wellspan.org
Questions?