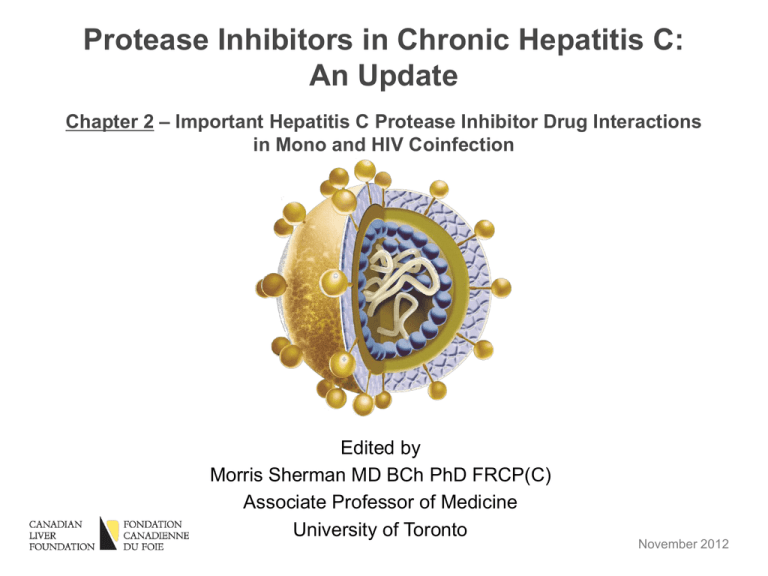 Protease Inhibitors in Chronic Hepatitis C:
An Update
Chapter 2 – Important Hepatitis C Protease Inhibitor Drug Interactions
in Mono and HIV Coinfection
Edited by
Morris Sherman MD BCh PhD FRCP(C)
Associate Professor of Medicine
University of Toronto
November 2012
Important Hepatitis C Protease Inhibitor
Drug Interactions in Mono and
HIV Coinfection
Alice Tseng, Pharm.D., FCSHP, AAHIVP
Toronto General Hospital
University of Toronto
Outline
 Review principles of drug interactions
 Understand how the pharmacology of DAAs
contribute to drug interactions
 Highlight important HCV drug interactions
 Outline a strategy for identifying and managing drug
interactions
 Identify pertinent HCV drug interaction resources
Drug Interactions
 Pharmacodynamic
 Change in pharmacological effect of a drug
 Additive, synergistic, or antagonistic activity or toxicity
 e.g., ribavirin + AZT =  anemia
 Pharmacokinetic
 Change in the amount of drug(s) in body
 Absorption, distribution, metabolism, elimination may
be affected
 Often involves CYP450 system or transporters
Interactions Affecting Drug Metabolism
 Majority of drugs transformed to inactive forms prior to elimination
through Phase I (oxidation) or Phase II (conjugation) reactions
 Phase I primarily involves cytochrome P450 system
 Superfamily of microsomal heme-containing enzymes
 Primarily located in liver, small bowel; also kidney, lung, brain
 CYP3A is the most abundantly expressed isoenzyme, is involved in
the metabolism of ~50% of clinically used drugs
 others: CYP2D6, 2C9, 2B6, 1A2, etc.
 P-glycoprotein
 Efflux membrane transporter which prevents drug accumulation in
cells; has broad substrate specificity, and inhibiting or inducing the
activity of this protein can lead to significant alterations in drug
exposure
Terms
Definition
Interaction Impact
Common Examples
Substrate
Agent which is
primarily cleared via a
certain enzymatic
pathway
Rate of drug
breakdown is affected
by presence of enzyme
inhibitors or enzyme
inducers
antidepressants, azoles,
benzodiazepines, statins,
corticosteroids, calcium
channel blockers,
macrolides, rifamycins, HIV
PIs & NNRTIs
Inhibitor
Agent which competes
with another drug for
binding at enzymatic
site
Decreased clearance
macrolides, azoles, HIV
of substrate drug; quick protease inhibitors
onset & resolution of
interaction effect
Inducer
Drug that stimulates
the production of
additional metabolic
enzymes
Increased clearance of
substrate drug; slower
onset and resolution of
interaction effect
anticonvulsants, rifamycins,
HIV NNRTIs, St. John's
wort
Boceprevir and Telaprevir Pharmacology
Boceprevir
Telaprevir
Dosing
800 mg q8h with food
750 mg q8h with food (20 g
fat)
Substrate
CYP3A4, P-gp, AKR
CYP3A4, Pgp
3A4, P-gp
3A4, P-gp, renal
transporters (?)
Inhibitor
Inducer
No inducing effects in vitro (in vivo?)
= +++ potential for interactions with other drugs
 can be clinically significant
 sometimes unpredictable
Potential Consequences of DAA Drug Interactions
 Interactions may occur in a two-way manner:
 Concentrations of DAA may be altered by other
drug(s)
 Concentrations of concomitant drug(s) may be
altered by DAA
 Potential consequences include:
 Increased risk of toxicity
 Decreased efficacy
Statin Interactions
 Most statins are P450
substrates
 DAAs can significantly
increase statin levels:
 Atorvastatin: 130%  with
boceprevir,
7.88-fold  with telaprevir
 Pravastatin: 60%  with
boceprevir
  risk of toxicity, including
myopathy and rhabdomyolysis
Boceprevir
Lovastatin,
Simvastatin
Telaprevir
CONTRAINDICATED
Atorvastatin
May need to 
atorvastatin dose;
do not exceed
>20 mg/d
CONTRAINDICATED
Pravastatin
Start with
recommended
dose and monitor
for toxicity.
Possible  in
statin; use with
caution.
Rosuvastatin,
Fluvastatin
Possible  in statin; use with caution.
[Victrelis & Incivek Product Monographs, 2011. FDA HIV/AIDS Drug Safety Communication, March 1, 2012]
Atorvastatin Interactions
with Boceprevir and Telaprevir
 Atorvastatin 20 mg + telaprevir:
 Atorvastatin AUC  7.88-fold
30,000
100
25,000
Atorvastatin alone
Atorvastatin + Boceprevir
20,000
15,000
10,000
5,000
Concentration (ng/mL)
Atorvastatin concentration (pg/mL)
 Atorvastatin 40 mg + boceprevir:
 Atorvastatin AUC  130% and
Cmax  170% vs. atorvastatin alone
0
10.0
With telaprevir
1.00
Without telaprevir
0.10
0.01
0
8
16
24
Time (hrs)
32
40
 Suggest  atorvastatin dose with
concomitant BOC; monitor for symptoms of
statin toxicity if using >40 mg/d atorvastatin
Hulskotte EGJ et al. HEP DART 2011,
Koloa, Hawaii, poster 122
48
0
10
20
30
Nominal time (hrs)
40
50
 Combination is contraindicated
Lee JE et al. Antimicrob Agents Chemother 2011,
55(10):4569-74
Effect of Steady-State Telaprevir on the
Pharmacokinetics of Amlodipine 5 mg
Concentration (ng/mL)
5.00
Calcium channel blockers
(CCBs)
With telaprevir
 Amlodipine, diltiazem, felodipine,
nifedipine, nicardapine, verapamil
are CYP3A4 substrates
 Concentrations may be  by
boceprevir or telaprevir
 Use with caution, clinical
monitoring
 Consider dose reduction
0.50
Without telaprevir
0.05
0.01
0
50
100
150
200
250
Nominal time (hrs)
 Amlodipine AUC  179%
 Monitor for dose-related toxicity
Lee JE et al. Antimicrob Agents Chemother 2011, 55(10):4569-74
Antihypertensive Medications
Class
Examples
Potential DAA
Interactions
ACEI
Enalapril, lisinopril, ramipril (renal)
Not expected
ARBs
Losartan (2C9>>3A4 to active metabolite)
Candesartan, irbesartan (2C9)
Eprosartan, olmesartan, telmisartan, valsartan (biliary)
Possible  effect
Low
Not expected
Betablockers
Propranolol (2D6, 3A4, 2C19), carvedilol (2D6, 2C9> 1A2, 2E1, 3A4)
Acebutolol, labetalol, metoprolol, pindolol (2D6)
Atenolol, nadolol (renal)
Possible 
Calcium
channel
blockers
Amlodipine, diltiazem, felodipine, nifedipine, verapamil (3A4)
Risk of  CCB
exposures; use with
caution
Diuretics
Hydrochlorothiazide, furosemide, spironolactone (renal)
Indapamide (2C9, 2D6, 3A4)
Not expected
Possible 
Low
Not expected
Treatment of Depression in HCV
Place in
Therapy
Examples (route of metabolism)
Potential DAA
Interactions
First Line
Escitalopram, citalopram (2C19, 3A4>>2D6)
35%  with TVR, no
interaction with BOC
Second Line
Paroxetine, fluoxetine (2D6), bupropion (2B6)
Sertraline (2B6>2C9/19, 3A4, 2D6), venlafaxine
(2D6>3A4), desvenlafaxine (UGT>>3A4),
mirtazapine (2D6, 1A3, 3A4)
Low
Possible 
Third Line
Nortriptyline (2D6)
Imipramine (2D6, 1A2, 2C19, 3A>UGT)
Low
Possible 
No Evidence
Modafinil (3A4; induces 3A4)
Amantadine (not metabolized)
Possible ;  DAA
Not expected
Avoid
Duloxetine (1A2, 2D6) - CONTRAINDICATED
Additive risk of
hepatotoxicity
Methadone Interactions
 Methadone is metabolized by CYP2B6, CYP2C19 & CYP3A,
85% protein bound; R-isomer is biologically active enantiomer
 Boceprevir interaction:
 In the presence of steady-state boceprevir, R-methadone AUC  16%,
Cmax  10%; no clinical effects noted including opioid withdrawal
 Boceprevir exposures not affected by methadone
 Telaprevir interaction:
 In the presence of steady-state telaprevir, R-methadone Cmin  31%,
Cmax  21% and AUC  21%, but median unbound Cmin of
R-methadone was similar before and during telaprevir
coadministration and no withdrawal symptoms were noted
 A priori methadone dose adjustments are not required when initiating
DAA therapy, but close monitoring is recommended, with methadone
dose adjustments if necessary
Hulskotte et al. 2012, Van Heeswijk et al. 2011.
Hormonal Contraceptives with DAAs
 Hormonal contraceptives may not be as effective in
women taking boceprevir or telaprevir
 Boceprevir (Victrelis):
 99%  AUC drospirenone, 24%  AUC EE
 Use 2 alternate effective methods of contraception
during treatment with BOC and Peg IFN/RBV
 Drospirenone (Yaz®, Yasmin®, Angelique®) is
contraindicated
 Telaprevir (Incivek):
 28%  AUC, 33%  Cmin of EE
 Use 2 additional non-hormonal methods of effective
birth control during TVR dosing and for 2 months after
the last intake of TVR.
Benzodiazepine Interactions
 Majority are substrates of CYP3A4
 Risk for prolonged/excessive sedation
 Oral midazolam & triazolam are contraindicated with
boceprevir and telaprevir
 IV midazolam: consider  dose, close monitoring
for respiratory depression or prolonged sedation
 Other benzodiazepines:  dose and monitor
 Consider using benzodiazepines that are
glucuronidated:
 Lorazepam, oxazepam, temazepam
Inhaled Corticosteroids
 Corticosteroids are CYP3A4 substrates
 Potential for  corticosteroid concentrations resulting in
significantly reduced serum cortisol concentrations
 Inhaled/nasal fluticasone, budesonide:
 Avoid co-administration with HCV PIs if possible,
particularly for extended durations.
 May wish to use corticosteroid associated with less
adrenal suppression (e.g., beclomethasone, ciclesonide)
 Use lowest possible dose, consider non-steroidal
options
Victrelis & Incivek. Product Monographs, 2011
PDE5 Inhibitors
(sildenafil, tadalafil, vardenafil)
 PDE5 inhibitors are substrates of CYP3A4
 Potential for DAAs to  concentrations
 Dose-related side effects (headache, vasodilation,
dyspepsia, visual disturbances)
 Contraindicated with DAAs if using for PAH
 For erectile dysfunction, use a lower dose with DAAs:
 Sildenafil: 25 mg q48h, tadalafil: 10 mg q72h
 Do not use vardenafil
Interactions Between HCV & HIV Medications
 Challenges in treating HIV/HCV co-infected patients
 Additive toxicities:
 Anemia: ribavirin, zidovudine, DAAs
 CNS: interferon, efavirenz
 Potential for negative 2-way interactions
  concentrations of HIV agents
  concentrations of HCV DAAs
Antiretroviral Treatment Options for Patients on
Boceprevir or Telaprevir
Protease Inhibitors (PIs)
Boceprevir
Telaprevir
Avoid with ritonavir-boosted
protease inhibitors
Avoid ritonavir-boosted
darunavir, fosamprenavir and
lopinavir
Atazanavir/ritonavir OK
Non-Nucleoside Reverse
Transcriptase Inhibitors
(NNRTIs)
Integrase Inhibitor
Maraviroc
Nucleoside Reverse
Transcriptase Inhibitors
Avoid efavirenz
Dose  with efavirenz
Etravirine (?)
Etravirine OK
No data
Rilpivirine OK
Raltegravir OK
No data
potential / maraviroc; potential benefit on fibrosis?
Tenofovir OK
Avoid AZT (anemia)
Managing Drug Interactions:
1) Medication Reconciliation
 Ensure medication records are up to date at each visit
 Prescription, OTC, vitamins/herbals, recreational
drugs, inhalers, topical, prn agents
 Confirm doses, prn drugs
 Include all agents that have been started or stopped
 Patient education:
 Encourage patients to ask before taking any new
prescription/non-prescription drug or supplement
 Communication with other HCP!
Managing Drug Interactions:
2) Identify Potential Interactions
 Use a systematic approach to identify combinations of
potential concern
 Apply knowledge of known PK characteristics
 Overlapping CYP pathways, substrate, inducer,
inhibitor
 High index of suspicion with key classes of drugs
 Utilize current drug information resources:
 Product monographs, CPS, literature
 Conference abstracts, specialized HCV drug
interaction websites
Drugs Contraindicated with Boceprevir and
Telaprevir (1)
1-adrenoreceptor
antagonist
Alfuzosin
Antiarrhythmics
Quinidine, propafenone, serious/life-threatening cardiac
amiodarone.
arrhythmia
Flecainide (TVR)
Antimycobacterials
Rifampin
Ergot derivatives
Hypotension, cardiac arrhythmia
Loss of virologic response
Acute ergot toxicity
Herbal product
St. John's wort
Loss of virologic response
Statins
Lovastatin, simvastatin.
Atorvastatin (TVR)
Myopathy including rhabdomyolysis
Neuroleptic
Pimozide
Serious/life-threatening cardiac
arrhythmia
Victrelis & Incivek. Product Monographs, 2011
Drugs Contraindicated with Boceprevir and
Telaprevir (2)
PDE-5 inhibitor
Sildenafil.
tadalafil (BOC); vardenafil
(TVR)
Visual abnormalities, hypotension,
prolonged erection, syncope
Sedatives/ hypnotics
Oral midazolam, triazolam
Increased sedation or respiratory
depression
Other
Cisapride, astemizole,
terfenadine
Serious/life-threatening cardiac
arrhythmia
Anticonvulsants
(BOC)
Carbamazepine, phenytoin,
phenobarbital
Loss of virologic response
OC (BOC)
Drospirenone
Hyperkalemia
Aldosterone
antagonist (TVR)
Eplerenone
Hyperkalemia
Triptans (TVR)
Eletriptan
Coronary artery vasospasm, MI, vent.
tachycardia, VF
Victrelis & Incivek. Product Monographs, 2011
Managing Drug Interactions:
Therapeutic Options
 Determine clinical significance
 Evaluate therapeutic options:
 Alter drug dose/dosing frequency
 Substitute with alternate agent
 Can any drugs be permanently or temporarily
discontinued while on DAA treatment?
 Consider patient convenience and cost factors
 Patient counselling & close monitoring is critical
Summary
 High potential for pharmacokinetic interactions between
directly acting antivirals and other drug classes
 Consequences may include therapeutic failure and
increased toxicity
 Often, interactions can be managed, but heightened
level of awareness is needed
 Use a systematic approach to identify and manage
individual drug regimens
 Importance of a specialized, inter-disciplinary team
including pharmacy
Additional Resources
 General
 Hansten PD. Science Med 1998;16-25.
 Kashuba ADM, Bertino JS Jr. Drug Interactions in Infectious Diseases,
2nd edition, c. 2005, pp:13-39.
 Metheny CJ et al. Pharmacotherapy 2001;21:778-96.
 Interactions in HCV and HIV:
 Kiser J et al. Hepatology 2012;55:1620-8.
 Tseng & Foisy. Curr Infect Dis Rep 2012;14:67-82.
 Internet
 Toronto General Hospital Immunodeficiency Clinic; www.hivclinic.ca
 Liverpool Pharmacology Group; www.hep-druginteractions.org
 www.hcvdruginfo.ca
The Canadian Liver Foundation gratefully acknowledges the participating health care professionals
for their contributions to this project and for their commitment to the liver health of Canadians.
The Canadian Liver Foundation (CLF) was the first organization in the world devoted to providing support for research and
education into the causes, diagnoses, prevention and treatment of all liver disease. Through its chapters across the
country, the CLF strives to promote liver health, improve public awareness and understanding of liver disease,
raise funds for research and provide support to individuals affected by liver disease.
For more information visit www.liver.ca or call 1-800-563-5483.
This project made possible through the financial support of Merck Canada Inc. The views, information and opinions contained herein
are those of the authors and do not necessarily reflect the views and opinions of Merck Canada Inc.