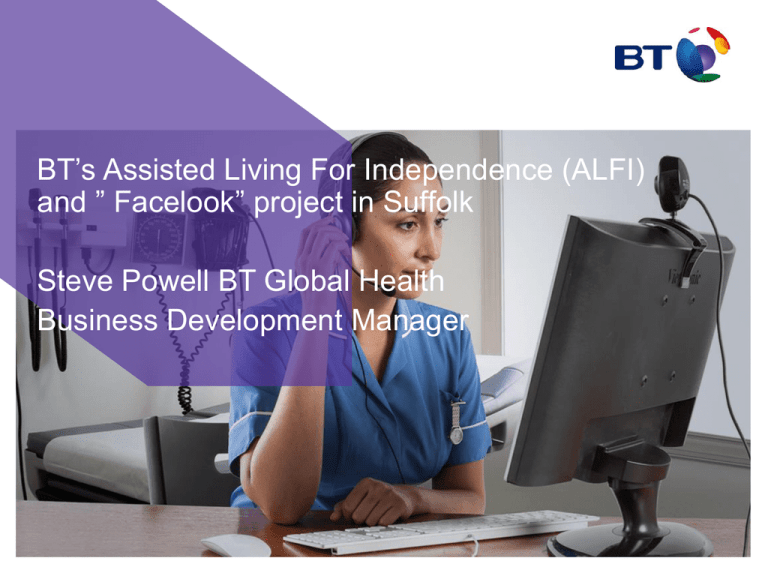 BT's Assisted Living For Independence (ALFI)
and " Facelook" project in Suffolk
Steve Powell BT Global Health
Business Development Manager
Assisted Living For Independence (ALFI)
Service Assisted Living For Independence (ALFI) is BT's integrated Telehealth and
Telecare service, comprising the pro-active remote monitoring of health status
for long-term condition sufferers and emergencies for those in need of support
for independent living. It offers a full range of clinical and care monitoring, and
associated services
Solution ALFI is unique in utilising the latest technologies to provide a fully integrated
and fully managed service across the different health, social care and housing
organisations from which users will be referred. This will drive the sharing of
information across these sectors, supporting the multidisciplinary teams to
ensure targeting of services at the right time, enabling efficient use of resources
Benefits -
ALFI offers real benefit to users by maximising their independence and
improving their quality of life, allowing them to live in comfort and confidence in
their own homes for longer. It also offers significant benefit to social and health
care professionals, enabling care pathways and services to be re-designed,
offering real economic savings without compromising health and social care
outcomes
The ALFI Model
CENTRAL PLATFORM • Inherited from Cornwall
• Developed as our Centre of Excellence
• Clients are added in other regions in a 'hub and
spoke' model
• The central platform provides Integrated
monitoring service including Telecare, and Nurse
led Telehealth and Telecoaching
• National stock control, decontamination and
logistics service
• National installation service
• Data Mining and Analytics management for all
clients
Central Platform – Centre of Excellence
Logistics
Installers
Installers
LOCALISED PLATFORM AND SERVICE • Telecare and Telehealth delivered locally:
• In home monitoring equipment and other home
devices, BT Home hub or 3G from stock
• Installation and removal services using local
assessors and installers
• Nurse liaison staff covering each local Clinical
Commissioning Group/Social Services
• Service take-on and transition of staff
Installers
Service
Desk
Service
Desk
Service
Desk
Technical
Support
Referral
Clinical
Triage Systems
Patients
Clinical
Triage
Patients
Clinical
Triage
Client 1
Referral
Client 2
Transforming the way care is delivered to people in the community
1. Our aim is to support a range of individuals from high risk, complex users to patients
with chronic conditions requiring vital sign or movement monitoring needs or simply
having the safety of an emergency alarm.
2. We are technology agnostic bringing the best technology to support patients with a
wide range of needs in the community. We can deliver to scale, have a broad
geographical reach and can deliver and integrate across broadband, the NHS N3 network
and 3G.
3. Our portfolio is set to develop and expand to enable the treatment of larger sections of
the population for long term monitoring, disease management and supported care
Pathway Redesign
Service Interlock
Partnership
Management
Reporting
• Review current
pathways
• Redesign
pathways to suit
future state
• Bring the right
technologies to
support the
redesign
• Agree
measurable
outcomes
• Agreeing service
operating
procedures such
as escalations
and handovers
• Implementing
clinical
governance
• Working in
partnership to
deliver the
service
• Deliver the
highest quality
service
• Managed by BT
• Reporting of
outcomes
through balance
scorecards
• Identify service
improvements
through data
analysis
BT Cornwall
•
Term: 10 + 5 Years with Cornwall Council and two Health Trusts – PCH and CFT
•
Contract placed directly with BT.
•
The scope of the deal:
–
–
–
–
–
–
–
Internal help desk.
ICT provision including desktop, print, server and application support.
Data centre operations.
Transactional Shared Services – Finance, HR, Payroll.
Document and Information Management including print
Telehealth / Telecare.
Process improvement linked to all of the above.
Truro College
Research shows that people who are socially isolated often become depressed and lonely. Facelook aims
to alleviate this through Skype video chats with a Red Cross volunteer, family and friends. It will also
help the elderly to remain independent in their own homes.
• Facelook was a 6-month trial with Suffolk PCT , British Red Cross &BT
• ~28 installations through East Suffolk (Nov 2012 – May 2013).
• Pilot concluded at end of June 2013 with interview based analysis.
• BT providing:
•
Trials management
•
Broadband
•
Wi-Fi routers
•
Installation and technical support
•
Trial analysis and support
Why TV Based?
• In this target group, everyone has a TV.
• It is a familiar and trusted device to build upon.
Key Learning
•
•
•
•
•
Every installation was different, the majority difficult.
Broadband and Wi-Fi are key challenges.
Most users were not frightened of the technology.
Most struggled with the complex user experience.
There was also some genuine fear of the technology.
Some numbers …
• 28 live triallists:
• 20% aged 60 to 73 years old
• 55% aged 83 to 92 years old
• 25% aged 93 to 98 years old
• 7 drop-outs
• 4 struggled with technology, 3 had change of circumstances
• 5 users exceeding monthly broadband usage limit
• Facelook filmed and appeared 'BBC East' news.
• YouTube promotional video.
Next Steps
•
•
•
•
•
Progressing as a Challenge Cup entry.
Develop workable business case.
Identify device and user experience improvements.
Progress to larger trial / pilot with BT Cornwall
Rethink the interfaces we expose to our customers.