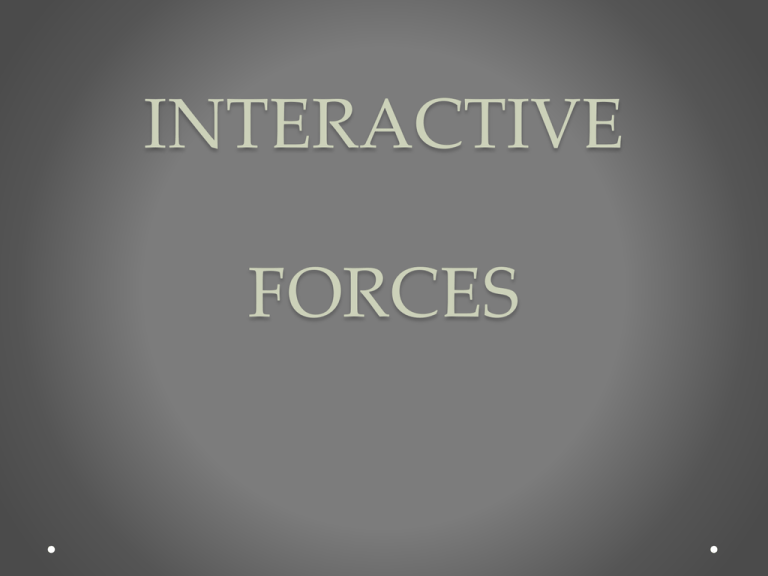 INTERACTIVE
FORCES
• INTERACTIVE FORCES, OR FUNDAMENTAL
INTERACTIONS ARE THE WAYS THAT PARTICLES
INTERACT WITH EACH OTHER IN THE UNIVERSE.
• THE FOUR KNOWN INTERACTIONS ARE:
o
o
o
o
GRAVITY
ELECTROMAGNETISM
STRONG NUCLEAR FORCE
WEAK NUCLEAR FORCE
• ALL OF THE ABOVE ARE NON CONTACT FORCES.
• THESE FORCES WERE FORMED AFTER THE BIG BANG.
GRAVITY
• NEWTON'S LAW OF GRAVITY: EVERY OBJECT IN SPACE
ATTRACTS EVERY OTHER OBJECT WITH A FORCE THAT IS
DIRECTLY PROPORTIONAL TO THEIR MASSES AND
IINVERSELY PROPORTIONAL TO THE SQUARE OF THE
DISTACE BETWEEN THEM.
• MEANING:
o MORE MASSIVE OBJECTS HAVE:
• MORE GRAVITY
o THE FURTHER AWAY THEY ARE THE:
• LESS THE GRAVITY
• EINSTEIN'S THEORY OF RELATIVITY:
o GRAVITY IS A CURVATURE IN SPACETIME
• GRAVITRONS
o UNSEEN PARTICLES THAT ATTRACT OBJECTS
• GRAVITY IS A VERY WEAK FORCE
ELECTROMAGNETIC
FORCE
• ELECTROMAGNETISM IS THE FORCE THAT CAUSES THE
INTERACTIONS BETWEEN ELECTRICALLY CHARGED
PARTICLES.
• IT HOLDS MOLECULES TOGETHER.
• IT IS THE FORCE THAT HOLDS PROTONS AND
ELECTRONS TOGHETHER IN AN ATOM.
• IT IS THE FORCE OF CHEMISTRY.
STRONG
NUCLEAR FORCE
• IT BINDS QUARKS TOGETHER TO FORM PROTONS
AND NEUTRONS.
• IT HOLDS THE ATOMIC NUCLEUS TOGETHER.
• IT IS NOT FOUND IN ELECTRONS.
• IT GETS STRONGER AS THE DISTANCE BETWEEN 2
QUARKS INCREASES (FOR A VERY SHORT DISTANCE).
WEAK
NUCLEAR FORCE
• IT IS RESPONSIBLE FOR THE RADIOACTIVE DECAY OF
SUBATOMIC PARTICLES.
• IT CAUSES FUSION IN STARS.
• IT CAUSES BETA DECAY, A TYPE OF RADIATION
WHERE AN ELECTRON OR POSITRON IS RELEASED.
• IT HAS AN EXTREMELY SHORT FIELD.