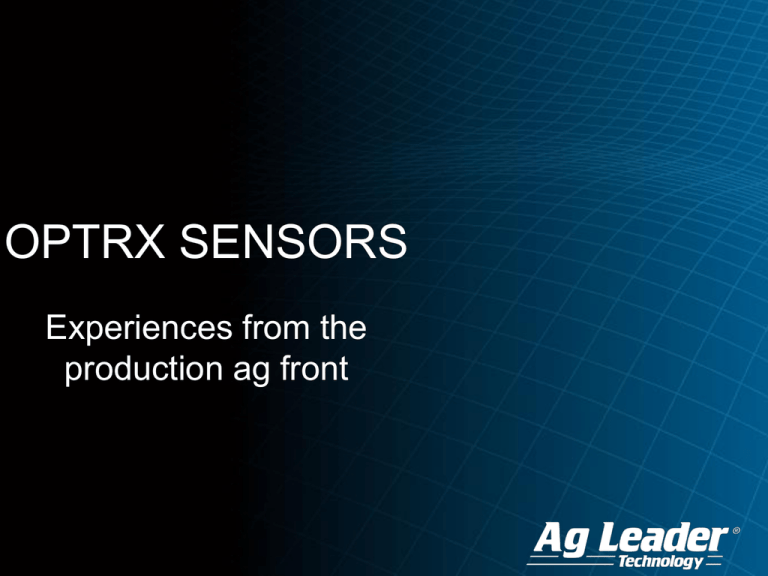 OPTRX SENSORS
Experiences from the
production ag front
SALES REVIEW
• Increase in sales every
year from year 1
• Industries expectations
not met for any sensor
• Not one individual group
responsible
• Nor are we one
improvement short either
• All parties claim
responsibility
SALES REVIEW
• Two car analogies
– 70 year old with a new Mercedes
• Too much technology for people not
ready to adapt
– Handing the keys to a sports car
to a 14 year old
• Customers were not trained for the
power of the sensors
• Customers need and want a
person to show them how to
use it all
CHALLENGES TO ADAPTATION
•Window of Application too
small
•Customer intimidated by
technology
•Does not know where to get
agronomic support for
sensors
•Initial reaction to price
EVOLUTION OF OPTRX SALES
•General response was
sensors cannot work
•Corn Customers did not
agree with basic N
model
•Doubt about quality
and reliability of product
recommendations
EVOLUTION OF OPTRX SALES
• In 2009 all Customers having
great success in wet conditions
($60/acre increases common)
• Concerns about model reduce,
concerns about varieties and
their difference increase
• Conflicting opinions on how to
best use sensors is a concern
for end users, leads to delayed
adaptation
EVOLUTION OF OPTRX SALES
•2012 Drought reduces the
number of acres OptRx is used on.
Still see small increases in profits
when a crop is harvested
(<$5/acre average)
•Varieties still a concern, but
sidedress window too narrow (not
enough high clearance
equipment)
•Confidence in sensors high, just
not sure how to incorporate them
FAQS FROM USERS
•How do I determine correct
N rates?
•How do I adjust the rates for
the season (too wet or too
dry)?
•What should I do about
varieties?
•How do I calibrate
confidently?
FAQS FROM USERS
•Can I use these on any other
crop?
•Can I use these for any other
product?
•Can we use sensors to apply
multiple rates across the
boom? By row?
•What form of N should I use
with OptRx?
SENSOR INCORPORATION
•Collaborative effort between
hardware, seed, fertilizer and
agronomic companies
•Promote knowledge from
research that is passed to
agronomists to end users
Thank you!